Never doubt the power of the internet. One month after posting a slew of pics featuring himself in dreadlocks – and taking heat for the culturally-appropriated hairstyle – Justin Bieber has a new 'do.
On Sunday, the pop star posted a new pic of himself and his wife Hailey Baldwin featuring his freshly shaved head on Instagram (above). He also showed off the buzz cut in an Instagram Story, which is now his profile pic.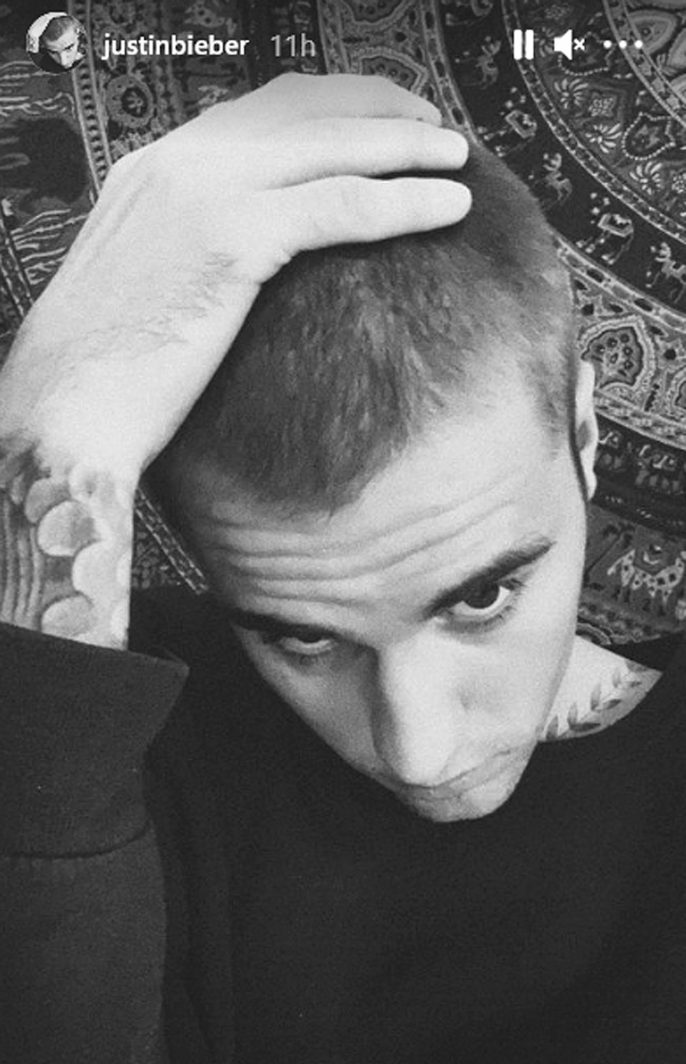 Photo: @justinbieber (Instagram)
Bieber originally donned the dreads while on vacation with his wife and cancel culture came for him. Clapback ranged from "J, please educate yourself on culture [sic] appropriation…. You shouldn't be wearing dreads… With Love" to "This is cultural appropriation… I know you can do better" to "Didn't you say you were educating yourself about Black culture so what is this foolery [?]."
We're glad he ditched the ugly and unwoke locks, but we're unsure if this fuzzy melon look is a good one on Bieber. Fans were all for it, though; the Bieb's comment section was packed with heart emojis and compliments.
Isn't it amazing how one man can have so much, and yet not have a clue what to do with his hair?
Photo: @justinbieber (Instagram)
MORE NEWS:
Entertainment News 5 15 21
Billie Eilish Brings Blonde Bombshell Energy to British Vogue Cover (Move Over, Marilyn Monroe)

Read more here.

Photo: Instagram

Megan Fox Wraps Her Legs and Lips Around Machine Gun Kelly, Meanwhile We Wrap Our Lips Around Another Cheeseburger

Read more here.

Photo: Chris Unger / Contributor (Getty Images)

Britney Spears' Strange Sandwich Tutorial Shows She Doesn't Know Her Nuts (But At Least Nobody Is Taking Them From Her)

Read more here.

Photo: Instagram

George Clooney Hilariously Fan Boys Over Brad Pitt For Charity Video

Read more here.

Photo: YouTube

Mark Wahlberg Reveals 20-Pound Weight Gain, Finally Looks Like the Rest of Us

Read more here.

Photo: Instagram

Will Smith Admits 'I'm in the Worst Shape of My Life' in Dad Bod Instagram Pic

Read more here.

Photo: Instagram

Viral TikTok of Adam Sandler Hilariously Waitlisted at IHOP by Server Who Doesn't Recognize Him (Or Totally Recognized the Guy Who Made All Those Bad Movies)

Read more here.

Photo: TikTok

Adam Sandler Hilariously Responds to Viral IHOP Video in 'For the Record' Tweet

Read more here.

Photo: Rich Fury / Staff (Getty Images)

Justin Bieber's Ugly-Ass Dreadlocks Are Back (And Other Celebs Who Never Should Have Tried This Trend)

Read more here.

Photo: Instagram

'How I Met Your Mother' Jokes That Won't Land In Hilary Duff's Sequel Series 'How I Met Your Father'

Read more here.

Photo: 20th Century Fox Television/Gotham (Getty Images)