Cooking series are all the rage, especially on Netflix, but one celebrity we could do without in the kitchen is Paris Hilton. Unfortunately, the hotel heiress is getting her own culinary-themed show, and it's uncleverly called Cooking With Paris.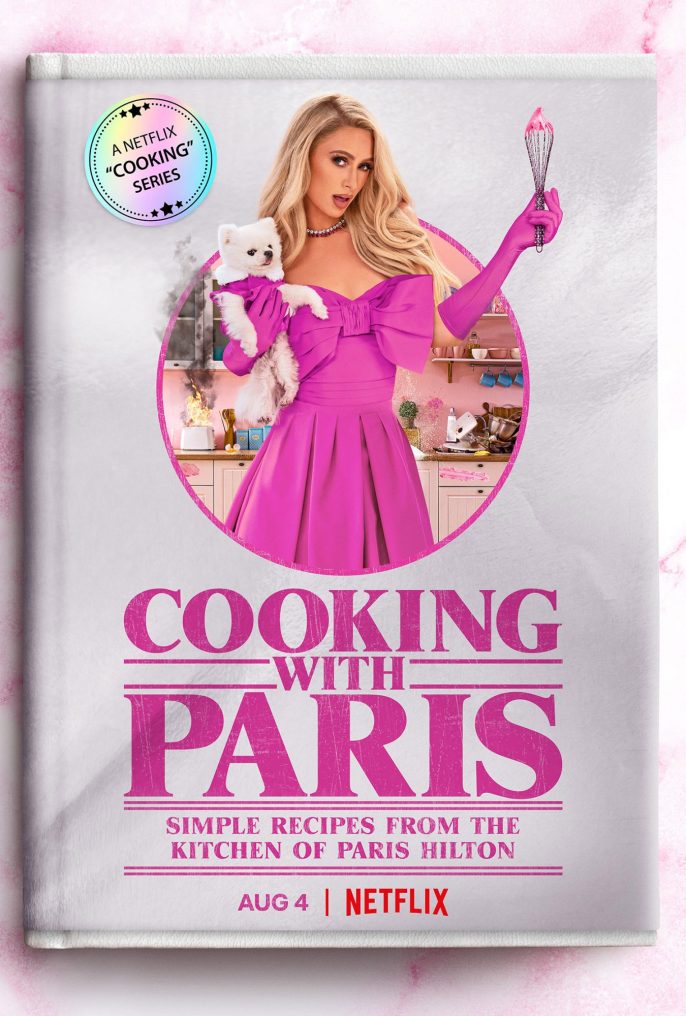 Because the 40-year-old is best known for her sex tape, not recipe prowess, the show will focus on her lack of abilities in the kitchen.
"She's turning the traditional cooking show upside down," Netflix wrote in a release. "She's not a trained chef and she's not trying to be. With the help of her celebrity friends, she navigates new ingredients, new recipes and exotic kitchen appliances. Inspired by her viral YouTube video, Paris will take us from the grocery store to the finished table spread — and she might actually learn her way around the kitchen."
The show is based on Hilton's YouTube series of the same name, which is about as exciting as watching paint dry. (And her food probably tastes about as bad as chugging a can of paint would.)
So what will she attempt to make on the new show? Hopefully something edible, but we wouldn't want to set expectations too high. Apparently, she'll whip up her "famous lasagna." ("Famous for what?" we wonder). There's also talk of party hors d'oeuvres "like Jell-O shots and nachos." Um…OK?
If your appetite wasn't completely satiated (or should we say decimated?) by the show, Hilton will also have a cookbook coming out featuring her on-air recipes. Cooking With Paris debuts on Aug. 4. Forgive us if we sit this one out.
Cover Photo: Netflix
MORE NEWS:
Entertainment News 7 15 21
Britney Spears Tells Haters to 'Kiss My Ass' After Posting Topless Instagram Photo, But Can Us Non-Haters Please Do It Too?

Read more here.

Photo: C Flanigan / Contributor (Getty Images)

Selena Gomez Launches Swimsuit Line, Models Teenie Bikini (As If This Summer Weren't Balls Hot Enough Already)

Read more here.

Photo: La'Mariette

Lady Gaga Poses Topless and Naked-Faced in Summer Selfie, Blatantly Contributing to Global Warming of Our Crotches

Read more here.

Photo: @ladygaga (Instagram)

Parental Advisory: Halsey Breaks Internet With Boob-Baring Album Cover (And 8 Other Records That Were Less About the Music, More About the Boobs)

Read more here.

Photo: Twitter

Demi Moore Models Swimwear in Sexy Family Photo, And We Never Thought We'd Say That One

Read more here.

Photo: Cass Bird for @AndieSwim (Instagram)

Tiffany Haddish Tells Nicolas Cage Her First Orgasm Was Watching 'Face/Off,' Sparks Interesting Sequel Idea 'Face/On Tiffany Haddish'

Read more here.

Photo: Amy Sussman/KCA2021 / Contributor (Getty Images)

Pete Davidson Sets Goal of Removing 100-Plus Tattoos By Age 30 (Wait, Are We Not 50, Asked Bags Under His Eyes)

Read more here.

Photo: Universal Pictures

Meanwhile in Hollywood: Adam Driver Simulating Oral Sex While Singing Makes Him Both a Teacher and a Role Model

Read more here.

Photo: Toni Anne Barson

 / 

Contributor 

(Getty Images)

Mandatory Music: Juvenile Remixes 'Back That Azz Up' Into Pro-Vax Anthem We Can't Wait to Twerk to While Spitting in a Stranger's Mouth

Read more here.

Photo: YouTube

Drake Rents Dodger Stadium For Date With Model Johanna Leia, Anything to Get to Second Base

Read more here.

Photo: Karwai Tang / Contributor (Getty Images)