Brian Laundrie sure has messed life up for a lot of guys – specifically, the bald ones. As we previously reported, one Laundrie lookalike started a TikTok specifically to debunk any suspicions that he was the most wanted man in America.
In a further attempt to differentiate themselves from the douchey fugitive, dudes are buying up a T-shirt on Etsytees that simply states: "I'm just bald. Nope! I'm not Brian Laundrie."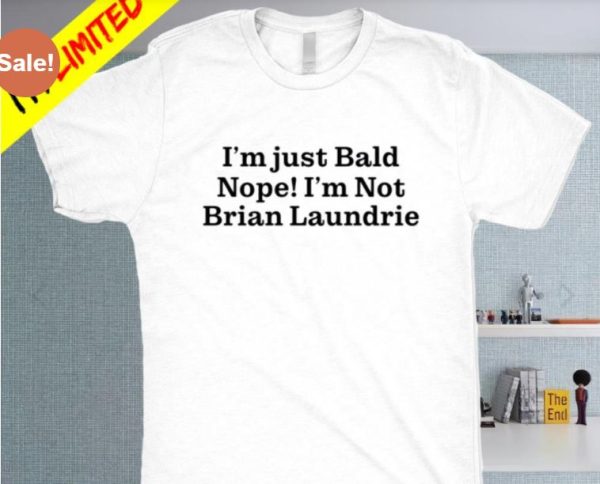 It'll only set you back $22.99 to buy this wearable billboard that, no, you are not in fact the suspected killer of Gabby Petito. The tee comes in 10 colors and in sizes small through 5XL (though if you're that big, no one is going to confuse you for the slim, elusive Laundrie).
It's unclear how many baldies were desperate enough not to be confused with the true-crime celebrity that they invested in this shirt, but we imagine demand will only increase until the authorities have Laundrie in cuffs.
Cover Photos: Etsytees / Moab Police Department
MORE NEWS:
Entertainment News 10 1 21
Khloe Kardashian's Topless Good American Commercial Rejected by TV Networks for Being Too Sexy (Watch It and Decide For Yourself)

Read more here.

Photo: Dennis Leupold / Good American

Amber Heard Pumps Iron With an Unlikely Workout Buddy in New Instagram Pics

Read more here.

Photo: Instagram

Cardi B Flashes Nipples Like You've Never Seen Before at Paris Fashion Week (Can This Become a Trend, Please?)

Read more here.

Photo: MEGA / Contributor (Getty Images)

Rebel Wilson Is Red Hot in New Instagram Swimsuit Pic, Puts Our Post-Pandemic Weight Loss Attempts to Shame

Read more here.

Photo: Christopher Willard / Contributor (Getty Images)

Tom Brady Tackles Fashion with New Clothing Line (Hopefully Not All Made From Pigskin)

Read more here.

Photo: John Shearer (Getty Images)

Machine Gun Kelly Punches Concertgoer in the Face at Louder Than Life Festival (Video)

Read more here.

Photo: Scott Legato / Contributor (Getty Images)

Eminem's New Detroit Restaurant Is Reference to 'Lose Yourself' Line (Can You Guess Which One?)

Read more here.

Photo: Kevin Winter / Staff (Getty Images)

Mandatory Tweets: 20 Funniest Reactions to Chris Pratt's Super Mario Bros. Movie

Read more here.

Photo: Marvel Studios/Nintendo

Watch Red Hot Chili Peppers Hilariously Announce World Tour With Unveiling of Secret Weapon

Read more here.

Photo: YouTube

Nick Cannon's Latest Prank on Kevin Hart Takes Comedic Rivalry to New Heights (Literally)

Read more here.

Photo: Instagram