No sooner than we started to see the light at the end of the dark tunnel that was the Covid-19 pandemic than another deadly virus comes along, threatening to kill our buzz and damage our bodies. Though monkeypox has a ridiculous name, there's nothing funny about this illness that has been found in 87 countries around the world and which the World Health Organization declared a "public health emergency of international concern" two weeks ago. (The American government likes to take its sweet time before doing anything about anything, apparently.
"We're prepared to take our response to the next level," US Department of Health and Human Services (HHS) Secretary Xavier Becerra said today during a briefing. "We urge every American to take monkeypox seriously and to take responsibility to help tackle this virus."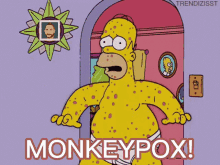 Monkeypox manifests a dozen lovely ways, from fever, chills, fatigue, muscle aches, and swollen lymph nodes to rashes and raised lesions. To add insult to injury, it can make your genitals and anus painful, too. But don't worry; it'll be gone in two to four weeks. Yikes.
There have been over 6,600 monkeypox infections in almost every state in the U.S. so far – except Montana and Wyoming, for whatever reason. One thing is clear: men are more likely than women to contract it. Why? Or rather, how? By having sex with other men.
HHS reps said that the "vast majority" of those testing positive for monkeypox had male-to-male sexual contact, and the WHO has urged men who have sex with men to reduce their number of new sex partners "for the moment." (We suspect it's going to take longer than that to contain the virus.)
There is a vaccine for monkeypox, but given how freakin' long the Covid-19 vaccine rollout took (and now how long the next round of boosters for people under age 50 is taking), don't hold your breath on public health entities protecting you anytime soon.
Oh, well. If another pandemic is on the way, at least we're all experienced at coping with all that entails. Bring on the quarantine 15, debilitating loneliness, and extended celibacy! There will at least be another round of stimulus checks, right?
Cover Photo: Mario Tama / Staff (Getty Images)
Entertainment News 8 1 22
Ana de Armas as Marilyn Monroe Really Blows Our Hair Back in 'Blonde' (See the Trailer For the NC-17 Film Here)

Read more here.

Photo: YouTube

Watch Lupita Nyong'o Eat Ant-Topped Fruit at Bougie LA Party, Says 'You Can Call Me Ant-Woman'

Read more here.

Photo: Instagram

Chris Evans' Dog Is on the Fast Track to Celebrity Status (Real Heroes Have Fur)

Read more here.

Photo: Instagram

Green Bay Packers Quarterback Aaron Rodgers Channels His Inner Nicolas Cage Circa 'Con Air' For Training Camp

Read more here.

Photo: Twitter

Kevin Hart and Dwayne 'The Rock' Johnson Hilariously Take on TikTok's Tortilla Challenge Ahead of 'DC League of Super-Pets' Release

Read more here.

Photo: YouTube

Will Smith Explains the Oscars Slap 4 Months After the Fact (And We're Pretty Sure He's the Only One Who Gives AF About It)

Read more here.

Photo: YouTube

Sold-Out Dave Chapelle Show Cancelled by Legendary First Avenue Venue in Minneapolis (Who's Laughing Now?)

Read more here.

Photo: Getty Images

Ryan Reynolds Convinces Steve-O to Eat a Carolina Reaper Pepper to Spice Up His Small Business Demo (Sold!)

Read more here.

Photo: YouTube

Get the First Look at Guillermo del Toro's Take on 'Pinocchio' (Finally, A Remake We Can Get Behind)

Read more here.

Photo: Netflix

Actor Paul Sorvino Dies at Age 83 (Goodbye to Another Goodfella)

Read more here.

Photo: Warner Bros.