Photo: Nic Antaya for Subway
While many people simply select a beautiful (sometimes scenic) venue for their wedding photos that they have no connection to, others pick a location that is near and dear to their heart. This is usually a place that carries some type of sentimental value. Maybe it's a beach they visited on one of their first dates. Perhaps it's a park they used to hike in. Or maybe it's a Subway sandwich shop where they purchased their favorite $5 foot-longs.
Whether you find this bizarre or not, this is the case with Julie Bushart and Zack Williams of Livonia, Michigan. The pair met at a Subway back in December of 2017 when they struck up a conversation while waiting to order food. This is why the duo decided that the exterior of the restaurant was the perfect location for their wedding photos.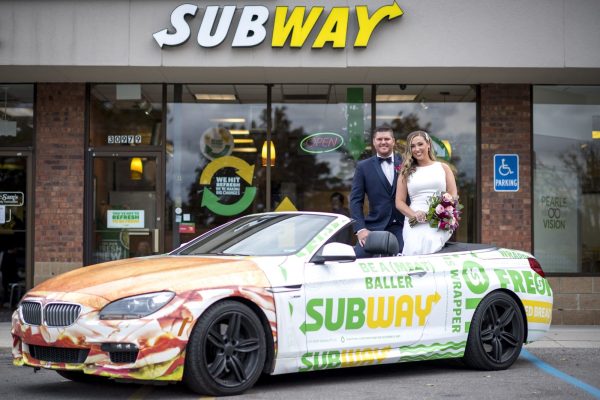 It all came to be when Subway heard about this sub-centric match and decided to reach out to the couple to help set up the photo shoot. They even provided a Subway wrapped convertible for use in the photos. To take the pictures, the now-married couple stopped in between the ceremony and reception.
As silly as it might seem to us, this restaurant clearly has an important meaning to them. If neither had stopped in that day, they probably would have never met. That seems pretty special to us. Much better than some lame beach or park.
Weird News 10.31.21
Prostitute Evicted For Being Too 'Loud' While Working From Home During Pandemic, Won't You Be Our Neighbor?

More weird news.

Photo: 1001nights (Getty Images)

Ideal Penis Shape Revealed by New Study, How Is Yours Rounding Out?

More weird news.

Photo: igor_kell (Getty Images)

TV Station Accidentally Airs Porn Clip During Weather Report (Forecast Calls For Hot and Bothered Viewers)

More weird news.

Photo: KREM2

Meanwhile in Sperm Banks: Shortage Leads to Great New Purpose For Men Everywhere, Finally a Job That's Fulfilling

More weird news.

Photo: telnyawka (Getty Images)

Shakira Attacked By Wild Boar Couple, Aggressive Hogs Apparently Think Her Hips Do Lie

More weird news.

Photo: Alex Pantling (Getty Images)

What's a 'Coregasm' and How Do We Get One?

More weird news.

Photo: Westend 61

Hooters Waitresses Upset Over How Revealing New Uniform's Shorts Are Go Viral For Their Protest, We Didn't Know They Could Get Any Shorter

More weird news.

Photo: TikTok

Peyronie's Disease Is the Weighty Affliction of Massively Curved Erections, So How Bent Is Too Bent For Your Johnson?

More weird news.

Photo: Kana Design Image (Getty Images)

Flight Attendants Publicly Strip Off Uniforms to Protest Layoffs, That's Why We Always Go Aisle Seat

More weird news.

Photo: YouTube

Meanwhile In California: Woman Accused of Starting Fawn Fire Blames It On Drinking Bear Pee, That Doesn't Help

More weird news.

Photo: Alex Pantling (Getty Images)