Photo: Satoshi-K
BrewDog is known for its wacky and innovative ideas. Scottish founders James Watt and Martin Dickie have made some of the highest alcohol-content beers ever produced (and packaged them in the bodies of road kill), they opened a beer-themed hotel in Columbus, Ohio (to go along with their U.S. brewery), and even started their own airline. But, this week, the BrewDog team took their love of beer to whole new heights…literally. That's because the iconic duo just brewed beer at cruising altitude on a freaking plane.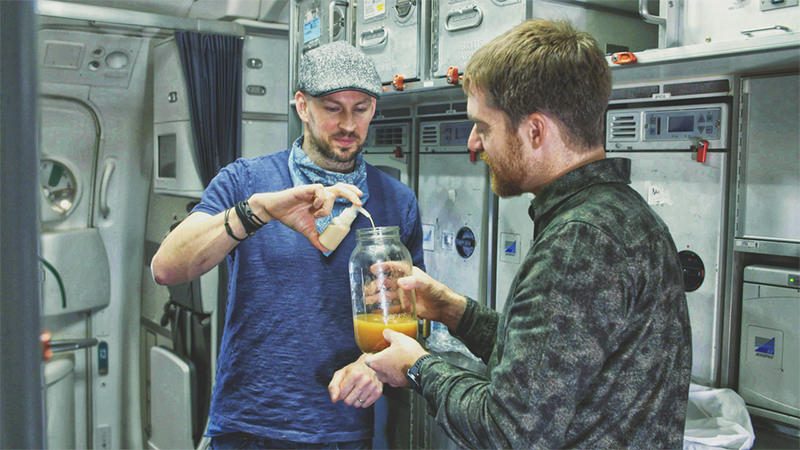 Photo: BrewDog
That's right, they brewed a beer at 40,000 feet. Normally, if you're on a plane that's around that altitude, they finally turn on the WiFi and let you move around the cabin, but these guys thought it was the perfect altitude to whip up a sudsy brew.
The beer, called Speedbird 100, is a "transatlantic IPA", according to a press release. It was made in collaboration with British Airways in honor of the airline's 100th birthday. Since regular brewing equipment wouldn't fit on a commercial flight (and would be highly illegal), Watts and Dickie used airplane coffee pots and multiple MacGyver episodes' worth of ingenuity and creativity.
The beer will be available on May 1 on some British Airways flights and in a few British Airways lounges. If you can't manage to get a bottle or two, try some of these other BrewDog beers that are more widely available.
Follow Mandatory on Facebook, Twitter, and Instagram.
BrewDog Beers
Punk IPA

Photo: BrewDog 

Electric India

Photo: BrewDog

Elvis Juice

Photo: BrewDog

Indie

Photo: BrewDog 

Jackhammer

Photo: BrewDog