Photo: Getty Images
Most of us remember when marijuana was the evil 'gateway' drug. Get caught toking up and expect to spend some time in the slammer. Fortunately, in 2018, stoners celebrating 420 can toke up as free as ever.
States are as friendly towards cannabis as they've ever been, more of them decriminalizing the plant, and some outright legalizing it. Even brands are taking advantage of the marketing opportunities tied with the legalization. Lyft is offering a $4.20 discount for riders on 'cannabis Christmas' with this promo code. Hooters is also offering 'snozzberry sauce.' Mmhmm.
But before you decide to go all Cheech and Chong, below is simply a reminder as to where marijuana is still illegal.
Sorry, if you live in these states, no soup for you!
Sorry, Smokey
Idaho
South Dakota
Nebraska
Kansas
But what if you have a medical prescription? Have fun with a doctor's note in these states.
Doctor Feelgood
Montana
Arizona
New Mexico
North Dakota
Minnesota
Illinois
Arkansas
Florida
Michigan
Ohio
West Virginia
Maryland
Pennsylania
New Jersey
Delaware
New York
Vermont
New Hampshire
Rhode Island
Connecticut
And these states? Go crazy, folks. Put those tax dollars to work. It's totally legal.
Green States
Washington
Oregon
California
Nevada
Colorado
Maine
Massachusetts
Here's a detailed map, courtesy of Quartz.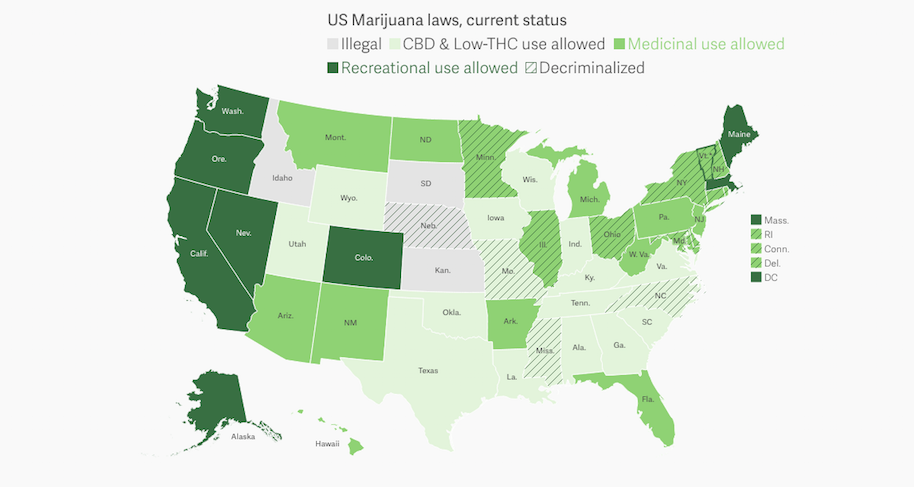 For more details on cannabis regulations in your state you can click here.
And if you live north of the border, Canada is currently drafting laws for potential legalization of recreational marijuana by this summer.
Most importantly, be safe on this 'holiday.' Even if that means getting a Lyft to your nearest Hooters. There's something I thought I would never type.
---
Josh Helmuth is a sports reporter in St. Louis who contributes to Mandatory.