Photo: Twitter
I believe I'm a man of many passions. I enjoy adventure. I like to explore. Try new things. All of that wanderlust includes a variety of interest in careers. However, here's just a very short list of reasons I could never be a police officer:
Having to teach D.A.R.E.
Having a stand-off against a tiger.
Police sketches like this.
Now I guess I can add to the list, 'giving a DUI to a man on horseback in the middle of the freeway.'
Even California Highway Patrol near Long Beach was surprised to find a Placentia man riding a white horse on the 91 freeway last Saturday — the man's 29th birthday.
So a horse walks onto the 91 freeway…no joke. Rider arrested by CHP for DUI in the greater Long Beach area. Don't put yourself, your beautiful animal, or others in danger of being killed in traffic. @CBSLA @NBCLA @KTLA @ABC7 @FOXLA @CNN @FoxNews @ABC @NBCNews @CBSNews @CHP_HQ pic.twitter.com/YdiL54ctvQ

— CHP Santa Fe Springs (@CHP_SFS) February 25, 2018
They 'pulled him over' … and arrested him.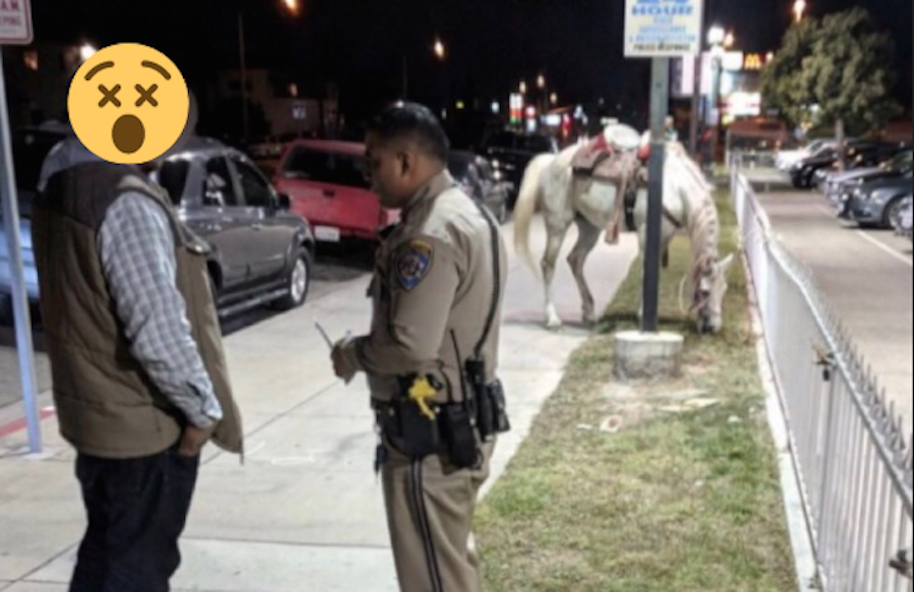 According to a CHP news release, a 911 caller, around 1 a.m. reported a man riding a white horse eastbound on the 91 from Paramount Boulevard to Downey Avenue. CHP officers found the man after he exited at Downey Avenue and rode into Bellflower.
The rider, identified as Luis Alfredo Perez, was stopped and interviewed by officers who administered field sobriety tests and determined he was under the influence of alcohol, officials said.
So, yeah. Perez was booked into the local jail and charged with driving under the influence on a horse.
Don't drink and drive, sure. But also, don't drink and ride. Especially on the freeway. Holy smokes.
Thankfully, the horse was unharmed, and looked rather friendly.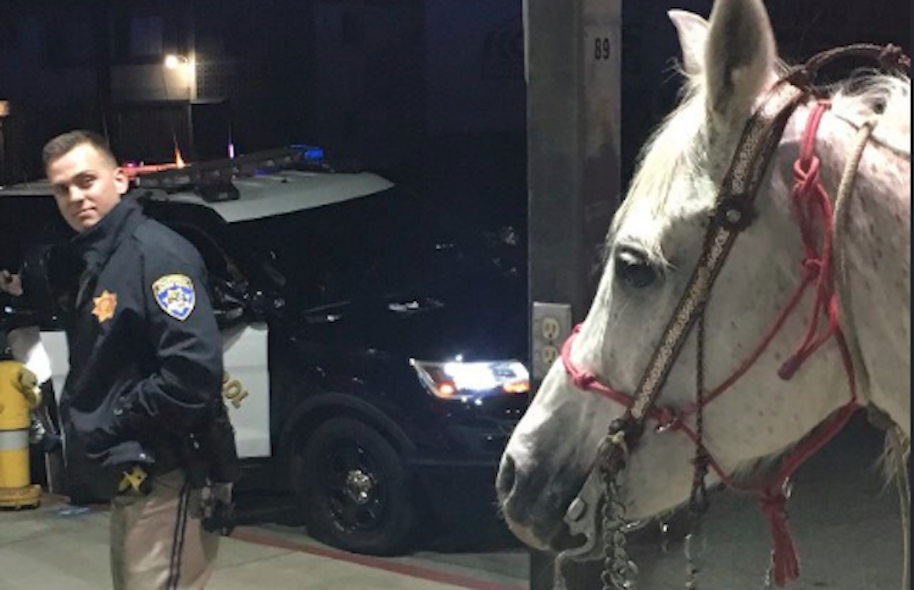 CHP put out a tweet that read, "Don't put yourself, your beautiful animal, or others in danger of being killed in traffic."
"Just when you think you've seen and heard it all … you haven't," said CHP public information officer Jeremy Tolen.
---
Josh Helmuth is a contributor for Mandatory who likes sports and is afraid of horses.