Pete Davidson and Ye (the rapper formerly known as Kanye West) are connected, courtesy of Ye's ex-wife and Pete's current boo, Kim Kardashian. Though they seem to be enemies now, future collaboration between these two huge celebrity males is inevitable. With Pete's comedic background and Ye's insane unpredictability, they're bound to be the next dynamic duo on the big screen. Hollywood is hoping their chemistry will translate on-screen in these surprising movie remakes.
Cover Photos: NBC and Ronald Martinez / Staff (Getty Images)
Jaws
Ye stars as Sheriff Martin Brody, and Pete will be playing the title role of the man-eating great white shark, albeit with some serious prosthetics. Fans of the original are in for a shocking plot twist: at the movie's end, instead of Brody blowing up the shark with a perfectly placed bullet through a scuba tank, Pete will rip off his special effects mask and devour Ye whole.
Butch Cassidy and the Sundance Kid
Ye stars as Butch Cassidy, and Pete plays the Sundance Kid. Unlike the original, where Sundance dies in a Bolivian shootout, and Butch runs off to Europe, Butch and Sundance square off against one another over—what else?— a woman! The gunslingers fire simultaneously, hitting one another dead-center in the chest. Just when it appears both are about to leave this mortal coil, Kim K. makes a surprise cameo and, after a heartfelt "eeny, meeny, miny, moe," revives Sundance with a kiss and the couple ride off into the sunset.
Aliens
Ye is the Alien, Pete is Ellen Ripley. Rather than go the prosthetic route, the studio will spare no expense, relying on a team of CGI superstars to transform Ye into one of the most iconic sci-fi creatures in cinema. The remake's ending mirrors James Cameron's original—in the final Ripley/Alien confrontation, Pete will use the mechanized loader to hurl Ye off the starship into deep space.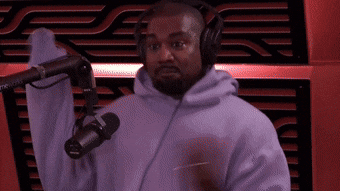 Thelma and Louise
Pete is Thelma, Ye is Louise. Embracing Hollywood's newfound push for inclusivity, both Thelma and Louise are transgender pre-ops, transitioning from their male counterparts, Theo and Lou. The massive doses of hormones they're taking wreak havoc with their temperament, causing them to bicker constantly. For the iconic final scene, rather than drive off the cliff into the Grand Canyon, the convertible slides to a halt just inches from the ledge, and the two manly ladies throw down with gusto. Cops gather en masse to watch the fisticuffs but quickly grow bored with the slap-and-hair pull antics. One of the plainclothes cops—wearing a MAGA hat, of course—kicks them off the ledge, sending them plunging to their deaths.
Godzilla vs King Kong
To avoid even the slightest hint of racism, Ye will be cast as the king of all lizards, and Pete will be portraying the giant ape. The plot is a heavily guarded secret, but according to rumors, the film is destined for one of the major streamers with a virtual reality (VR) element. Sources suggest the primary battle between the two titans will take place in Eastern Europe, and Russia will be largely destroyed in the process. We're hoping for a comedic twist ending: Mothra (portrayed by Amy Schumer) swoops in and kills them both!
Love Affair
If Pete (playing Mike Gambril) and Ye (playing Terry McKay) can generate even a fraction of the sizzle that real-life couple Warren Beatty and Annette Bening gave us in the 1994 installment of this timeless love story (originally produced in 1939), audiences are in for a real treat.
Rocky IX: Ebony vs. Ivory
Veering away drastically from the most recent Creed storyline, Pete Davidson is cast as Bobby "Wonder" Bredd, a struggling used car salesman who turns to boxing in the hopes of getting his wife and seven kids out of the projects. During a routine pre-fight blood test, it's revealed he's the "son" of a legendary Philly fighter, Rocky Balboa. Before Rocky found fortune and favor, he was a sperm donor for some extra cash. "Wonder" Bredd is the result. Opposing Bredd in the penultimate bout is Franklin "Midnight" Mass, a vicious fighter with an unblemished record, all wins coming by knockout. Supposedly, Ye has contracted to train with Mike Tyson—at his new cannabis resort—to prepare for the role.
Me, Myself & Irene
Jim Carrey and the Farrelly brothers are back, but this time they're bringing Pete Davidson and Ye with them. Pete and Ye will be playing the two new personalities of Jim Carrey's lead character, Charlie Baileygates. However, Renee Zellweger won't be back to play his love interest, Irene P. Waters. For this go-round, they've cast Pete's ex, Kate Beckinsale. But they didn't stop there. In an effort to seriously amp up the drama, even though the film is billed as a dark comedy, the Farrellys went full heel and brought in another of Pete's exes, Ariana Grande, and one of Ye's distant exes, Amber Rose. We have no idea how this project will survive production, but we'll be first in line to see the end result.
Cover Photo:
Entertainment News 4 15 22
Kim Kardashian Reveals Surprising Activity That Gets Her Horny, Really? Because Everything Gets Us Horny

Read more here.

Photo: Getty Images

Tori Spelling Celebrates Jennie Garth's 50th Birthday With Sexy Spandex Throwback Photo

Read more here.

Photo: Instagram

Ranked! Best Celebrity Couples That Got Hitched in Las Vegas (Including Kourtney Kardashian and Travis Barker)

Read more here.

Photo: Instagram

Jonah Hill Arrested on Bourbon Street With Bag of Jerry Garcia's Ashes (Or Was He?)

Read more here.

Photo: New Orleans Police Department


Jared Leto's 'Morbius' Method Acting Antics Proves He Might Be a Bigger Douche Than Ever Expected

Read more here.

Photo: Sony

Morbius' Director Addresses Negative Reviews With Hilarious Response

Read more here.

Photo: Sony

Fans Mock Justin Bieber's Leather Pants at Grammys, Wait 'Til You Hear His Music

Read more here.

Photo: Getty Images

Mandatory Trailers: 'Top Gun: Maverick' Totally Exists and Features Return of Sexy Beach Volleyball, A Lost Love Indeed

Read more here.

Photo: Paramount

Dear Will Smith: 10 Jada Pinkett Smith Jokes That Are Way Funnier Than What Chris Rock Went With, Is This Better?

Read more here.

Photo: Getty Images

Game of Thrones Prequel 'House of the Dragon' to Disappoint Everyone Immediately For 7 Seasons

Read more here.

Photo: HBO