Zendaya has set the internet ablaze once again…though this time it isn't because of a funny anecdote told on late-night TV, nor is it because of a jaw-dropping dress she wore on the red carpet. Instead, it's all about her hair – and a conspicuous piece of jewelry – that she showed off on her Instagram stories recently.
The Spider-Man: Far From Home star revealed a new auburn lob (short for "long bob") on the social media platform. "It was time for a change," read the text on the image.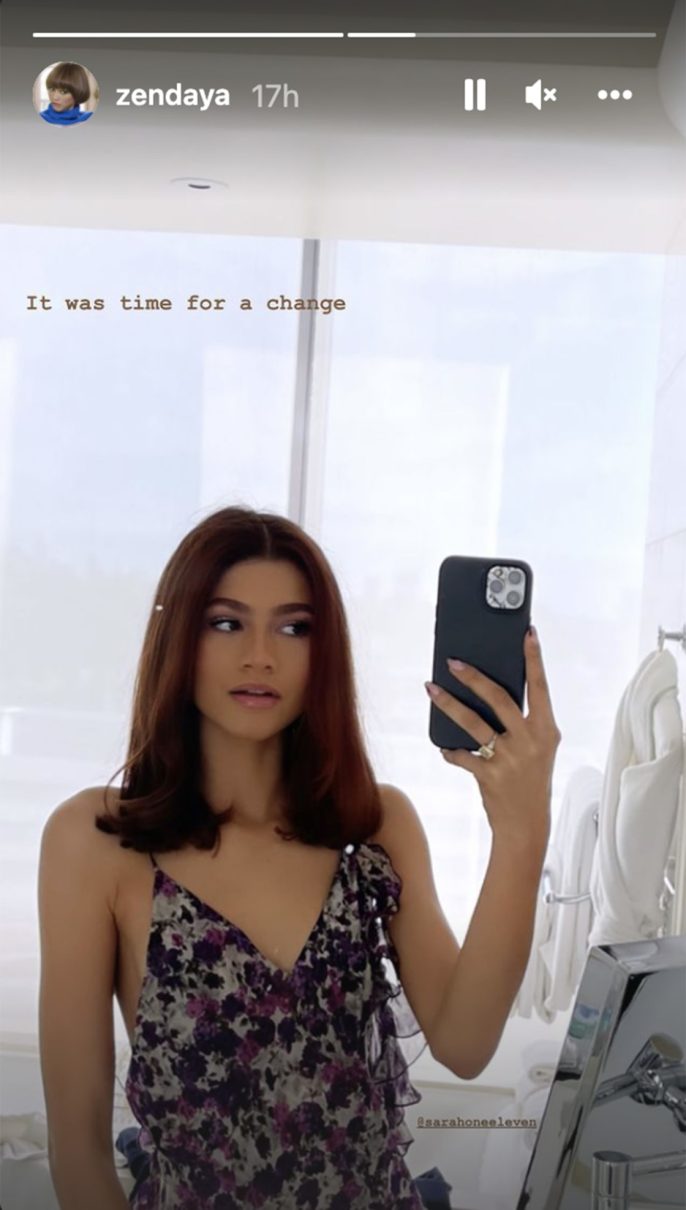 But what got fans talking wasn't just the 25-year-old's hot hair hue but also the humungous rock on the actress' third finger. Given that she's dating her Spider-Man co-star, Tom Holland, everyone's wondering if perhaps the "change" she referenced isn't just about her looks but about her single status, too. (Others say sit down and chill out because it's likely just the Bulgari yellow diamond band she purchased for herself and discussed during an Elle interview.)
The rumor mill will just keep on churning, and we'll keep an eye on this young lady's Instagram because when she's officially the market, we'll spiral into a well of despair even Spider-Man couldn't save us from.
Cover Photo: Axelle/Bauer-Griffin / Contributor (Getty Images)
MORE NEWS:
Entertainment News 12 15 21
Zendaya's Spider-Man Premiere Dress Is One Spidey Web We're OK to Get Caught Inside

Read more here.

Photo: Axelle/Bauer-Griffin / Contributor (Getty Images)

Miley Cyrus Is Smoking While Serenading Pete Davidson With 'It Should Have Been Me' (Well, It's Been Everybody Else Already)

Read more here.

Photo: YouTube

'Welcome to Wrexham' Teaser Hilariously Shows Just How 'Not Sunny' Rob McElhenney's New Soccer Club Is (With Ryan Reynolds)

Read more here.

Photo: YouTube

Josh Hartnett Claims He Missed Out 'Brokeback Mountain' Kiss With Joaquin Phoenix, Forgetting Every Movie Gets a Remake

Read more here.

Photo:  Antony Jones / Stringer  (Getty Images)

Justin Bieber Fan Jumps Onstage, Instantly Crushed By Body Guards (And We Thought We Were Impulsive)

Read more here.

Photo: CBS Photo Archive (Getty Images)

Mandatory Tweets: Best Reactions to Tom's Last Laugh in 'Succession's Season 3 Finale

Read more here.

Photo: HBO Max

Unlikely 'Sex and the City' Fan Jonah Hill Pokes Major Hole in 'And Just Like That' Premiere, And Why Are We Watching This Crap?

Read more here.

Photo: NBC and HBO Max

Watch Snoop Dogg Hilariously Mispronounce Every 2022 Golden Globes Nominee, Folks Starting to Suspect He Might Be High

Read more here.

Photo: Joey Foley (Getty Images)

Ranked! Where 'Home Sweet Home Alone' Falls in the Home Alone Movie Franchise

Read more here.

Photo: 20th Century Fox

Ranked! The 12 Best Celebrity Surprise Cameos in Movie History

Read more here.

Photo: Instagram