Who can forget FX's The Shield, following Michael Chiklis as hardened, very corrupt LA detective Vic Mackey? Actually, a lot of people. Despite being hailed as one of the most influential crime dramas of all-time—up there with The Sopranos and The Wire—The Shield has faded into infamy. This is probably because when Googling "The Shield," browsers are plagued by the WWE's professional wrestling stable consisting of Dean Ambrose, Roman Reigns, and Seth Rollins. Here's another series no one's heard of: The Commish, starring Chiklis a decade before he was buff, and "dickless for Chiklis" became a common utterance. 
In the early '90s, ABC's The Commish was a very different, nigh progressive type of cop series. 28-year-old Chiklis played middle-aged, retired NYPD detective, and quintessential wiseguy, Tony Scali, who moved to the small town of Eastchester, New York to be the police commissioner. Respected for his unorthodox methods, Tony used charisma, creativity, and common sense (the three Cs) to solve crimes rather than violence. Yes, The Commish existed in a world where cops enjoyed going to work and their wives' cooking (which was good). 
It pays to embrace male pattern baldness. Just shave it. 
This comedy/family drama used Full House's font during its Andy Griffith Show-esque opening credits and focused on Tony's home life as much as breaking up a fight between two guys dressed in chicken costumes. This is not to say that The Commish didn't have its fair share of murder, mayhem, and even rape. However, it was often more concerned with a suicide jumper's roof permit than the overtly dark and, by contemporary standards, interesting. And that's the point: it was network television's equivalent of taco Tuesday served by the personality of its main character, moral compass, and stellar ensemble including Theresa Saldana, Kaj-Erik Eriksen, John Cygan, Melinda McGraw, Geoffrey Nauffts, Nicholas Lea, Gina Belafonte, and David Paymer.
Ultimately, The Commish ran for five seasons and 94 episodes from 1991 until 1996. Its later seasons dropped off in quality and, when it was pitted against Seinfeld in the Thursday night slot (a death sentence), was canceled. Now, millennials who watched it with their moms before/after school or caught it during syndication on Lifetime, are nostalgic for The Commish. Luckily for them, pretty much every episode of The Commish is available to watch on YouTube (for free).
 Or, fill your Zoloft script and watch The Shield.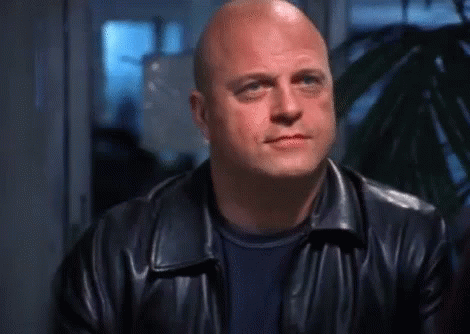 There he is. 
Visit the Mandatory Shop for great deals on your very own Mandatory merch.
Follow Mandatory on Facebook, Twitter, and Instagram.
Entertainment News 12 1 21
'Pam and Tommy' Trailer Featuring Sex Tape and Seth Rogen's Mullet Drops (And It's All as Hot and Trashy as You'd Hope)

Read more here.

Photo: Hulu

Elle Fanning Redefines Topless With Stylish Gold Boob Jewelry, Is There an Award For This?

Read more here.

Photo: Axelle/Bauer-Griffin / Contributor (Getty Images)

Mandatory Tweets: Kim Kardashian Rocking Yeezys While Holding Pete Davidson's Hand Is Ultimate Eff You (In Her World)

Read more here.

Photo: Robert Kamau / Contributor and NBC / Contributor (Getty Images) 

John Krasinski Reveals Scandalous Pam and Jim Plotline on 'The Office' That He Refused to Shoot, And We'd Kill to See

Read more here.

Photo: NBC

Jared Leto Rocks Pink Tuxedo For 'House of Gucci' Premiere, And We're Fashionably Jealous

Read more here.

Photo: Emma McIntyre / Staff (Getty Images)

RANKED! The Best Mullets in TV and Movie History (Where Does Seth Rogen's Mullet in 'Pam and Tommy' Trailer Fall?)

Read more here.

Photo: Instagram

Drake Reportedly Drops $1 Million at Strip Club Day After Astroworld Disaster, That's One Way to Ease the Pain

Read more here.

Photo: Amy Sussman (Getty Images)


Ranked! The Funniest Celebrity Courtroom Sketches

Read more here.

Photo: Google

The Rock Admits to Regularly Peeing in Water Bottles, Finally Becomes Hero We've Been Waiting For

Read more here.

Photo: Axelle/Bauer-Griffin / Contributor (Getty Images)

Ranked! The Very Best Donald Trump Impressions on TV (Including James Austin Johnson's Stunning New 'SNL' Impersonation)

Read more here.

Photo: NBC