Photo: arinahabich, Getty Images.
You can't control the outcome of Super Bowl LII taking place on February 4th in Minneapolis, but you can bring your A-game to the eating portion of the event. Assuming you can't afford to trek to "Minne-snow-ta" (or can but simply don't want to suffer the arctic weather there), tailgaiting at home is the next best way to experience the game with friends, family, and fellow football fans.
You don't need to be a Michelin-starred chef or have a field-worthy strategy to pull off the perfect party buffet on game day; the best entertaining is done with a few tricks of the smoke-and-mirrors variety. Several notable chefs like Sunny Anderson, Thomas Boemer, and Adam Richman chimed in here on tips for your Super Bowl Sunday spread. For those who want to impress their Super Bowl guests, try the jaw-dropping recipes by Chef David Burke of Tavern 62 below.
Super Bowl Tailgate-at-Home Tips
Marinating Is Your Friend: TV personality Adam Richman likes to marinate meat and vegetables overnight to infuse food with flavor and to forgo condiments. This technique also eliminates hassle on the day of the party.
Buy Disposable Everything: After the big game, you'll either want to celebrate or mourn privately. The last thing you'll want to do are the dishes. Disposables are must-haves on game day. If you want to be more environmentally friendly, seek out compostable plates, utensils, and cups, then dispose in compostable trash bags.
Make It a Group Effort: Ask guests to bring easy items like chips, dips, or soda so you can free yourself up to do the more labor-intensive appetizers. Set out serving bowls ahead of time so you can direct your guests to set up their contributions on the buffet table by themselves.
Bust Out the Inflatables: Okay, maybe just one inflatable. The Infladium is an inflatable snack stadium measuring 38 x 30 x 8 inches that comes with a dozen insertable containers ideal for chips or dips. The $19.99 price tag includes Sunny Anderson's 10 Ways to Buffet recipe booklet to get your culinary creative juices flowing.
Build Your Own Food Bar: Chef Thomas Boemer of Revival and Corner Table recommends low-maintenance foods like pulled pork that can be cooked in a crock pot. Furnish the garnishes and the fixings and guests can then serve themselves.
Break Your Party into Quarters: Format your party like a football game, recommends Sunny Anderson of the Food Network. Start with pre-game drinks, appetizers, and small bites. When the game gets underway, bust out the bigger entrees.
Display Team Pride: Have fun with face paint, jerseys, and incorporate your team's colors into your tableware and decorations.
Get Outside: If you live in a warm-weather climate, move the party outdoors. Line the trunk of your hatchback or SUV with a blanket. Place beer in ice buckets and snacks in bowls, then stagger those items in the trunk. Rent a port-a-potty to avoid traffic indoors. Entertain guests with lawn games like Frisbee.
Super Bowl Tailgating Recipes
Waffle Nachos
For the waffle batter:
Ingredients:
1 stick butter
2 eggs
1 3/4 cups milk
1 cup flour
2 tablespoons sugar
1 teaspoon baking powder
Preparation:
Melt butter and set aside. Mix together egg and milk. Add all dry ingredients then add milk and eggs mixing to combine. Add butter until mixed well.
For the skirt steak:
Ingredients:
1 pound skirt steak
1 clove chopped garlic
1 tablespoon chopped cilantro
2 tablespoons extra-virgin olive oil
Salt and pepper (to taste)
2 sprigs thyme
1 shallot, sliced thin
Preparation:
Marinate steak with all ingredients overnight. Grill a few minutes on each side and let rest, slice when ready to put on waffle nachos.
For the salsa:
Ingredients:
2 cups diced ripe fresh tomato
1/4 cup diced jalapeno (no pith or seeds)
1/2 cup small diced red onion
1 tablespoon olive oil
2 tablespoons lime juice
1 tablespoon sriracha
1 tablespoon chopped cilantro
Salt and pepper (to taste)
Preparation:
Combine all ingredients and taste for seasoning.
Additional Ingredients:
2 cups grated cheddar cheese, grated
Assemble Nachos:
Bake waffle in iron. When done in the waffle iron cut into 1/8ths and place on baking sheet and bake at 300 degrees until crisp. Place "waffle nachos" on platter of choice. Slice skirt steak and place slices on top of the waffle pieces. Sprinkle cheddar cheese on top and warm in oven until cheese is melted. Add salsa and crema to the top of the nachos.
Lord of the Wings
For the wings:
Ingredients:
1 cup soy
2 ounces honey
2 ounces lime juice
2 ounces ketchup
1/2 teaspoon pepper
1 pound chicken wings
Orange wedges dusted with chili powder (for garnish)
Radish slices (for garnish)
Cilantro leaves (for garnish)
Orange peel (for garnish)
Preparation:
To make marinade, combine soy, honey, lime juice, ketchup, and pepper; whisk. Place wings in airtight container; pour marinade on top. Marinate overnight. Place marinated wings on cutting board and skewer with bamboo skewer. Season wings with salt, pepper, and chili powder. Grill chicken wings until done, being careful not to burn the skewers. Take orange wedges and sprinkle with chili powder. Garnish chicken wings with sliced radish, cilantro, and lime juice.
Mini Angry Meatball Hero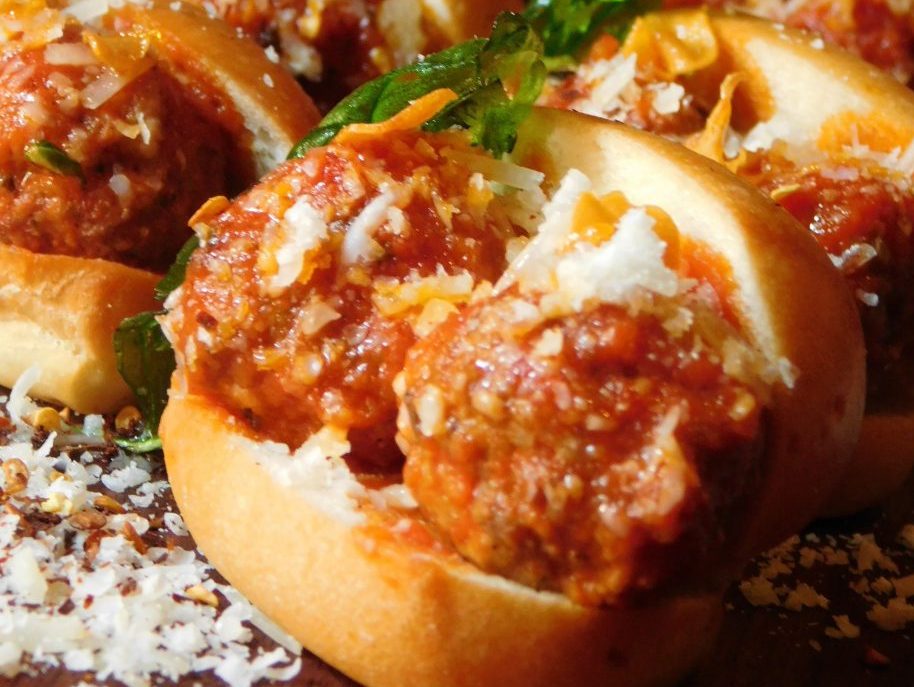 For the meatball mix:
Ingredients:
2 pounds ground beef
1 cup panko (cover with milk and let rest)
1 cup Parmigiano
1/4 cup parsley
4 cloves garlic, minced
1/2 teaspoon chili flakes
1/2 teaspoon salt
2 eggs
Pinch black pepper
For the sauce:
Ingredients:
2 28-ounce cans crushed tomatoes
6 cloves garlic, sliced
1 small onion, dice fine
1 teaspoon chili flakes
1 teaspoon paprika
6 branches fresh basil
1/2 cup extra-virgin olive oil
Preparation:
Mix all meatball ingredients well. Roll out mini meatballs to roughly the size of grapes. Bake at 400 degrees until golden brown and remove from tray. Meanwhile, make sauce by placing extra-virgin olive oil, garlic, and onion in pot. Sweat until garlic and onion begin to brown around edges. Add chili flakes and paprika; stir. Add tomato. Simmer 10 minutes; add basil and simmer additional 10 minutes. Place meatballs in warm sauce. Assemble meatballs on bread of choice.