Pizza Hut Ushers In The Robot Apocalypse With Its Mobile Pizza Truck
Photo: Matt Winkelmeyer / Staff (Getty Images)
Years from now, when the robots take over and force us to submit to their mechanical will, we'll remember this day. That's because Pizza Hut has announced that it has joined together with Toyota to create the Tundra PIE Pro, a truck that contains a "mobile pizza factory" in its truck bed. The pizza itself isn't made by a very cold human pizza-maker holding on for dear life as the truck zooms down the highway; rather, it's made by a (probably evil) robot.
The truck bed was converted into a mobile pizza kitchen by the addition of a refrigerator, a portable conveyor oven, and two computer-guided (for now until they revolt and take control) robotic arms.
https://www.instagram.com/p/BpkOiL3HetB/?taken-by=pizzahut
"We are constantly focused on evolving our processes and systems through improvements and innovations that allow our team members and drivers to better serve our customers," said Nicolas Burquier, chief customer and operations officer, Pizza Hut, U.S., in a press release.
People who live far away from Pizza Hut should be happy to hear about this innovation. That's because these pizza fans are the reason for its existence. They're also the people we're going to blame when the robot revolution begins. If they could just settle for Digiorno, we'd all sleep better at night without fear of our robot overlords.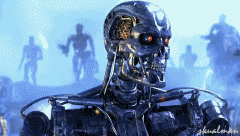 "Nothing tastes better than a fresh Pizza Hut pizza straight out of the oven," said Marianne Radley, chief brand officer of Pizza Hut, in a press release. "The Tundra PIE Pro brings to life our passion for innovation not just on our menu but in digital and delivery in order to provide the best possible customer experience."
When someone orders a pizza, one of the robotic arms grabs the selected pie out of the refrigerator and places it on the oven conveyer belt. After baking, the other robotic arm removes the pizza from the conveyer belt, puts it on a cutting board, and places it in a box, hot and ready to be eaten by fans of both pizza and robots.