If you thought your father-in-law was scary, imagine seeing your bride walk down the aisle with her dad in full KISS makeup and costume. We don't know if that's what's going to happen to Gene Simmons' daughter, Sophie Simmons, but if the legendary rocker's celebratory Instagram post for Sophie's engagement to boyfriend James Henderson is any indication, it might.
Simmons posted a pic on the social media platform of himself in full KISS makeup and costume alongside his normally-dressed 30-year-old daughter, who is also a singer.
"Sophie little got engaged this week," he wrote, along with a sign-of-the-horn emoji. (At least he kept his tongue in his mouth.)
 

View this post on Instagram

 
Simmons also reshared an Instagram story of the happy family that Sophie's brother Nick posted. "My little sister is 30 and engaged and I am freaking out right now because she is smol," Nick wrote.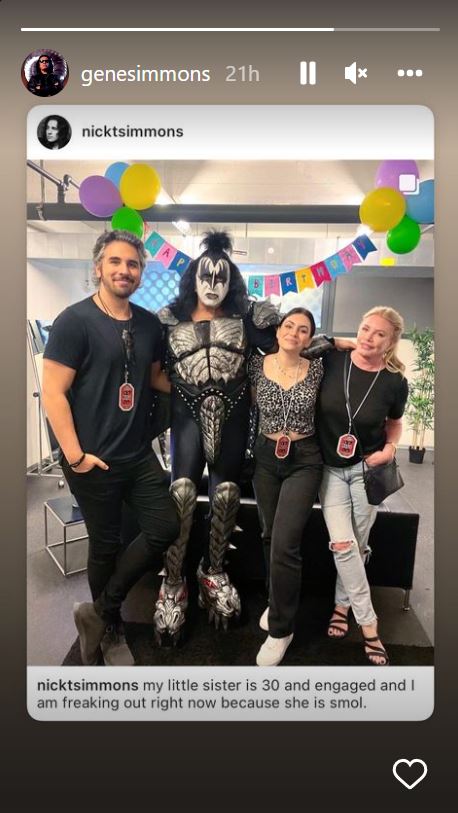 Sophie announced the engagement – which happened on her 30th birthday – with her own Instagram post. "'This is the time,'" she captioned a black-and-white pic of the impressive bauble, adding an engagement ring emoji.
 

View this post on Instagram

 
The location tag of her post was Zurich, Switzerland, where KISS had a concert as part of their "End of the Road" farewell tour that night.
One thing's for sure: Sophie seems to be a daddy's girl. Good luck, James. You're going to need it.
Cover Photo: Francesco Prandoni / Contributor (Getty Images)
News 7 1 22
Travis Barker Hospitalized for Pancreatitis Following Colonoscopy (A Camera Crew Can't Be Far Behind)

Read more here.

Photo: Getty Images

Chris Pratt Claims He 'Cried' About Instagram Backlash (Welcome to Social Media, Buddy)

Read more here.

Photo: Getty Images

Shaq Buying Dinner For a Whole Restaurant Proves His Generosity Is Even Bigger Than His Stature

Read more here.

Photo: Getty Images

Female Wrestling Star Britt Baker Has an Unusual Side-Hustle

Read more here.

Photo: Getty Images

Duffer Brothers Tease Potential 'Stranger Things' Spinoff (If They Don't Kill Off Your Favorite Character First)

Read more here.

Photo: Netflix

The Funniest 'Stranger Things' Season 4 Memes Only Hardcore Fans Will Understand

Read more here.

Photo: Twitter

Superhero Movie Posters That Used the Exact Same 'Floating Head' Design Template (Way to Be Original, Hollywood)

Read more here.

Photo: Marvel

10 Bingeable TV Shows Streaming This Summer That'll Get You Through the Next Heat Wave

Read more here.

Photo: Disney+

TikTok's Tortilla Challenge Is the Dumbest Thing You Have to Try

Read more here.

Photo: TikTok

Sesame Street's Elmo Gets COVID-19 Vaccine (And Anti-Vaxxers Are Throwing a Tantrum on Twitter)

Read more here.

Photo: Sesame Street Workshop