Welcome to Mandatory and ComingSoon's weekly Binge & Buy, a digital HD, Blu-ray, and DVD column for the week of Sept. 3! Here, you'll find detailed write-ups of different titles released this week, including a number of new releases like Men in Black International, reissues, combo packs, and TV seasons, none of which you can live without in 2019. Click each highlighted title to purchase through Amazon!
Photo: Sony Pictures
New Movies on Blu-ray/DVD
Men in Black International
The men in black tackle their biggest, most global threat to date: a mole in the Men in Black organization.
Ma
Ma (Octavia Spencer) offers the basement of her home to some kids for a party, but her hospitality curdles into obsession, turning a teenage dream into a terrorizing nightmare
Scooby-Doo! Return to Zombie Island (DVD)
Trying to put their mystery-solving days behind them, the Scooby gang arrive at a mysterious tropical island where their vacation is cut short…by an army of marauding zombies!
Into the Ashes
After losing his wife, Nick must decide if he will stay on his new path or exact revenge and force his enemies to pay for what they have done.
Clarence Clemons: Who Do I Think I Am?
This documentary highlights Clemons' life as musician and member of the E Street band while also presenting another side of Clarence not many saw when he was away from bright stage lights. It's an intimate portrait of a man who searched for enlightenment and meaning at the unknowingly final years of his life.
The Iron Orchard
The story of Jim McNeely (Lane Garrison), a young man thrust into the vibrant and brutal West Texas oilfields in 1939. The formidable path before him is riddled with obstacles but he finds hope with his first loves: new wife Lee Montgomery (Ali Cobrin) and drilling for oil. While McNeely stumbles upwards, he in turn jeopardizes his longing to conquer influence and wealth.
Photo: DC Comics
Book Club
Harley Quinn: Breaking Glass
With just $5 and a knapsack to her name, 15-year-old Harleen Quinzel is sent to live in Gotham City. She's not worried, though–she's battled a lot of hard situations as a kid, and knows her determination and outspokenness will carry her through life in the most dangerous city in the world. And when Gotham's finest drag queen, Mama, takes her in, it seems like Quinzel has finally found a place to grow into her most "true true" with new best friend Ivy at Gotham High. From Eisner Award and Caldecott Honor-winning author Mariko Tamaki (This One Summer) and Eisner Award-nominated artist Steve Pugh comes a coming-of-age story about choices, consequences, and how a weird kid from Gotham goes about defining her world for herself.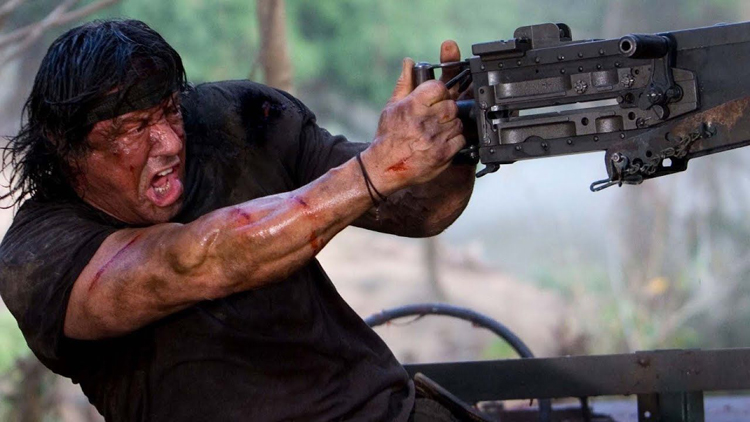 Photo: Lionsgate
Reissues
Rambo (4K)
Iconic action hero John Rambo (Sylvester Stallone) returns in this sequel that finds the middle-aged veteran living quietly in Asia until a group of well-meaning missionaries is taken captive in a bloody civil war.
The Man in the White Suit
Alec Guinness has one of his finest comic roles in this Ealing satirical comedy about a much patronized amateur scientist whose latest invention creates an uproar in the British textile industry.
Kind Hearts and Coronets
Louis (Dennis Price), the black sheep of a wealthy family, seeks to murder all the heirs in order to inherit the family fortune.
The Lavender Hill Mob
A meek bank clerk who oversees the shipment of bullion joins with an eccentric neighbor to steal gold bars and smuggle them out of the country as miniature Eifel Towers.
Hell Comes to Frogtown
It's up to Sam Hell and the armed and dangerous beauty Spangle to brave the barren wasteland once known as Earth and ruled by slimy, green overgrown amphibians.
Dogtooth
A darkly funny look at three teenagers confined to their parents' isolated country estate and kept under strict rule and regimen — an inscrutable scenario that suggests a warped experiment in social conditioning and control.
Alps
Yorgos Lanthimos's film is another darkly comic, absurdist vision of (in)human relationships, focusing on a mysterious underground organization that helps mourners get over their losses by impersonating the deceased.
Manson Family Movies
A painstaking recreation of the daily lives of the members of Manson's cult, from the banal to the brutal. Filmed on the actual locations where the family lived and killed, filmmaker John Aes-Nihil blends dramatic footage with real recordings of the Manson family singing and performing music to chilling, gritty effect and audacious authenticity.
Santana Live At US Festival
A tremendous performance from the legendary Carlos Santana, rivaling his set at Woodstock for its energy, excitement, and inspiring musicianship. Conceived by Apple co-founder Steve Wozniak and music impresario Bill Graham, the US Festival was a transformative event for Santana in his long and illustrious career, and this performance from September 4, 1982, represents the Rock & Roll Hall of Famer at his absolute best.
Photo: 20th Century Fox
New on Digital HD
Dark Phoenix
When Jean Grey is struck by a mysterious cosmic force that transforms her into the iconic Dark Phoenix, the X-Men must unite to face their most devastating enemy yet — one of their own.
Strange But True (in select theaters and VOD Sept. 6)
A woman surprises the family of her deceased boyfriend by telling them she's pregnant with his child.
Satanic Panic (in theaters and Digital HD Sept. 6)
A pizza delivery girl at the end of her financial rope has to fight for her life – and her tips – when her last order of the night turns out to be high society Satanists in need of a virgin sacrifice.
The Fanatic (on Digital HD Sept. 6)
John Travolta stars as a rabid film fan stalks his favorite action hero and destroys the star's life.
Photo: Warner Bros.
TV on Blu-ray and DVD
Scooby-Doo, Where Are You!: The Complete Series
The world's most lovable, mystery-solving dog, along with his best friend Shaggy and the rest of the gang, stars in a spooky and laugh-filled collection of classic cartoons.
Straight Forward: Series 1 (DVD)
This gritty international thriller about a Danish con woman seeking revenge against a crime kingpin for killing her father is an adrenaline-filled ride across the globe.
Martin Clunes: Islands of America: Season 1 (DVD)
Martin witnesses the destruction caused by volcanoes firsthand, before bear watching in Alaska, encountering seals and sea lions in California's secluded Channel Islands, and visiting some of Washington State's most remote islands.
NCIS: The Sixteenth Season (DVD)
The show returns one month after Director Vance (Rocky Carroll) was kidnapped by a terrorist who tortured Special Agent Sloane (Maria Bello) years ago in Afghanistan. As Special Agent Gibbs (Mark Harmon) assumes the role as Acting Director in Vance's absence, the team searches worldwide for their missing leader.
Bull: Season Three (DVD)
Dr. Jason Bull returns to work at TAC after recovering from his heart attack. In his first case back he asks his team to help defend an insurance company who is being sued by a young mother who was denied coverage for a liver transplant.
The Goldbergs Season 6 (DVD)
The VCR-loving, mixtape-making, spandex-wearing Goldbergs are back! For geeky and movie obsessed youngest child Adam (Sean Giambrone), he continues navigating high school life and documenting the hilarious and awkward antics of his colorful family.
Young Sheldon: Season 2 (DVD)
For 10-year-old Sheldon Cooper, it isn't easy growing up in East Texas. Being a once-in-a-generation mind capable of advanced mathematics and science isn't always helpful in a land where church and football are king.
CMA Awards Live: Greatest Moments 1968-2015
For 50 years, the CMA Awards have spotlighted the top performers of America's favorite music, capturing the songs and artists that have provided a soundtrack for our lives. This collection takes you from the early days of the CMA Awards in the late 1960s when Loretta Lynn, Johnny Cash and Glen Campbell dominated the music scene to today's top stars including Carrie Underwood, Little Big Town, Luke Bryan and Chris Stapleton.