Burt Reynolds in 1972. Photo: Terry Disney (Getty)
Burt Reynolds was a Hollywood legend who racked up a number of awards and nominations, including two Golden Globe awards and one Oscar nomination, as well as a memorable career on and offscreen before his passing on September 6, 2018.
In honor of the late actor, we go over 10 of his best movies and where you can watch them again or for the very first time.
Deliverance
Reynolds himself thought that Deliverance was the best film he ever made, and the three Oscar nominations the movie received speak for themselves.
Intent on seeing the Cahulawassee River before it's turned into one huge lake, outdoor fanatic Lewis Medlock (Reynolds) takes his friends on a river-rafting trip into the dangerous American back-country. If you ever hear someone tell you they're gonna "make you squeal like a pig," well, this movie is why. And you should probably run.
Watch on Vudu, YouTube, Amazon Prime, Google Play, and iTunes.
The Longest Yard
Photo: The Longest Yard (Paramount Pictures)
Director Robert Aldrich's 1974 comedy-drama The Longest Yard is considered one of the greatest football movies of all-time. Reynolds, who played college football at Florida State, plays a former NFL quarterback sent to prison who is forced to start an inmate team to play the guards. Hilarity and hard hits ensue. The movie stars a few real NFL stars, including Ray Nitschke, Joe Kapp, and Mike Henry. Reynolds later appeared in the 2005 Adam Sandler remake where he played Coach Scarborough while Sandler took on Reynold's original role of Paul Crewe.
Watch on Vudu, YouTube, Amazon Prime, iTunes, Google Play, and Hulu.
Smokey and the Bandit
In the 1977 action-comedy Smokey and the Bandit, Reynolds plays Bandit, who is hired to run a tractor trailer full of beer over state lines. During his run, Bandit picks up a hitchhiker named Carrie (Sally Field) who is pulling her own job as a runaway bride, still clad in her wedding dress and all. An epic car chase ensues as Carrie's father-in-law to be, Sheriff "Smokey" Justice, scours the South in pursuit.
Watch on Vudu, YouTube, Amazon Prime, Google Play, and iTunes.
The Best Little Whorehouse in Texas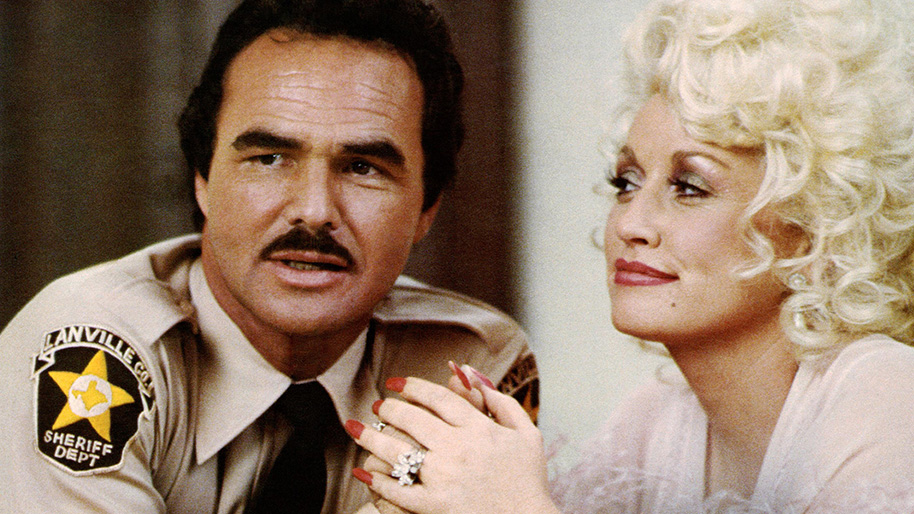 Photo: The Best Little Whorehouse in Texas (Universal Pictures)
The Best Little Whorehouse in Texas is a comedy musical starring Reynolds and Dolly Parton in a movie based on a story by Larry L. King that was inspired by the real-life Chicken Ranch in La Grange. Reynolds plays a sheriff and regular patron of a historical whorehouse, run by Parton's Mona Stangley, who fights to keep it running after a television reporter (based on real-life Houston news personality Marvin Zindler) targets it as the Devil's Playhouse.
Watch on Vudu, YouTube, Amazon Prime, Google Play, and iTunes.
Boogie Nights
If there's one movie on this list I'd bet all Reynolds fans have seen, it's Boogie Nights. Who can forget Mark Wahlberg's memorable role as Eddie Adams, aka Dirk Diggler, and Reynolds as porn director Jack Horner (he won a Golden Globe and received an Oscar nomination) in a movie about a young man's adventures in the pornography industry of the late 1970s and early 1980s?
Writer and director Paul Thomas Anderson confirmed that he and Reynolds had a feud behind the scenes, but it was really only during "three tense days" of filming that he felt was beneficial to shooting some of the movie's intense scenes.
Watch on Netflix, Vudu, YouTube, Amazon Prime, Google Play, and iTunes.
White Lightning
Photo: White Lightning (United Artists)
When the police pick up Gator McKlusky (Reynolds) for running moonshine, they agree to let him out of jail if he will help them capture the key figures in his moonshine operation. Since the suspected ringleader is the man who killed Gator's little brother and sister-in-law, he agrees to help, seeking vengeance on those responsible.
Watch on Vudu, YouTube, Amazon Prime, Google Play, and iTunes.
Hustle
In this slick crime mystery feature, Reynolds plays Lt. Phil Gaines, a case-hardened Los Angeles detective finds himself drawn into a dark, complex puzzle that involves the death of a teenaged girl. Complicating his investigation is his sizzling relationship with an icy hooker (Catherine Deneuve), who has a dangerous connection to the case.
Watch on Vudu, YouTube, Amazon Prime, Google Play, and iTunes.
Semi-Tough
Photo: Semi-Tough (United Artists)
The Longest Yard wasn't the only football gig Reynolds took on. Three years later the actor played another professional player, but this time in a romance-comedy starring Kris Kristofferson and Jill Clayburgh. In the movie, a three-way friendship between two free-spirited professional football players (Reynolds and Kristofferson) and the owner's daughter (Clayburgh) is compromised when two of them become romantically involved. Considered one of Reynolds' most underrated hits, Semi-Tough is the most feel-good movie on this list.
Watch on Vudu, YouTube, and Google Play.
Starting Over
Another romance-comedy, Starting Over stars Reynolds as a divorced man who falls in love with a new woman (Jill Clayburgh), but he still can't get over his ex-wife (Candice Bergen), which affects his love life in a few hilarious ways. The movie was nominated for two Oscars and is based on the novel by Dan Wakefield.
Watch on YouTube, Amazon, Google Play, and iTunes.
The Last Movie Star
Photo: The Last Movie Star (A24)
Launching into the present, Reynolds' role in The Last Movie Star is as poignant as it is timely. The late actor plays an aging former movie star who is forced to face the reality that his glory days are behind him. On its surface, the film is a tale about faded fame, but the universal story simply focuses on growing old.
Watch on YouTube and Google Play.