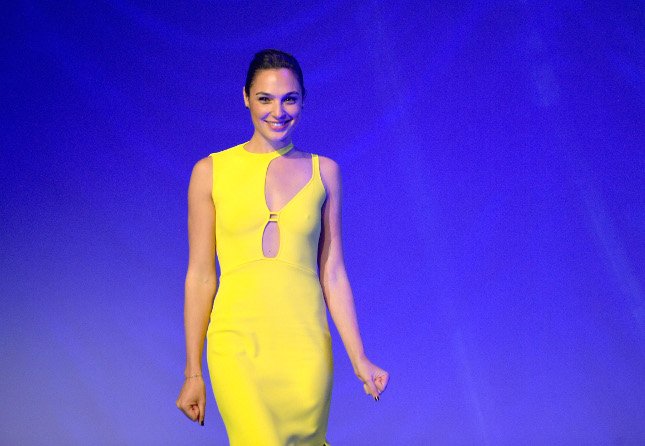 Gal Gadot (the woman in this dress) and Patty Jenkins (not pictured) attended the 29th Annual Palm Springs International Film Festival Film Awards Gala last night, and the Wonder Woman sequel came up.
"We're actually making a totally different film with a lot of the same, similar like things that we love, but it's its own movie completely, so it's not 'two' to us," the director told ET. "It's an entirely new adventure together that we couldn't be luckier [to do]."
So basically they're remaking the first Woman Woman movie, but it's set in a different time that's not WW1. I hope that was clear. The movie doesn't come out until November 2019, so we might not even get to see it with all the nuclear fallout that'll be happening at that time. Or Gal Gadot might have actual super powers by then due to radiation poisoning and they can save money on special effects. Either way, I'm good.
Gal Gadot Palm Springs International Film Festival Film
Gal Gadot Palm Springs International Film Festival Film #1

PALM SPRINGS, CA - JANUARY 02: Gal Gadot arrives at the 29th Annual Palm Springs International Film Festival Film Awards Gala at Palm Springs Convention Center on January 2, 2018 in Palm Springs, California. (Photo by Steve Granitz/WireImage)

Gal Gadot Palm Springs International Film Festival Film #2

PALM SPRINGS, CA - JANUARY 02: Gal Gadot arrives at the 29th Annual Palm Springs International Film Festival Film Awards Gala at Palm Springs Convention Center on January 2, 2018 in Palm Springs, California. (Photo by Steve Granitz/WireImage)

Gal Gadot Palm Springs International Film Festival Film #3

PALM SPRINGS, CA - JANUARY 02: Gal Gadot arrives at the 29th Annual Palm Springs International Film Festival Film Awards Gala at Palm Springs Convention Center on January 2, 2018 in Palm Springs, California. (Photo by Steve Granitz/WireImage)

Gal Gadot Palm Springs International Film Festival Film #4

PALM SPRINGS, CA - JANUARY 02: Gal Gadot arrives at the 29th Annual Palm Springs International Film Festival Film Awards Gala at Palm Springs Convention Center on January 2, 2018 in Palm Springs, California. (Photo by Steve Granitz/WireImage)

Gal Gadot Palm Springs International Film Festival Film #5

PALM SPRINGS, CA - JANUARY 02: Gal Gadot arrives at the 29th Annual Palm Springs International Film Festival Film Awards Gala at Palm Springs Convention Center on January 2, 2018 in Palm Springs, California. (Photo by Steve Granitz/WireImage)

Gal Gadot Palm Springs International Film Festival Film #6

PALM SPRINGS, CA - JANUARY 02: Actress Gal Gadot attends the 29th Annual Palm Springs International Film Festival Awards Gala at Palm Springs Convention Center on January 2, 2018 in Palm Springs, California. (Photo by Jon Kopaloff/FilmMagic)

Gal Gadot Palm Springs International Film Festival Film #7

PALM SPRINGS, CA - JANUARY 02: Gal Gadot attends the 29th Annual Palm Springs International Film Festival Awards Gala at Palm Springs Convention Center on January 2, 2018 in Palm Springs, California. (Photo by Steve Granitz/WireImage)

Gal Gadot Palm Springs International Film Festival Film #8

PALM SPRINGS, CA - JANUARY 02: Actress Gal Gadot attends the 29th Annual Palm Springs International Film Festival Awards Gala at Palm Springs Convention Center on January 2, 2018 in Palm Springs, California. (Photo by Jon Kopaloff/FilmMagic)

Gal Gadot Palm Springs International Film Festival Film #9

PALM SPRINGS, CA - JANUARY 02: Gal Gadot attends the 29th Annual Palm Springs International Film Festival Awards Gala at Palm Springs Convention Center on January 2, 2018 in Palm Springs, California. (Photo by Frazer Harrison/Getty Images for Palm Springs International Film Festival )

Gal Gadot Palm Springs International Film Festival Film #10

PALM SPRINGS, CA - JANUARY 02: Gal Gadot attends the 29th Annual Palm Springs International Film Festival Awards Gala at Palm Springs Convention Center on January 2, 2018 in Palm Springs, California. (Photo by Steve Granitz/WireImage)

Gal Gadot Palm Springs International Film Festival Film #11

PALM SPRINGS, CA - JANUARY 02: Gal Gadot arrives at the 29th Annual Palm Springs International Film Festival Film Awards Gala at Palm Springs Convention Center on January 2, 2018 in Palm Springs, California. (Photo by Steve Granitz/WireImage)

Gal Gadot Palm Springs International Film Festival Film #12

PALM SPRINGS, CA - JANUARY 02: Gal Gadot attends the 29th Annual Palm Springs International Film Festival Awards Gala at Palm Springs Convention Center on January 2, 2018 in Palm Springs, California. (Photo by Frazer Harrison/Getty Images for Palm Springs International Film Festival )

Gal Gadot Palm Springs International Film Festival Film #13

PALM SPRINGS, CA - JANUARY 02: Gal Gadot arrives at the 29th Annual Palm Springs International Film Festival Film Awards Gala at Palm Springs Convention Center on January 2, 2018 in Palm Springs, California. (Photo by Steve Granitz/WireImage)

Gal Gadot Palm Springs International Film Festival Film #14

PALM SPRINGS, CA - JANUARY 02: Gal Gadot arrives at the 29th Annual Palm Springs International Film Festival Film Awards Gala at Palm Springs Convention Center on January 2, 2018 in Palm Springs, California. (Photo by Steve Granitz/WireImage)

Gal Gadot Palm Springs International Film Festival Film #15

PALM SPRINGS, CA - JANUARY 02: Gal Gadot arrives at the 29th Annual Palm Springs International Film Festival Film Awards Gala at Palm Springs Convention Center on January 2, 2018 in Palm Springs, California. (Photo by Steve Granitz/WireImage)

Gal Gadot Palm Springs International Film Festival Film #16

PALM SPRINGS, CA - JANUARY 02: Gal Gadot arrives at the 29th Annual Palm Springs International Film Festival Film Awards Gala at Palm Springs Convention Center on January 2, 2018 in Palm Springs, California. (Photo by Steve Granitz/WireImage)

Gal Gadot Palm Springs International Film Festival Film #17

PALM SPRINGS, CA - JANUARY 02: Gal Gadot arrives at the 29th Annual Palm Springs International Film Festival Film Awards Gala at Palm Springs Convention Center on January 2, 2018 in Palm Springs, California. (Photo by Steve Granitz/WireImage)

Gal Gadot Palm Springs International Film Festival Film #18

PALM SPRINGS, CA - JANUARY 02: Gal Gadot arrives at the 29th Annual Palm Springs International Film Festival Film Awards Gala at Palm Springs Convention Center on January 2, 2018 in Palm Springs, California. (Photo by Steve Granitz/WireImage)

Gal Gadot Palm Springs International Film Festival Film #19

PALM SPRINGS, CA - JANUARY 02: Gal Gadot arrives at the 29th Annual Palm Springs International Film Festival Film Awards Gala at Palm Springs Convention Center on January 2, 2018 in Palm Springs, California. (Photo by Steve Granitz/WireImage)

Gal Gadot Palm Springs International Film Festival Film #20

PALM SPRINGS, CA - JANUARY 02: Gal Gadot arrives at the 29th Annual Palm Springs International Film Festival Film Awards Gala at Palm Springs Convention Center on January 2, 2018 in Palm Springs, California. (Photo by Steve Granitz/WireImage)

Gal Gadot Palm Springs International Film Festival Film #21

PALM SPRINGS, CA - JANUARY 02: Gal Gadot arrives at the 29th Annual Palm Springs International Film Festival Film Awards Gala at Palm Springs Convention Center on January 2, 2018 in Palm Springs, California. (Photo by Steve Granitz/WireImage)

Gal Gadot Palm Springs International Film Festival Film #22

PALM SPRINGS, CA - JANUARY 02: Gal Gadot onstage at the 29th Annual Palm Springs International Film Festival Awards Gala at Palm Springs Convention Center on January 2, 2018 in Palm Springs, California. (Photo by Matt Winkelmeyer/Getty Images for Palm Springs International Film Festival )