Elon Musk sure does know how to get people talking…but half the time, what they're saying is "Huh?" His latest stunt involved changing his Twitter name to "Lorde Edge" to accompany his phallic profile pic. He also reverted his location to "Tröllheim" (which kinda sorta translates to "Troll's World" and, as super nerds know, is a mountain in the online game Old School RuneScape).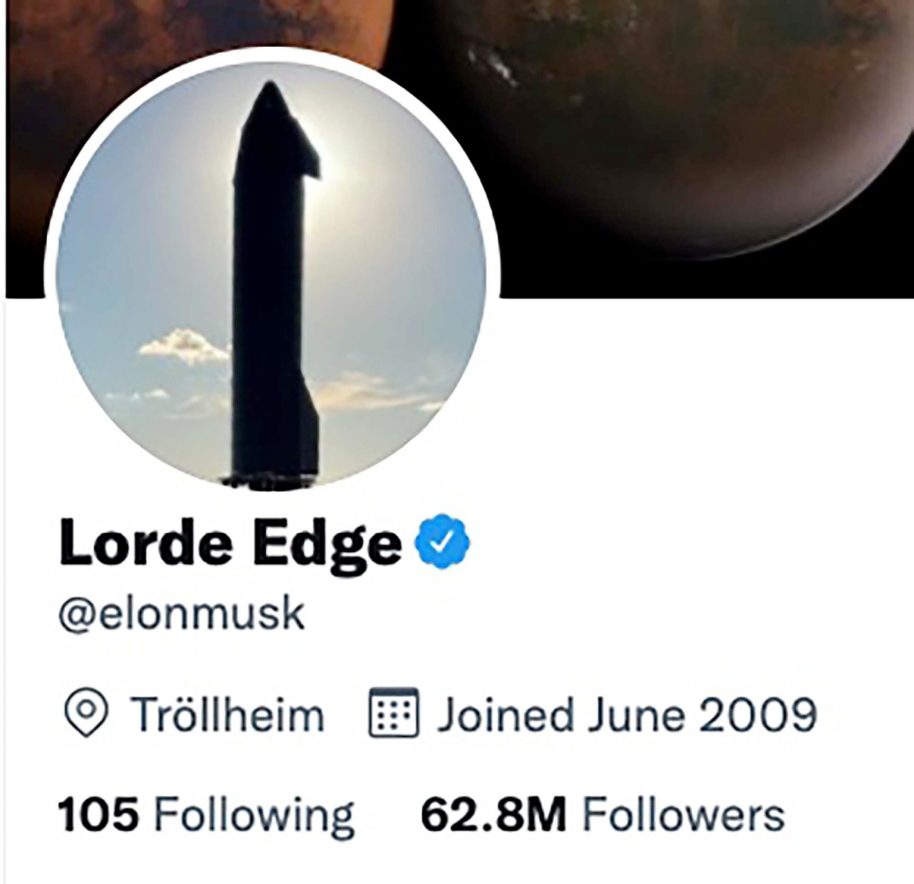 Photo: Twitter
So what does all this mean, other than Musk is off his rocker? Well, Twitter had some theories, primarily that "Lorde Edge" is an anagram of "elder doge," which is a reference to dogecoin. (Still following? Because we don't know WTF is going on.) And speaking of cryptocurrencies, the name change inspired a new form of crypto called Lorde Edge coin.
Whatever his intent, Twitter took the opportunity to speculate and poke fun at the richest – and weirdest – man on the planet.
Lorde Edge
=
Elder Doge – @elonmusk #dogecoin pic.twitter.com/HUSZhlkaO7

— Sir Doge of the Coin ⚔️ (@dogeofficialceo) November 8, 2021
This mf changed his name to "lorde edge" just because john oliver called him a edge lord. Youre pathetic my dude. https://t.co/5k5KwimJaP

— Stride ?☯️???☯️? (@sir_stride) November 8, 2021
Elon Musk changed his username to Lorde Edge and this was what went through my brain. pic.twitter.com/1mefJ0bum4

— Sting Ray Rob Thomas (@TuffTitty03) November 8, 2021
Lorde Edge @elonmusk pic.twitter.com/dejFDIgaBP

— Sir Doge of the Coin ⚔️ (@dogeofficialceo) November 8, 2021
He's since returned his name to normal, but kept the profile pic, proving he's still a dick.
Cover Photo: Pool (Getty Images)
MORE NEWS:
Entertainment News 11 1 21
Kylie Jenner Shows Off New Curves in Sexy Silhouette on Instagram (Whoa, Baby)

Read more here.

Photo: Instagram

Rock Hard: Topless Kourtney Kardashian Shows Off Engagement Ring in Loaded Instagram Photo

Read more here.

Photo: Instagram

Kate Hudson Raises Awareness (Among Other Things) About Breast Cancer in Sexy Lingerie Selfie

Read more here.

Photo: Instagram

Megan Thee Stallion's See-Through Dress in 'Sexy Girl' Video Says 'I'll Only Cover the Bare Minimum,' Think We Know Who the 'Sexy Girl' May Be

Read more here.

Photo: Instagram

Paris Hilton Rocks Toilet Paper Wedding Dress at Backyard Bridal Brunch, Talk About a Crap Party

Read more here.

Photo: Instagram

Fan Gropes Adam Levine During Maroon 5 Concert (And His Reaction Is Very Adam Levine)

Read more here.

Photo: TikTok

Meanwhile in Marvel: Harry Styles to Play Eros, God of Love and Sex, So He'll Be Playing Himself

Read more here.

Photo: Kevin Winter / Staff (Getty Images)

Comedian's Hilarious Kourtney Kardashian Impersonation Hits Us Right in the Halloween Spirit

Read more here.

Photo: Instagram

11 Textworthy Larry David GIFS You Can Use Ad Nauseam to Celebrate the Return of 'Curb Your Enthusiasm' Season 11

Read more here.

Photo: HBO

Unhealthy Number of Newborn Babies Named Thanos, These Kids Are Destined For Detention (Or Prison)

Read more here.

Photo: Jessica Peterson (Getty Images)/Marvel Studios