Photo: Konstantin Trubavin (Getty Images)
Who needs Girl Scouts, GoFundMe,  or a celebrity telethon when surfing dogs are now fundraising? At first glance, surfing dogs might seem like a viral this or that, but at the Surf Dog Surf-a-thon, whose title is just as postmodern as the concept, surfing dogs compete and raise money for charity. The event is highly competitive and does a lot of good.
Who Let The Dogs Surf?
In its 13th year, Surf Dog Surf-a-thon is the nation's longest-running surfing dog competition. The event is held every September at Dog Beach in Del Mar, not far from the Helen Woodward Animal Center. The center hosts many fundraising event every year, including creative ones like a Spring Fling Gala, a Puppy Love 5k, and a luncheon called Paws and Unwind.
The Helen Woodward Animal Center is more than a shelter. It hosts and cares for adoptable animals near San Diego and offers animal boarding services for people leaving town. It also offers animal encounter therapy, therapeutic horseback riding, and children's programming.
The Surf Dog Surf-a-thon event is also put on with help by Blue Buffalo, a company that makes sustainable and natural dog and cat food. Blue Buffalo doesn't use corn, wheat, or soy in any of their products. Like the Surf Dog Surf-a-thon, Blue Buffalo hosts many water sport-themed fundraising events for animals and those that love them.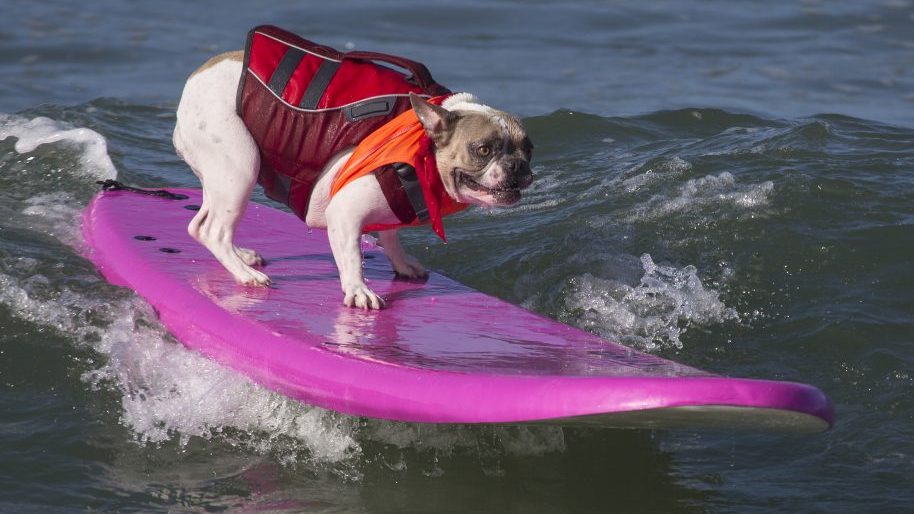 The Growing Trend of Surfing Dogs
In the Surf Dog Surf-a-thon, over 70 dogs competed throughout separate weight classes. Sugar, Surf Gidget The Pug, and Surfdog Turbo  placed top three after several heats. Sugar won the ultimate prize: Best in Surf. With help from their owners, each contestant surfed in 10-minute heats. It's similar to how professional surfing is run across the globe.
A World Dog Surfing Championship started in 2016, founded by dog surfing enthusiast Kevin Reed, author of A Dog's Guide to Surfing: Hanging Ten With Man's Best Friend.
If lacrosse is "the fastest growing sport on two feet," dog surfing is the fastest growing sport on four paws! Man's best friend, sometimes with man, now live in a world where shredding the sea together is possible. A skateboarding league for dogs must be next.
Finding ways to do good and be awesome at the same time is "ruff." The Surf Dog Surf-a-thon shows us all that it's paws-ibble.