Kill Shakespeare #1 Review
It is essentially an undeniable fact that there is one playwright/poet/supreme being in the history of mankind that is absolute in his genius, and that man is William Shakespeare. 
Be it sonnets, tragedies, comedies or anything in between, The Bard will forever be worshiped as perhaps the greatest storyteller of all time. That's why, when some two-bit comic book creators want to come along and shake things up, thespians and literature geeks might cringe at first mention. 
Except, they shouldn't. IDW Publishing's latest creative venture, Kill Shakespeare, written by Anthony Del Col and Conor McCreery (read our interview with the creators of Kill Shakespeare), aims to mix the traversing of the fictional plane present in Fables with the epic quest of Lord of the Rings, and with this first issue, succeeds. The plot of the series is that Shakespeare's greatest creations – including Hamlet, Lady Macbeth, Iago, Falstaff and more – are both teaming up and facing off against one another to find Shakespeare. Interested? Thought so.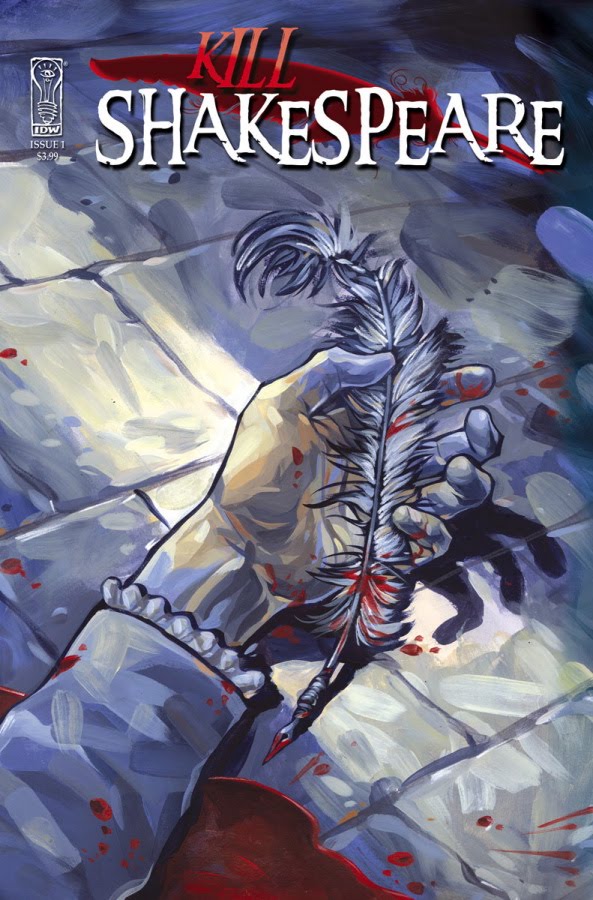 This first issue sets up the series, which begins in the midst of Hamlet, just as the titular hero is embarking on his journey to England with Rosencrantz and Guildenstern after accidentally murdering Polonius. Some of you may not have read Hamlet since high school, but fear not; absolutely zero familiarity with Shakespeare is necessary to enjoy this book. It will no doubt behoove your enjoyment to know these characters, but Del Col and McCreery do a superb job of keeping Kill Shakespeare accessible. If you've read Fables, knowing the original fairy tales from which the characters derive certainly adds a layer to the narrative, but it isn't necessary. It's a lot like that.
Hamlet, much like in the original story, is on a quest to avenge the death of his father. Along the way, he stumbles across a possibility to actually return his father from the grave. Presumably being manipulated by Richard III, he is made an offer that his father's resurrection will be granted if he can hunt down and kill the evil wizard, Shakespeare. Where the story goes from here is anyone's guess, but you can rest assured it will encompass as many twists and turns as any of Shakespeare's work. 
Del Col and McCreery have a clear sense of respect and adoration for Shakespeare, and present the story with equal parts homage and parody. It was nice to see that nothing was rushed into. With such a high-concept story, Kill Shakespeare ran the risk of trying to cram in too many characters and references too quickly. By resisting the temptation to do so, the writers have struck a nice balance to satisfy both Shakespeare junkies and those just looking to read the next big thing.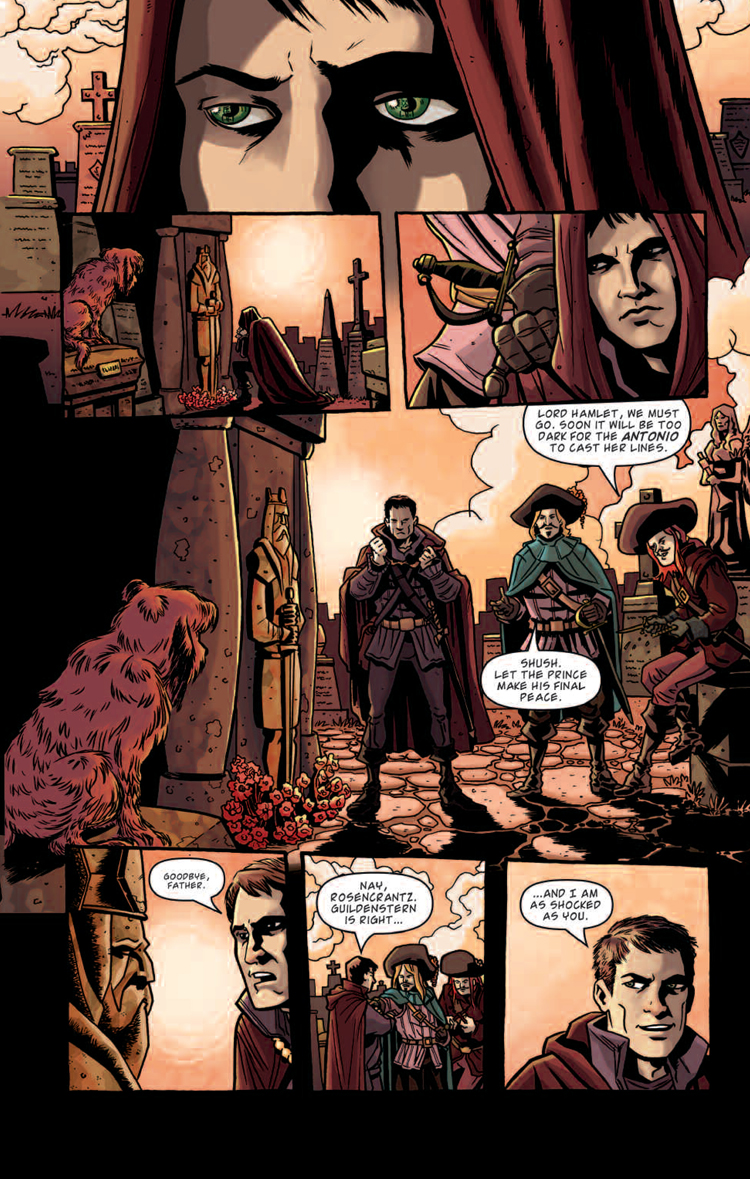 On art duties is Andy Belanger (creator of Zuda's Bottle of Awesome), and his work shines. You can tell he's having a great time drawing such iconic characters. They may not be Batman and Superman, but they've been relevant for hundreds of years. While his figure work is great, what really stands out in issue #1 of Kill Shakespeare is Belanger's visceral layouts. Every page feels different and dynamic, drawing the eye wherever it needs to go regardless of the panel layout. Belanger is sure to be a staple of the industry in the next decade, and Kill Shakespeare just might be the book to get him there. 
If you are looking for the next Fables, then this is the place to be. Kill Shakespeare #1 debuts this Wednesday, April 14.