Top 5 Awesome Advantages of Being a Time Traveller
Looper is set to release this week (September 28th), which means that we'll finally be able to watch Joseph Gordon-Levitt travel back in time in order to kick Bruce Willis' ass. If you've read CRAVE ONLINE's review of it then you'll already know that we called it the best action movie of the year, and so to celebrate its release here's a list of the top 5 awesome advantages of being a time traveller:
5. YOU COULD MESS UP THE FUTURE
Play a game of Air Hockey on an iPad with Henry VIII. Listen to the new Green Day album with Cleopatra. Give Adam West a Blu-ray player and a copy of The Dark Knight. It's said that if you travel back in time and alter history in any way there will be severe ramifactions in the future, but c'mon – are you telling me that you'd be able to resist introducing Victorian Britain to Gangnam Style?
4. YOU'D BE ABLE TO MEET DINOSAURS
OK, so technically you wouldn't be meeting them – a more accurate description of what you'd be doing is "hiding in a bush watching them whilst worrying about ending up in their digestive system" – but simply being in the presence of dinosaurs is a dream held by everyone since that scene with the Brachiosaurs and the classic John Williams theme in Jurassic Park. Altogether now; do-do-dooooooooo-do-do do-do-doooooooo-do-do…
3. YOU COULD ANSWER LIFE'S GREAT MYSTERIES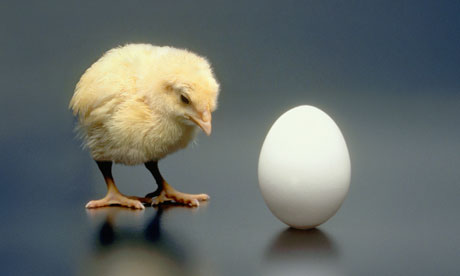 The chicken came first.
2. YOU COULD RIGHT ALL OF HISTORY'S WRONGS
World War 2. The Hindenburg disaster. Chernobyl. All of these devastating events will take a backseat, as you instead use your time travelling powers to venture back into 1996 in order to convince your parents to buy you a Nintendo 64. You thought you were too cool for it as a teenager but now, with 16 years worth of hindsight, you recognise that by firmly pledging your allegiance to Sony's PlayStation and its rad CDs, you missed out on classics such as Super Mario 64, Super Smash. Bros and GoldenEye. Hitler can wait.
1. YOU'D NEVER BE REJECTED EVER AGAIN
If you had the ability to travel through time, no longer would you be forced into making good first impressions. In fact, you could walk right up to an attractive girl at the bar, inform her that you'd just thrown up in one of the bins at the back of the club, blow the scent of your vomit-breath directly into her nostrils, and STILL rewind time in order to prove yourself as a viable sexual partner. While there would certainly be more noble tasks for you to accomplish as a time traveller, none would be as valuable as never humiliating yourself in front of the opposite sex again.
A Looper has been on the following sites: Coming Soon & CRAVE ONLINE, and has dropped his Blunderbuss; find it to get the code!
Complete the mission by adding the code to your Mission control on JoeVsJoe.co.uk
If you get stuck there will be a clue on @LooperUK… GOOD LUCK!!