Photo: Compass International Pictures
Besides the candy, costumes, and parties, the best part about Halloween is really all about the scares. There's nothing better than curling up at home with your favorite scary movies or TV shows as you debate whether to keep the lights on or off. For those staying in this holiday, we've got you covered on the best Halloween marathons to watch all day and night as you munch on your favorite sweets.
TNT
This Halloween, TNT brings fans spooks, chills, and thrills with an all-day Supernatural marathon on Wed., Oct. 31, from 8:00 a.m. to 8:00 p.m. ET, spanning four seasons of the most terrifying episodes from the fan-favorite series. These are all great episodes of the long-running show, but the truly scary part is how the episodes are running out of order during the marathon:
Episode 4.07 – "It's the Great Pumpkin, Sam Winchester"
Episode 4.05 – "Monster Movie"
Episode 2.18 – "Hollywood Babylon"
Episode 3.13 – "Ghostfacers"
Episode 1.01 – "Pilot"
Episode 2.04 – "Children Shouldn't Play with Dead Things"
Episode 1.19 – "Provenance"
Episode 2.11 – "Playthings"
Episode 1.15 – "The Benders"
Episode 3.02 – "The Kids Are Alright"
Episode 4.11 – "Family Remains"
Episode 1.05 – "Bloody Mary"
AMC
AMC's annual "Fearfest" always finishes with a full day of the original Halloween films. Starting with Halloween 5 at 9:00 a.m. ET and then continuing with John Carpenter's classic first Halloween, you can then watch the first six movies in order (yes, even Season of the Witch) throughout the day. Who doesn't want to hang out with Michael Myers on his special day?
Photo: Compass International Pictures
Paramount Network
Michael Myers might be the king of Halloween, but Freddy Krueger is the ruler of nightmares. Paramount Network is, oddly enough, airing the original five A Nightmare on Elm Street films in reverse chronological order, followed by Freddy vs. Jason. Afterward, A Nightmare on Elm Street and the sequels are scheduled to air again in order. Candy and late-night terror are the perfect way to ensure a good night's sleep!

IFC
"In space, no one can hear you scream." Isolation and scary monsters have always made space great territory for spooky stories, but no one does it better than Ridley Scott's Alien. IFC is bringing the sci-fi terror with an Alien marathon starting at 6:00 a.m. The network will air Alien, Aliens, Alien 3, Alien Resurrection, and then Aliens again, which means plenty of Sigourney Weaver's Ripley kicking extraterrestrial ass for your enjoyment.
FXX
It wouldn't be Halloween without the newest installment of The Simpsons' annual "Treehouse of Horror" Halloween special. The cable channel will be running a full-day marathon of every episode, leading up to the 28th "Treehouse of Horror" episode, "Treehouse of Horror XXVIII" at 8:30 p.m.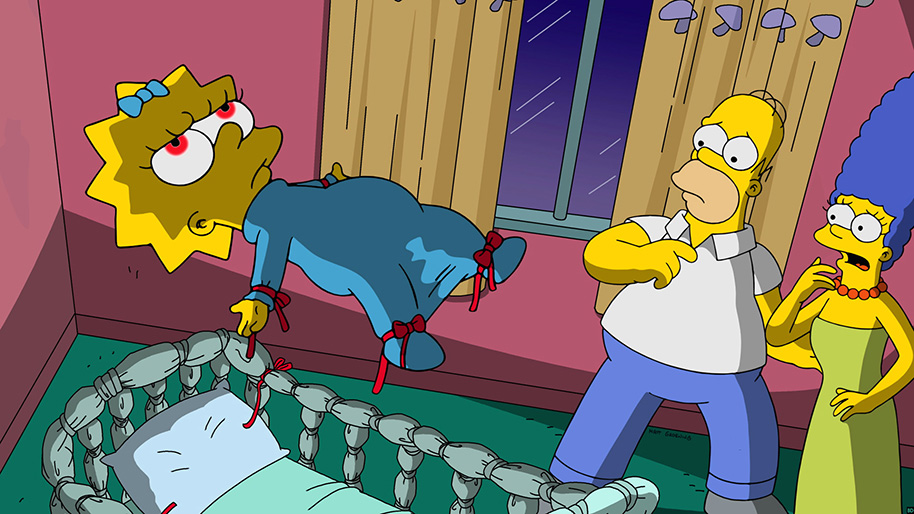 Photo: Gracie Films
Comedy Central
If it's not an adult animated horror marathon you're looking for, make your way over to Comedy Central and celebrate the best South Park Halloween episodes. The marathon, ending at 10 p.m., will be followed up by a brand-new episode. Beware of that dreaded pink eye.

FX
FX's Halloween marathon offers a little bit of everything, from campy films like Pride and Prejudice and Zombies to terrifyingly intense movies like Don't Breathe and The Purge: Election Year. The marathon will also feature Dracula Untold and J.J. Abrams' 10 Cloverfield Lane.
Syfy
Syfy is getting a little less mainstream with their Halloween marathon. The schedule includes The Quiet Ones, The Haunting in Connecticut, Cabin Fever (the scene where the girl keeps shaving over her open leg wounds will haunt you), Leatherface, Dead in the Water, Jeepers Creepers 3, and Lights Out, which will have you rethinking watching scary movies in the dark.
Photo: New Line Cinema
Freeform
By Halloween Day, Freeform will have already celebrated their annual 31 Nights of Halloween. The network is ending the bash with a pretty repetitive marathon. Hocus Pocus and the Hocus Pocus 25th Anniversary Halloween Bash featuring Winifred Sanderson and Bette Midler will be airing back-to-back throughout the day, giving you plenty of options for when to fit the shows into your schedule.

TCM
If you're in the mood for some classically weird scary movies, TCM has you covered. Venture back in time to different dimensions and some classic adaptations with Hands of a Stranger, Dementia 13, Cat People, Carnival of Souls, Spirits of the Dead, From Beyond the Grave, Black Sabbath, Dead of Night, House of Wax, The Pit and the Pendulum, and The Masque of the Red Death.
The History Channel
The History Channel will be spending Halloween morning showing where true horror really lives: reality. The cable channel will air a marathon of true stories, beginning with The Real Story of Halloween and followed by multiple episodes of Haunted History. Some of the segments will include "The Manson Murders," "Ghosts of Gettysburg" and "Katrina Cannibal."
Photo: John Malmin/Los Angeles Times (Getty Images)
Spooky Kiddos
Wondering how to keep the little ones who are eagerly waiting to hit the streets for some candy entertained during the day? Fear not! PBS Kids and channels from Nickelodeon and Disney will air their scariest episodes throughout the day. Children's favorites, like Paw Patrol, Peppa Pig, PJ Masks, and Bubble Guppies, will all be celebrating the holiday!
Photo: Astley Baker Davies