Welcome to Mandatory's weekly Digital HD, Blu-ray and DVD column! You can find detailed write-ups of different titles below!
New Movies on Blu-ray/DVD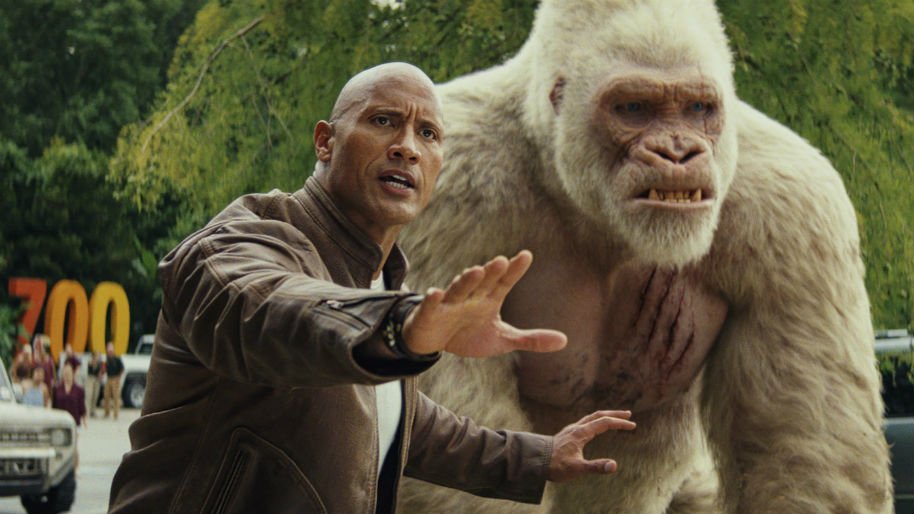 Dwayne Johnson goes ape in this adaptation of the classic video game, featuring the star as a primatologist who must prevent global catastrophe when animals across the country suddenly become super-huge rage monsters.
The Broken Lizard crew is back in the surprise hit sequel 17-years in the making which finds the goofy state troopers up to their old SHENANIGANS. The Blu-ray comes with a Making Of doc, a Kevin Heffernen featurette and extended/deleted scenes.
Wes Anderson's latest stop-motion animated feature is like a charming B-side for the director, a slight sci-fi journey of sentient dogs in an alternative reality Japan with some not-so-alternative-reality politics at play. The Blu-ray comes with animator and cast interviews, as well as several featurettes on the dogs, city setting and weather.
Amy Schumer stars as a woman who struggles with feelings of insecurity and inadequacy who awakes from a fall believing she is suddenly the most beautiful and capable woman on the planet. With this newfound confidence she is empowered to live her life fearlessly and flawlessly, but what will happen when she realizes her appearance never changed?
A harmless game of "Truth or Dare" among friends turns deadly when someone-or something-begins to punish those who tell a lie-or refuse the dare. The Blu-ray includes the unrated director's cut.
Paula Patton and Omar Epps star in this action packed thriller about a weekend getaway at a mountain estate that turns deadly for a young couple. The Blu-ray includes a Making Of feature as well as a production design featurette.
Lynne Ramsay (We Need to Talk About Kevin) directs this hard boiled adaptation of Jonathan Ames' book about a traumatized vet (Joaquin Phoenix) who searches for missing little girls.
Reissues
Originally titled "American Nightmares," Buddy Giovinazzo's no-budget grindhouse flick from 1984 follows a disturbed Vietnam vet who returns home to a New York hellscape just as disturbing as the war zone he just came from. This new 4K scan of the film comes packaged in a signed box edition run of 2000 with tons of interviews and special features, including a second disc with the soundtrack as well as a booklet featuring storyboards and journals chronicling production.
James Cameron's sci-fi action masterpiece in 4K comes packaged with a unique Endo Arm that every fan of the film will want to double dip for
Billy Wilder's 1963 farce reunites the director's The Apartment pair of Jack Lemmon and Shirley MacLaine in a story about a French policeman who falls in love with a prostitute. The disc features two separate film historian audio commentaries, one by Joseph McBride and the other by Kat Ellinger.
New on Digital HD
Keanu Reeves stars as a businessman trying to move some diamonds among shady Russian oligarchs, who falls for a strong-willed woman along the way. Check out our exclusive interview with Reeves plus an exclusive clip by clicking here!
Charlize Theron stars in Jason Reitman's brilliant dramedy about a woman saved from the brink of mental collapse by a helpful night nanny, played by Mackenzie Davis.
Occupation
Available in theaters, on VOD and Digital HD July 20, the film focuses on a town suddenly plunged into darkness. In the sky, a fleet of spaceships appear. The aliens have been watching Earth for centuries, now they have arrived to seize control of our planet. As alien storm troopers cut a deadly swath through the countryside, a ragtag group of townspeople realize they must band together for a chance to strike back at the invaders in this explosive sci-fi film that grips from start to thrilling finish.
Rosy
A socially awkward young man (Nat Wolff) kidnaps an aspiring actress with the hope that they will fall in love. A psychosexual noir that explores power dynamics between men and women.
TV on Blu-ray and DVD
OK K.O.! Let's Be Heroes: Season 1, Volume 1
In this videogame inspired world, K.O. works at Gar's Bodega in Lakewood Plaza, a one-stop shop for all your hero needs. Whether he's mopping the floor with Lord Boxman's evil robots or literally mopping the floor, K.O. tackles everything with his cheery, endless enthusiasm. Every person is a hero to look up to, every challenge is a chance to grow stronger and every success or failure is just another stepping stone to becoming the ultimate hero.
As the war between Earth and Mars ignites across the solar system, the terrifying next phase in the evolution of the protomolecule threatens the very existence of humanity.
Amazon's series starring Giovanni Ribisi arrives on DVD, focusing on a con man on the run from a vicious gangster who reunites with the family of the man whose identity he assumes.
Acorn brings this 8-episode series to Blu-ray, which follows a woman living on the Welsh coast who becomes the prime suspect when her husband suddenly disappears.