Photo: Ezra Bailey [Getty Images]
It's Amazon Prime Day, so hopefully everyone remembered to put out PrimeCookies and a glass of PrimeMilk for Jeff Bezos last night. Or, at very least, remembered to become Amazon Prime members so they could take advantage of the ridiculous deals that'll be going up starting at 3 PM ET on July 16th.
We'll do our best to keep up with it all, refreshing this page with deals we think speak to the Mandatory guy…Check them out below.
FUN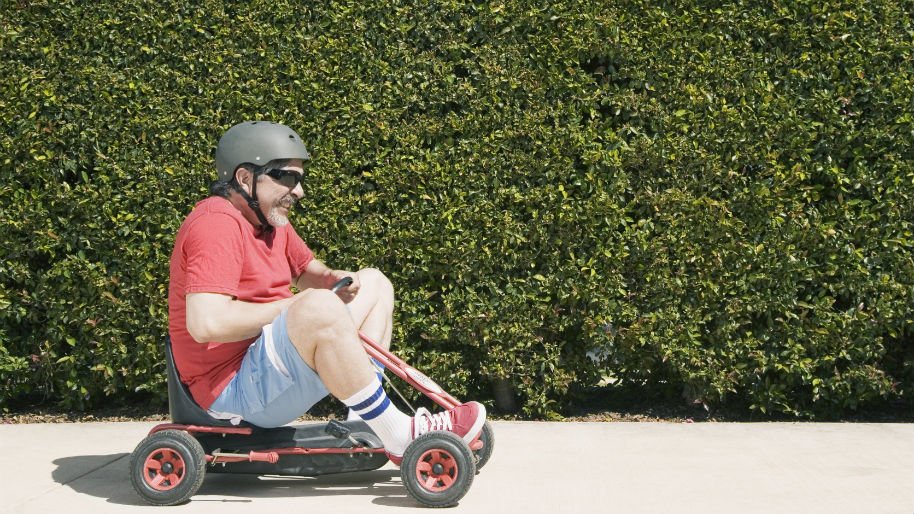 Transformers Generations Power of the Primes Evolution – Nemesis Prime
Know what your desk could use? This Launch Day exclusive Transformers figure. Ignore the incomprehensible name of this item and appreciate it for what it is: An Evil Optimus Prime Clone! It's a nostalgia-fueled conversation piece for the true Transformers fan if nothing else.

"I Love To Wrap Both My Hands Around It And Swallow" Stemless Wine Glass
C'mon! For less than $15, it's worth the look she's going to give you when she opens it.

CULTURE
MOVIES/TV
All 8 Harry Potter Films in 4K for less than $80
You can't be Sirius.
PrimeVideo $2 Movie Rentals
Want to see Proud Mary or Hostiles or Liam Neeson finally taking on the unstoppable menace of mass transit in The Commuter? Well, they're available for a couple of bucks right HERE.

MUSIC
Four Months of Amazon Music for $1
This is an extended trial period for new subscribers, and worth taking advantage of if you enjoy music. Or getting things for $1.

GAMING
ROCCAT Khan AIMO 7.1. Surround Sound Gaming Headset
Eleven-year-olds describing your mother's extracurricular nocturnal activities during a round of Fortnite has never sounded better!

BOOKS
Three Months of Unlimited Reading on Kindle for $0.99
Get caught up on all the books you should have read by now. Check out the deal HERE.
Three Months of Audible for $4.95 a Month
Tired of reading already? Have others read the books to you. Find out more HERE.

SPORTS
Spikeball 3-Ball Game Set
You may have heard about this strange volleyball variation on Shark Tank, and now you can play it with a complete set that fits nearly in the trunk of your car.

LIVING
GEAR
Fitbit Versa Smartwatch for $199.95
Get fit. Look good. These are basic tenants.

Toshiba 50-inch 4K Ultra Smart TV – Amazon Fire Edition for $400
Been looking to upgrade your TV viewing experience? This'll do…

Certified Refurbished Fire HD Tablet With Alexa for $120
If you've been considering checking this iPad alternate out, now is the time.

Jabra Elite Alexa-Enabled Bluetooth Headphones for $99
Your playlist deserves only the very best. Now more affordable.

Vantrue N2 Pro Uber Dual Dash Cam 
Why settle for watching insane highway hijinks videos when you can make them yourself!

FOOD & DRINK
OXO Conical Burr Coffee Grinder
A top-of-the-line coffee grinder whether you buy the really high end Jamaican Blue Mountain or, you know, Cafe Bustelo (no judgements). This one is a Launch Day exclusive.

Coleman RoadTrip 285 Portable Stand-Up Propane Grill
Another Launch Day exclusive, this powerhouse grill comes in at just under $230.

Twelve Bottles of Bai SuperTea Tennessee Braspberry Tea for $24
By this point in the list, we just assume you must be thirsty. Another Launch Day exclusive.

STYLE
Isle Bay Linen Flat-Front Shorts for $35
It's summer. Get those knees out with these Launch Day exclusives.
Heavily-Discounted Twitch Merch
Even if you never progressed beyond Mario Kart, you can at least look like you have with huge discounts on Twitch branded shirts, hoodies, etc.