Everyone knows what comes at the peak of summer: sun, sand, and sweet, sweet deals. Even though you can't get a lot of sun and sand at the moment, you can still get more steals for your money this summer with these 20 special offers that will have you screaming: "Shut up and take my money!"
One great thing about these deals is that you're not just buying random stuff on sale — you're actually gonna need these items, like a flexible camera that helps you take pictures of what's clogging up your sink, a bidet attachment with a nightlight, a virtual cardio trainer and other cool stuff you'll absolutely not want to miss out on.
A Sterilization Case For Your Phone
Wearing your face mask before leaving the house each day keeps you safe from germs, but how clean is the phone you touch about a hundred times every day and slap against your face occasionally? The truth is that you're probably coming in contact with more germs from your phone than anywhere else, but with the Clean Tray UV Light Sterilization Case, you can get rid of them in just five minutes. You can also add essential oils to the integrated hole on the case to keep your belongings smelling fresh. This case isn't for disinfecting phones only, you can pop your wallet, AirPods and keys for a thorough cleanse too!
Buy now: Get the Clean Tray UV Light Sterilization Case for $69.99, or 12% off the retail price of $79
The Face Mask With An Air Filter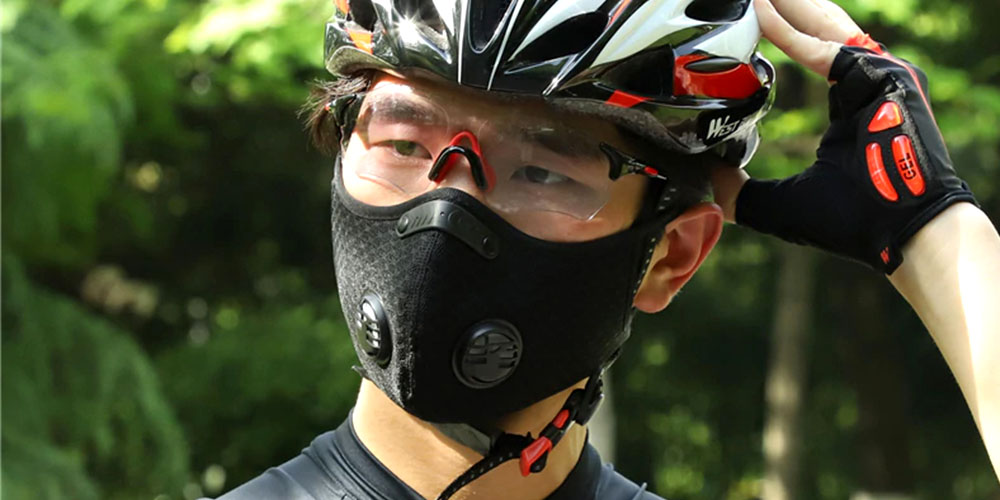 With the current surge of the pandemic across the US, and with anti-maskers and coronavirus party attendees prowling the streets, it's no understatement to say that your life depends on wearing a mask. The CompressMax Air Face Mask protects you from germs and comes with a removable PM2.5 activated carbon filter that prevents you from inhaling polluted air. With adjustable velcro straps and non-slip ear cords, this mask is also super comfy and easy to use.
Buy now: Get the CompressMax Air Face Mask for $19.99, or 33% off the retail price of $29
Learn to Play the Ukulele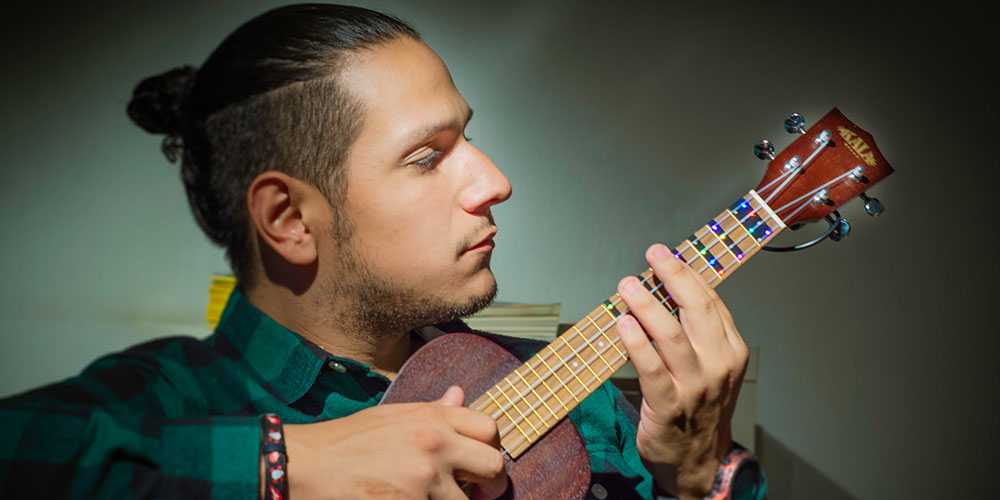 There's no denying the ukulele's charm — it's fun and friendly, it sounds great and it's a more affordable substitute for a guitar. It's also easy to learn to play it, and with Fret Zealot you can learn at your own time, at your own pace and in your own style. This LED instruction strip fits just above the frets on the ukulele and shows you exactly where to put your fingers to play anything. It also has an app that'll help you sharpen your playing technique and find your own unique style.
Buy now: Get the Fret Zealot for $99, or 29% off the retail price of $139
A Headlamp For Your Next Outdoor Adventure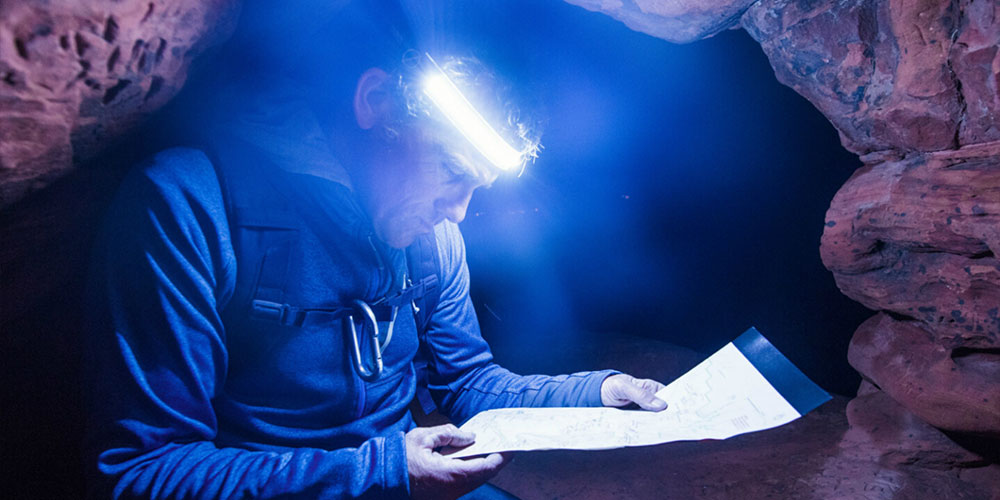 Planning a camping or hiking trip with your crew this summer? Don't forget to pick up all the necessary items, including this rechargeable H2 Headlamp that gives you a 180-degree range of light and a full view of the tightest, hard-to-see spots around you. It weighs next to nothing, so you can enjoy your hike without worrying about any extra load, and it's also waterproof, which is perfect for those rainy nights during your trip.
Buy now: Get the H2 Headlamp for $36.99, or 26% off the retail price of $50
The Pen That Never Runs Dry
The Omega 2.0 Inkless Pen is a sleek work of art that doubles as a writing tool. This pen has an aluminum shell with an AXL-METAL tip that runs forever, with no need for ink, lead, or graphite refill. Writing things by hand may be a dying art, but this inkless pen is so dope, it'll make you want to send someone a handwritten card or take notes during a meeting on actual paper.
Buy now: Get the Omega 2.0 Inkless Pen for $29.99, or 28% off the retail price of $41
An Upgrade To The Swiss Army Knife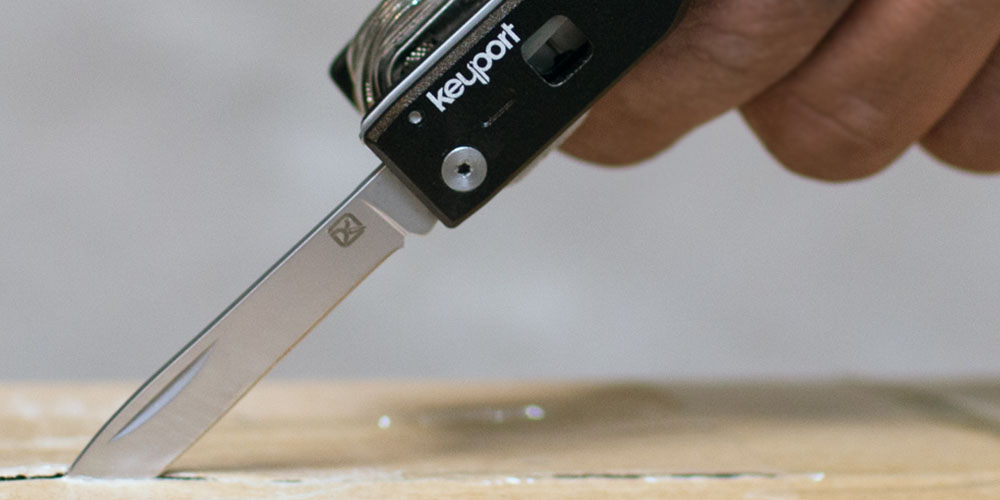 Say goodbye to the good old days of losing keys and other small pocket items with the Keyport Pivot Outdoor Plus Bundle, a stylish and portable multi-tool that includes a Keyport Pivot that holds up to nine keys, a discreet pocketknife that attaches to the side of the Keyport pivot, a super-bright mini-flashlight that attaches easily to the Keyport pivot, a keychain tool that serves as a bottle opener, screwdriver, cutter and hex bit driver, a lost and found tag that connects owners and finders directly and anonymously with just a click, and an S-biner that's perfect for securing key fobs and other loose items to the Keyport.
Buy now: Get the Keyport Pivot Outdoor Plus Bundle for $46.99, or 24% off the retail price of $61
A Bidet With a Soothing Night Light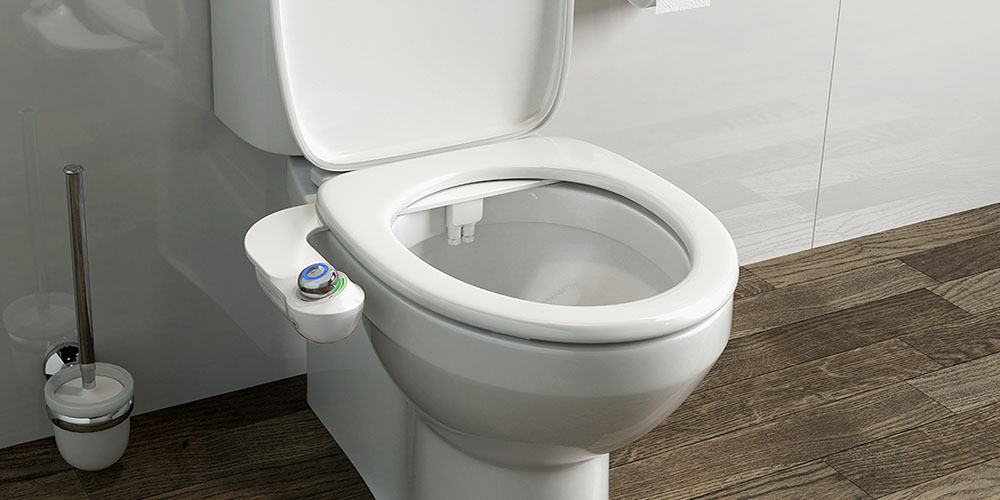 Night-lights help guide you on your in-the-dark 3 AM trips to the bathroom, but did you know that having one in your actual bedroom disrupts natural melatonin production, which affects the quality of your slumber? This is where SlimGlow comes in. Their bidet attachment comes with a built-in night-light (meaning it stays in the bathroom), and it also features a sleek incline to complement your natural position, making it all that much easier to stay half-asleep. You can also control your clean with the comfort grip pressure knob and dual-nozzle options. This bidet attachment is super easy to install – just connect directly to your freshwater supply with the provided brass adapter and braided metal hose.
Buy now: Get SlimGlow for $49.99, or 36% off the retail price of $79
An Arrow Launcher That's Faster Than a Slingshot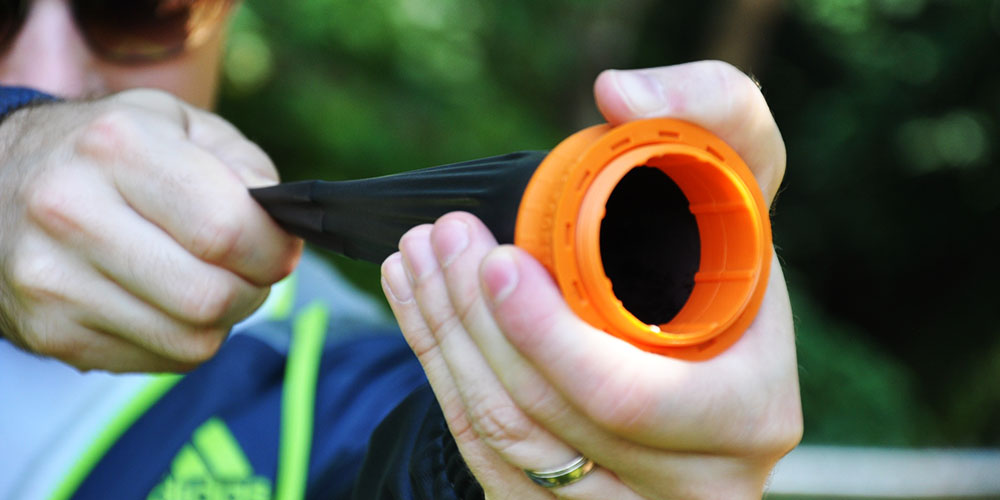 The regular slingshot you know and love has evolved into The Pocket Shot, a more powerful option for hitting targets. Your hunting skills are about to become even more perfect, as The Pocket Shot shoots up to 350ft per second, and lets you load and shoot different projectiles at 2-3 times the rate of an ordinary slingshot. This bundle includes a standard black pouch, the PRO pouch 2.0, a carrying case, and 200 plastic balls, and it's so tiny it can fit into your pocket or backpack in its watertight compartment.
Buy now: Get the Pocket Shot Bundle for $22.99, or 36% off the retail price of $36
A Portable Safe That's Beach Ready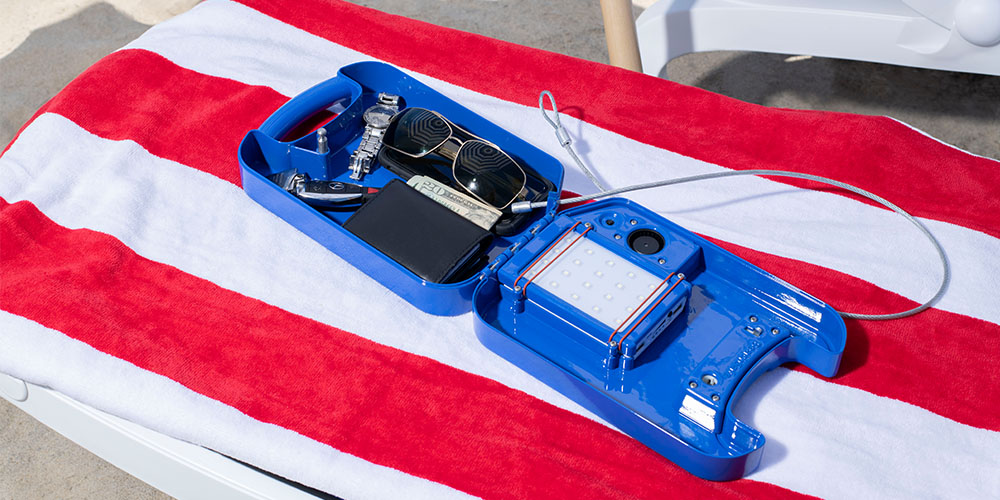 If you've had enough of losing your belongings at the beach or picking up your phone for a quick selfie just to find out that it's almost been fried by the sun's rays, then beachsafe is a great remedy. This compact, water-resistant safe is equipped with a built-in charger and cooling fan to prevent your items from overheating at the pool or beach. It's a small safe, but it's got enough room for your sunglasses, wallets. keys, sunglasses, and other items. With its 4-digit reprogrammable lock and stainless steel securing cable, the safety of your valuables is guaranteed. We just wish this came in human size for heatwave season.
Buy now: Get beachsafe for $69.99, or 12% off the original price of $79
An Innovative Tool For Manscaping
The lockdown was a tough period in the world of grooming. It was the era of scraggly beards, below par haircuts and body hair gone wild. Before you make your way into the real world again, get your manscaping right with the Luxitude Groomer. This modern shaving tool is designed for mustache and beard trimming, hair clipping, body shaving, and precision facial styling. With its sharp steel blades, four clipper head attachments, and lubricant, you can be sure of getting the closest, cleanest shave you've had in a while.
Buy now: Get the Luxitude Groomer for $23.99, or 60% off the retail price of $59
Powerful Welding Glue For Plastic Items
How many times has glue let us down? It makes your fingers stick together and annoys the shit out of you, it barely keeps plastic items together, leaving you with no choice than to throw out broken stuff. Bondic is the only product that works where glue fails. It's a liquid plastic that only hardens when you need it to. It will only solidify when you cure it with the included UV LED light, so you control the drying time. It's a very simple 4-step process (clean, fill, cure, and shape) to fix almost anything, saving countless precious items from ending up in the trash before their time.
Buy now: Get Bondic for $21.99, or 45% off the retail price of $39
A Drill Brush That Gives You Squeaky Clean Surfaces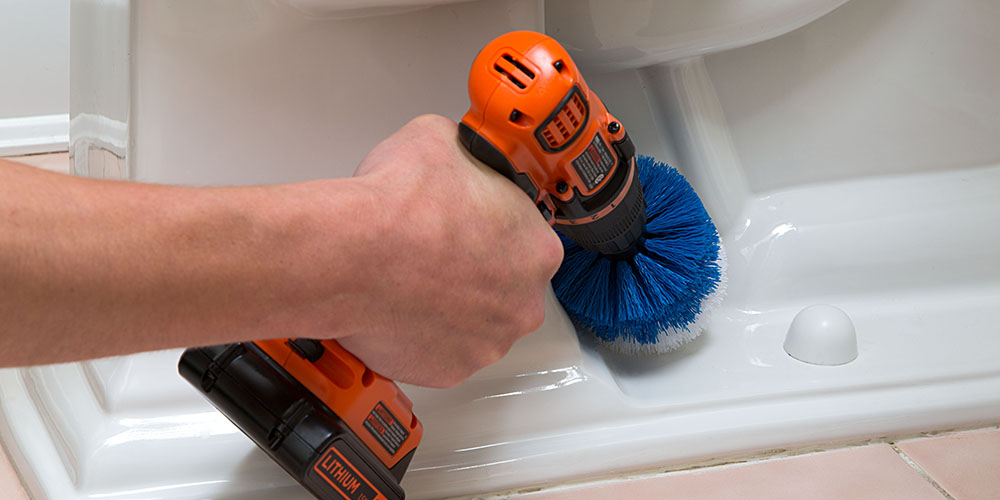 We're currently in a serious battle with germs, and cleaning your personal space aggressively has become a survival tactic. Those wiping rags get the job done, but let's face it — they take up too much time and make cleaning feel like a real chore. Thanks to RevoClean, there's now an easier way to deep-clean surfaces a lot faster. Just attach it to a power drill, and you get a high-powered cleaning tool for your entire home. The RevoClean bundle includes a nylon round brush for general purpose cleaning, a ball brush, and a non-scratch scrubber for glass surfaces, windows, and sinks, as well as a non-scratch sponge for countertops, wood furniture, granite and plastic surfaces.
Buy now: Get RevoClean for $24.99, or 37% off the retail price of $39
A Fishing Cam That Gives You an Underwater View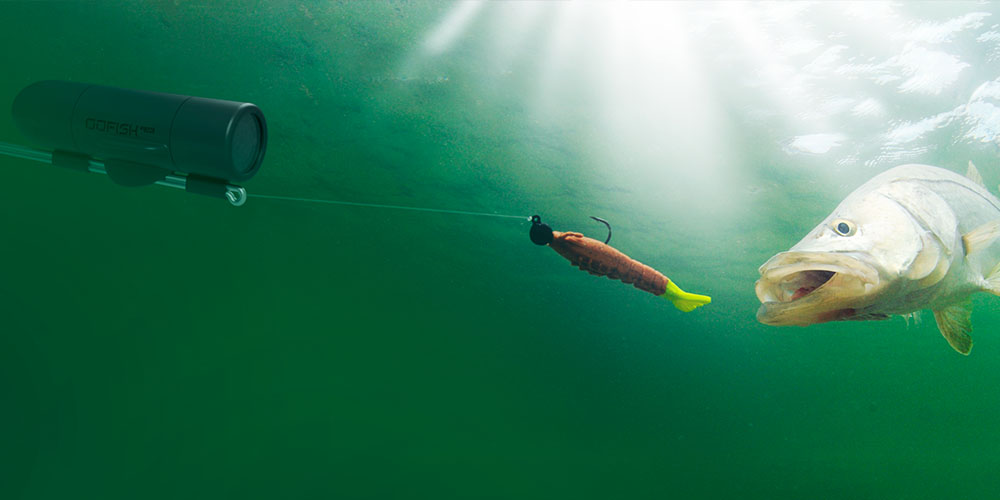 Nothing makes fishing more tedious than sitting still for a long time and waiting for fish to catch your bait. Put an end to those endless hours with the GoFish Cam, a wireless underwater fishing camera that sits on your fishing line and works with a mobile app. The camera attaches in-line between your mainline and leader line and lets you capture underwater footage, learn more about fishing, and review video content for social media. If you're trying to make fishing a more enjoyable experience, then the GoFish Cam is right for you.
Buy now: Get the GoFish Cam for $149.99
An Easier Way To Inspect Clogged Pipes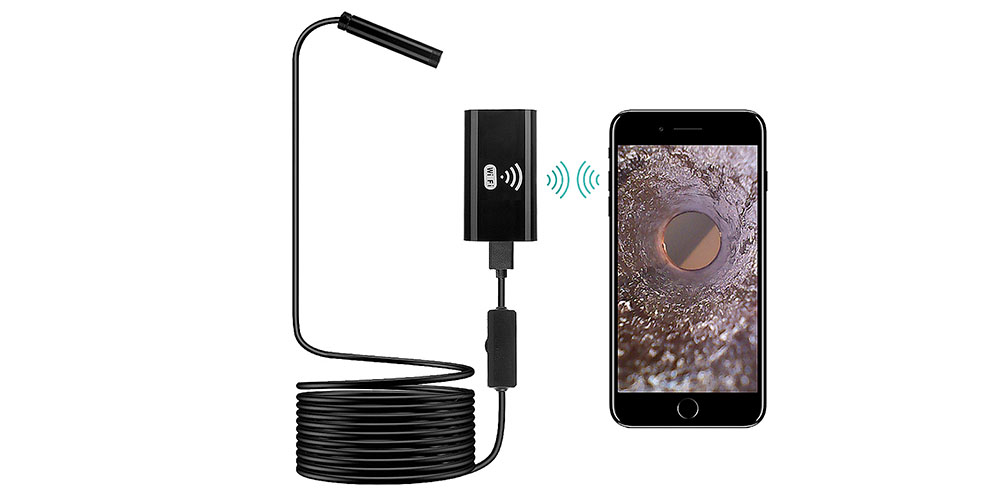 In this age of social distancing, you might feel a bit paranoid about calling in a plumber or an electronics technician to check out your clogged pipes or broken fridge. You can unlock your inner handyman with the Sinji Borescope Camera. This flexible, waterproof camera goes over 16 feet into hard-to-reach areas and takes photos and videos of what's what, making it easier to get faults fixed. The camera connects to phones via Wi-Fi and works with the Borescope app for Android and iOS. It also comes with a hook and magnet to help you retrieve lost keys and other items.
Buy now: Get the Sinji Flexible Borescope Camera for $29.95, or 22% off the retail price of $38
A Stylish Smoking Pipe (That's Not a Vape Pen)
We're not knocking your favorite pipe, but when it comes to smoking on the go, stuffing glassware into your pocket isn't ideal. That's where The Genius Pipe shines. Stylish, durable, and super easy to clean, this pipe makes for easy smoking in a pinch. Simply use the bowl to store your stash and light up whenever you need to.
Buy now: Get The Genius Pipe for $59.99, or 33% off the retail price of $89
Take Hands-Free Selfies With Ease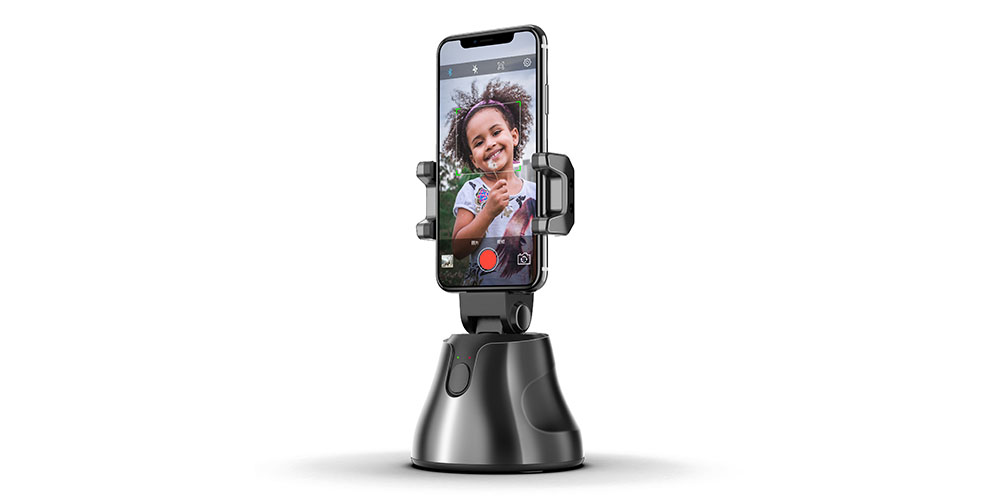 If your friend/roommate (read: self-proclaimed photographer) keeps getting your angles all wrong and recording un-Instagrammable videos of you, you can save your friendship by getting the Robo Smart Gimbal, a smart device that lets you film yourself hands-free. Using AI tech, Robo automatically recognizes your face and starts taking pictures or videos automatically once your face is detected. It also has a two-person shooting mode that allows you to freeze intimate moments, and it's perfect for vlogging, group photos, and amazing, unplanned shots of yourself.
Buy now: Get the Robo Smart Gimbal for $39.99, or 69% off the retail price of $129
A Virtual Cardio Trainer
Your fave gym may still be shut for now, but who says you can't stick to your fitness routines right at home? MoonRun is a highly technological, portable, aerobic trainer that brings you the most immersive total body workout you can get in the comfort of your home. It's designed by a physical therapist and the easy set up lets you do your running and resistance training without stepping outside. MoonRun also combines aerobic and resistance training which results in an effective full-body workout. With its embedded technology, you can become an avatar in running apps, run with your virtual coach, or join a group run.
Buy now: Get MoonRun for $249, or 37% off the retail price of $399
A Set of Sleek Japanese Knives
Give your utensil cabinet a much-needed upgrade with this 3-piece set of ultra-precise Damasukasu knives. These Japanese knives were hand-crafted in the tradition of Samurai sword-making, and they aren't just beautiful; they also hold a sharper edge for longer. With triple rivets and nitrogen cooling, you can be sure of extra strength and flexibility. The carbon-rich steel creates a naturally beautiful pattern alternating from matte gray to silver throughout the surface of the blade, and there's no doubt that these fine works of art will give your kitchen that perfect blend of modern and classic.
Buy now: Get the Damasukasu Knife Set for $69.99, or 76% off the retail price of $299
A Bluetooth Golf Rangefinder
If summertime golfing is more up your alley, then a good rangefinder like GoGolf GPS will help you calculate the perfect distance to the pin, just with a single push of the button. It will also tell you how far you busted that drive down the fairway, or any club you just struck, giving you a more precise feel for the game. Designed to work with Android & Apple iOS devices, this unit syncs to your smartphone via Bluetooth and through the GoGolf App and reports in both audio and text so you're always prepared, wherever you play.
Buy now: Get the GoGolf GPS for $89.99
A Lightning Cable That Doubles As a Portable Charger
There's a better way to charge your devices on the go, and it's with the Nomad Battery Cable. Rather than bogging down your pockets with a separate power bank and charging cable, this cable/charger combo streamlines them both into a single sleek and compact design. It features a durable, nylon wrapped, lightning cable that's designed to shrug off normal wear and tear, plus a high capacity 2,800mAh portable battery that packs enough juice to bring a dead smartphone back to full charge.
Buy now: Get the Nomad Battery Cable for $19.99, or 59% off the retail price of $49
Visit the Mandatory Shop for great deals on your very own Mandatory merch.