7 Bands Who Succeeded With New Vocalists
[Photo Credit: Mark Weiss]
When a successful group decides to replace the voice of their band, they're asking quite a lot of their audience. As the voice of the band, the frontman is almost always the most recognizable member of the group, the one who leads the pack in defining the band's attitude and fan base. Nobody can take the place of Queen's iconic wailer Freddie Mercury – Paul Rogers of Bad Company holds his own through the hits, but it's just not the same. JD Fortune stepping in for INXS Michael Hutchence was a nightmare, and even a pro like The Cult's Ian Astbury couldn't revive the spirit of Jim Morrison on a Doors reunion tour (seriously, how are we still hearing their version of "People Are Strange" on the radio?!). Let's not even discuss the ill-advised Sublime reformation.
Some bands, however, strike gold twice. Whether by finding a new singer to sound dead-on like the one they hit stardom with or by branching out in a whole new direction, a handful of lucky ones have risen from their own ill fortune to reach new heights of success. Here's a list of the ones who made it work the second time around.
Alice In Chains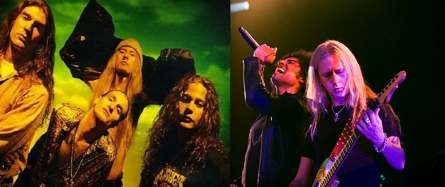 It's been a long, hard road for Alice In Chains and their fans virtually since the beginning, with frontman Layne Staley's frequent drug problems keeping the grunge superstars from reaching even higher. The band who conquered the MTV generation alongside Nirvana, Soundgarden and Pearl Jam watched it all disappear when Staley fatally overdosed in 2002, but reunited to put out a critically-acclaimed album of new matierial with new singer William DuVall, and followed up with an even stronger record. Even most skeptics agree that DuVall's a solid fit for the band, honoring Layne while adding his own flare.
Black Flag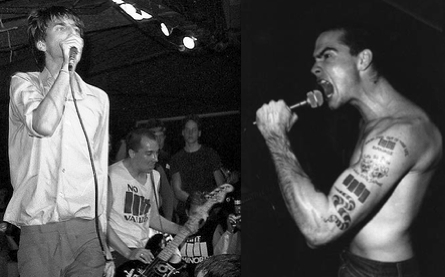 Founding singer (and future Circle Jerks nucleus) Keith Morris gave way to Ron Reyes, who gave way to Dez Cadena, who was summarily replaced by Henry Rollins, the D.C. deep thinker who shaved off the band's sense of humor and replaced it with a more serious punk-poet sensibility. It was with him that the band recorded their first legitimate album, but Black Flag had been notorious for their no-holds-barred shows, especially in Los Angeles, long before Rollins joined the fray. Though their flame only burned for ten years, their legacy remains as strong as ever; at any punk or hardcore show these days you're bound to see at least 30 percent of the audience sporting the four black bars – Black Flag's official symbol – inked, stitched or screened somewhere on their bodies.
Van Halen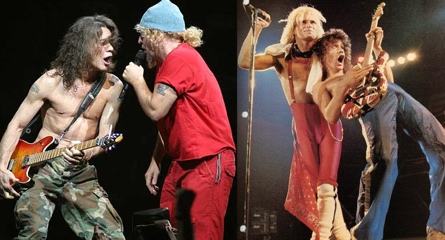 In the mid-'80s, the Van Halen/Van Hagar debate became the new polarizing factor in rock music, picking up where the Beatles/Elvis debate left off, sadly enough. David Lee Roth quit Van Halen at the height of the band's stardom, leading the remaining three members to the questionable decision of hiring Sammy Hagar – a party-loving, tequila-pimping showman cut from another rock cloth entirely (let's just ignore the even more ill-fated decision to try out Extreme frontman Gary Cherone).
Hagar sang differently than Roth and certainly looked nothing like him, but the biggest change was that Sammy helped turn the band from a sex-charged band of goofy misfits to a Crystal Pepsi-shilling cheese-rock outfit. Nevertheless, the band continued to be a crushing success until the gears of discontent started spinning again, which eventually brought about the horrible creation of Chickenfoot, as well as the celebrated return of Roth to the fold. Now Roth is back, original bassist Michael Anthony has been replaced by Eddie Van Halen's son, and hardly anybody speaks to each other. Rock n' roll!
Genesis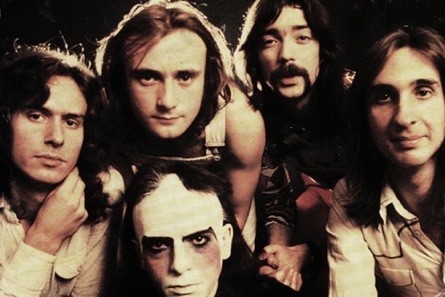 Forty years ago, Peter Gabriel was the voice of Genesis, not Phil Collins. But when Gabriel split for more experimental pastures in the '70s, Genesis promoted drummer Phil Collins to handle vocal duties, leading to pop stardom in the 1980s (and a world of strange jokes at his expense – here's looking at you, South Park). After a string of multi-platinum albums anchored by retrospectively humiliating honky-pop hits like "Invisible Touch," "Land of Confusion" and "Tonight, Tonight, Tonight," it became inarguable that Genesis was better off without the singer that first put them on the map. Gabriel, meanwhile, had his own share of chart-toppers, providing the soundtrack to John Cusack's rise to stardom and most recently having contributed several new songs to the soundtrack to Disney's Wall-E.
AC/DC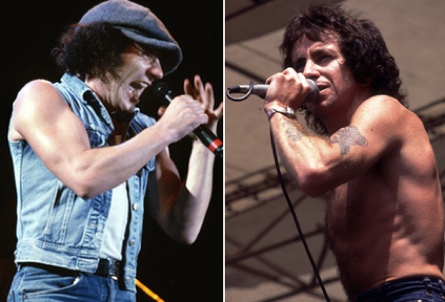 After frontman Bon Scott headed to the big bar in the sky, Angus Young and Co. found themselves in the uncertain position of being international superstars without a voice. Lucky for them, they found the unlikeliest of replacements in Brian Johnson, a singer with a startling ability to replicate his predecessor's signature growl/wail. The band jumped right back in the saddle, releasing Back In Black to greater success than they'd ever seen. Bucking the trends of homogenized rock to the tune of 200 million albums sold, AC/DC is still going strong today – albeit with a few legal issues.
Black Sabbath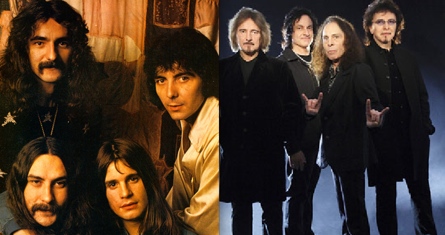 The original Sabbath lineup is the only true lineup. Ozzy Osbourne, Tony Iommi, Geezer Butler, and Bill Ward is the real Black Sabbath, and that's not up for discussion. When Ozzy was replaced by Ronnie James Dio, all hell broke loose in the Sabbath fan community, and the discontent rages to this day. But the band's first two studio albums with Dio – Heaven and Hell and Mob Rules – are undeniable classics, regardless of the carnage that was to follow. Deep Purple's Ian Gillan handled vocal duties on 1983's Born Again before Iommi took over and dubbed it "Black Sabbath featuring Tony Iommi". Tony Martin and Badlands singer Ray Gillan tried their hand at resurrecting the respectability of the Sabbath name, but only when Dio returned to the fold. It didn't work nearly as well as the recent resurgence of Sabbath, with Ozzy at the helm and an album that was surprisingly potent for a geriatric heavy metal record.
Honorable Mention: Rage Against The Machine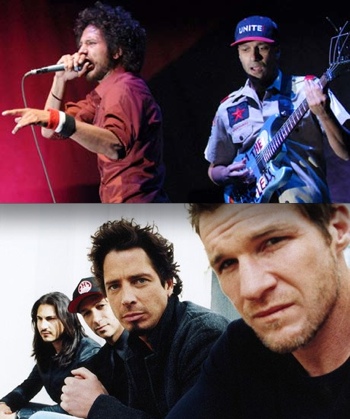 When Zack De La Rocha quit Rage Against the Machine for the freedom of releasing one song every three years or so, iron-throated ex-Soundgarden frontman Chris Cornell stepped in for three albums' worth of multi-platinum hybrid rock under the name Audioslave. Drawing mixed reaction for fans and critics, the band wasn't embraced nearly as much as either of its predecessors and ultimately split unceremoniously – via press release from Cornell to the other members. We're still waiting for Zack to come back.