It's hard to believe it's already been 13 years since the fantasy hack-and-slash God of War franchise began, but the one thing that's for certain is across its seven-game span, fans and critics alike have never grown tired of the series, every entry continually earning positive reviews, even on the less-popular PlayStation Portable (PSP) versions.
After a five-year break in making a new game following the demigod Kratos, players will finally see the return of their favorite damaged hero with this year's God of War, which will see a change of setting from Greek mythology to Norse mythology.
The game will be a direct sequel to God of War III and a soft reboot to the franchise, with Kratos now raising his son in the world of the Norse gods, and struggling to both master the rage that drove him in his quest to get revenge on the Olympian gods for the murder of his family years ago while also teaching his son how to survive in the world filled with monsters and warriors.
Announced back in 2014 as being in early development, the game is scheduled for release this year, and thanks to the wonderful folks at GameStop, players can decide between pre-ordering the standard edition for the game or the Stone Mason Collector's Edition.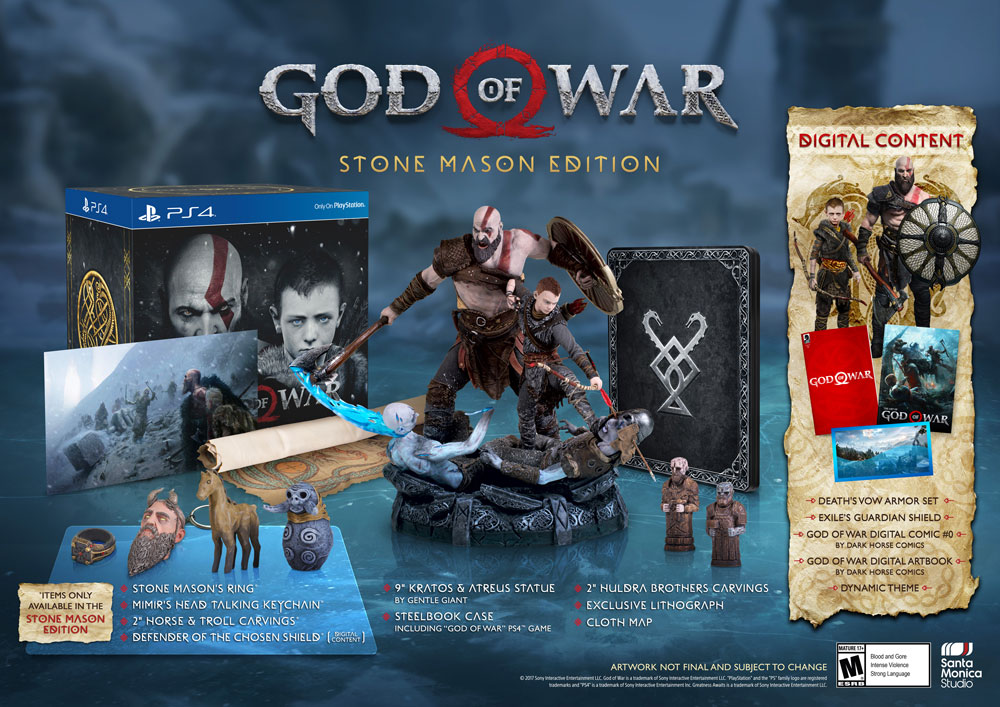 The Stone Mason Edition will cost fans a pretty penny, but for the volume of collectibles it comes with, it's well worth the modest $150. The edition includes:
God of War Full Game
9″ Kratos and Atreus Statue by Gentle Giant
Limited Edition Steelbook Case
2″ Huldra Brothers Carvings
Exclusive Lithograph
Cloth Map
Stone Mason's Ring
Mimir's Head Talking Keychain
2″ Horse and Troll Carvings
The collection will also include extensive downloadable content (DLC) for the games, including:
Defender of the Chosen Shield
Death's Vow Armor Set
Exile's Guardian Shield
God of War Digital Comic #0 by Dark Horse Comics
God of War Digital Mini Art Book by Dark Horse Comics
Dynamic Theme
For all of us still super hyped for this long-awaited sequel, the wait might prove difficult, but with the all of these incentives in their collector's edition, the wait will be perfect for those looking to buy the edition while also not dropping all of the money right away, thanks to GameStop's pre-order system allowing customers to put down as much money as they want on the game at various times leading up to its release.