Welcome to Mandatory and ComingSoon's weekly Binge & Buy, a digital HD, Blu-ray, and DVD column for the week of Dec. 4! Here, you'll find detailed write-ups of different titles released this week, including a number of new movies, reissues, combo packs, and TV seasons, none of which you can live without. Click each highlighted title to purchase through Amazon!

Photo: Paramount Pictures
New Movies on Blu-ray/DVD
Mission: Impossible – Fallout
On a dangerous assignment to recover stolen plutonium, Ethan Hunt (Tom Cruise) chooses to save his team over completing the mission, allowing nuclear weapons to fall into the hands of a deadly network of highly-skilled operatives intent on destroying civilization.
The Nun
This new installment in the Conjuring Universe involves a priest who ventures into a haunted castle where an evil spirit lurks. Check out our previous video interviews with the cast here!
The Happytime Murders 
Two clashing detectives with a shared secret, one human (Melissa McCarthy) and one puppet, are forced to work together again to solve the brutal murders of the former cast of a beloved classic puppet television show.
Ride
A struggling actor by day, James (Jessie T. Usher) pays his bills by driving people around Los Angeles for a ride-sharing service. His night starts out like any other, but he can't believe his luck when he picks up the beautiful Jessica (Bella Thorne), and they immediately hit it off.
All the Creatures Were Stirring
From sadistic office parties and last-minute shopping nightmares to vengeful stalkers and immortal demons, there's plenty out there to keep you from getting out of bed to see what's under the tree in this horror comedy anthology.
God Bless the Broken Road 
While grieving the loss of her husband, a financially struggling widow meets a race car driver.

The Boy Downstairs
A young woman is forced to reflect on her first relationship when she inadvertently moves into her ex-boyfriend's apartment building.
Luciferina
Natalia is a 19-year-old novice who reluctantly returns home to say goodbye to her dying father. But when she meets up with her sister and her friends, she decides instead to travel the jungle in search of a mystical plant. There, instead of pleasure, they find a world of Black Masses, strange pregnancies, bloody deaths and, for the nun, a sexually violent clash with the Devil himself.
Elizabeth Harvest
Newlywed Elizabeth (Abbey Lee) arrives with her brilliant scientist husband Henry (Ciarán Hinds) to his magnificent estate, where he wows her with lavish dinners and a dazzling tour of the property. The house staff Claire (Carla Gugino) and Oliver (Matthew Beard) treat her deferentially but she can't shake the feeling something is off.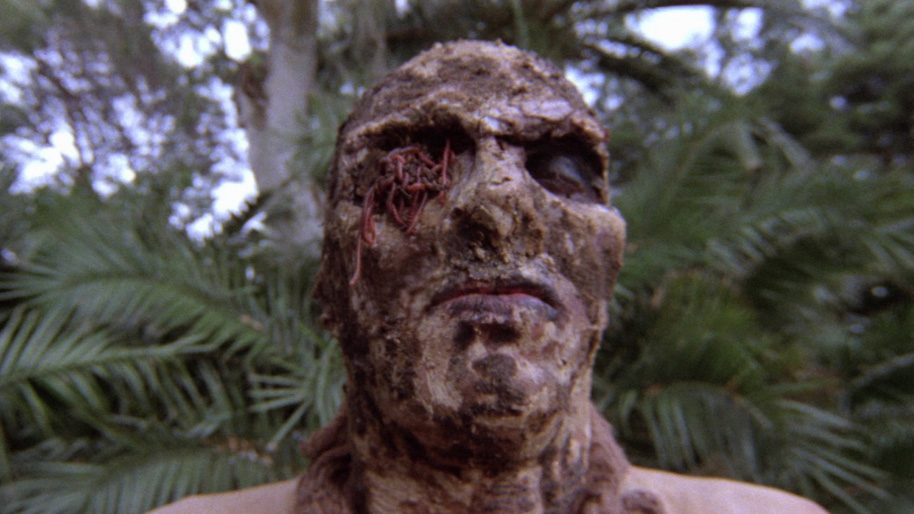 Photo: Blue Underground
Reissues
Zombie
Just in time for its 40th Anniversary, Blue Underground is presenting a brand new 4K restoration from the original uncut and uncensored camera negative. This is Zombie like you've truly never seen it before, bursting at the seams with hours of new and archival extras!
Pioneers: First Women Filmmakers
In the early decades of cinema, some of the most innovative and celebrated filmmakers in America were women. This crucial chapter of film history comes alive through the presentation of a wide assortment of films, carefully curated, meticulously restored in 2K and 4K from archival sources, and presented with new musical scores.
National Lampoon's Class Reunion
From National Lampoon and screenwriter John Hughes (Weird Science, National Lampoon's Vacation) comes this very funny teen horror parody set in the hallowed halls of a boarded-up high school.

Photo: Momentum Pictures
New on Digital HD
Asher (in theaters and Digital HD Dec. 7)
Asher (Ron Perlman) is a former Mossad agent turned gun for hire, living an austere life in an ever-changing Brooklyn. Approaching the end of his career, he breaks the oath he took as a young man when he meets Sophie (Famke Janssen) on a hit gone wrong. In order to have love in his life before it's too late, he must kill the man he was for a chance to become the man he wants to be.
I'll Be Next Door For Christmas 
A comedy about a family that's crazy for Christmas. Except for the 16-year-old daughter — her family's over-the-top Christmas celebrations have made her life miserable.
Meow Wolf: Origin Story 
A group of artists in Santa Fe, NM become a DIY collective called Meow Wolf. When they spark the interest of George R. R. Martin and receive his support to take over an old bowling alley, Meow Wolf builds a massive exhibition with over 140 artists working at a breakneck pace.
Holly Star 
A broke puppeteer returns home for the holidays and gets caught up in a treasure hunt with her paintball-obsessed best friend, her tango-dancing grandmother, and a childhood sweetheart.
Clara's Ghost (in theaters and Digital HD Dec. 7)
Set over the course of a single evening in the Reynolds family home in suburban Connecticut, Clara's Ghost tells the story of Clara Reynolds who, fed up with constant ribbing from her self-absorbed showbiz family, finds solace in and guidance from the supernatural force she believes is haunting her.

Photo: HBO
TV on Blu-ray and DVD
Westworld Season 2: The Door
Chaos takes control in the new season of the sci-fi hit starring Evan Rachel Wood, Thandie Newton, Ed Harris, Jeffrey Wright, and James Marsden.