Blink 182 and Beck have been named as headliners for Riot Fest 2018. The 14th annual Chicago music festival returns to its stomping grounds at Douglas Park on Sept. 14-16.
Riot Fest prides itself on its "left of the dial" lineup that doesn't follow who other music festivals are booking. Among the first wave lineup announcements are bit of old, a bit of really old and a dash of pre-teen: Elvis Costello, Incubus, Interpol, Blondie, Father John Misty, Cypress Hill, Bad Religion, The Voidz, Jerry Lee Lewis, and Calpurnia (featuring Finn Wolfhard from Stranger Things and the 2017 horror flick, It).
Dozens more artists, including a third headliner, will be revealed on Riot Fest's 2nd wave announcement in the coming weeks.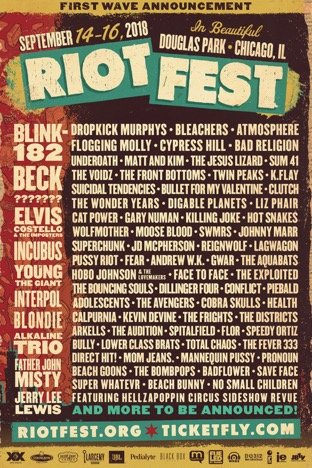 Riot Fest 2018 3-day passes are on sale now, available in General Admission and three tiers of upgraded VIP options. All passes can be purchased at RiotFest.org/Tickets