While the rest of us were learning state capitals and how to write in cursive, Sam Levin was producing his own music.
The young indie rocker picked up a guitar at five and started producing music just a few years later. And now, at 16-year-old, his songwriting is already coming full circle.
I discovered Levin last year following the release of his first full-length debut Frame of Mind. If you check out my review you'll notice I keep using the word 'prodigy,' in reference to the New Yorker. I haven't shied away from the adjective. His latest work continues to demonstrate he's a songwriter with skills well beyond his years.
I Am is his follow up album that he released last month. Levin says it's an honest look at who he's becoming as a person.
It's 'smart indie-rock,' sure, but it also paints a picture of what life is like for him at 16. He's a teen writing about teenage feelings. And it's perfect.
"I can only start to write about other things if I write about myself first," said Levin. "This is me stepping into my sound while also realizing what I do, what I think, what I feel, and who I am."
With influences like Kings of Leon, The Lumineers, Imagine Dragons and Bon Iver, Levin already has a melting pot of musicality in between his ears. Add to the fact he can play nearly every instrument known to an inner-city high school kid and it's a recipe for a solar flare of creativity at the very least
Vocals, Acoustic Guitar, Electric Guitar, Bass Guitar, Drums, Beatbox, Bongos, Piano, Hammond Organ, Melodica, Percussion — oh, and all 'instrument Programming,' is what Sam performs on his newest record.
"A lot of my songs are just filtered experiences," said Levin. "I take lots of little pieces or feelings or colors or emotions and I mash them into a string of words."
Some call Levin's music 'modern folktronica.' I call it good.
Although acoustic driven, Levin weaves in electronic elements into his sound that all share a heavy jazz and alt-rock influence. It's different. And the sound of his voice is easy on the ears.
Levin told me that these last two albums have been very fulfilling. But the humble teen is still anxiously waiting for his audience to continue to grow.
"It's been so overwhelming waking up to see more and more listeners on Spotify," he said. "It's hard to get it through my head that people are actually listening and enjoying the music that I put out there. It's already more than I could have ever asked for, and the numbers just keep going up."
And if he continues to write smart songs that still have a catchy melody or two, he's bound to blow up some day soon.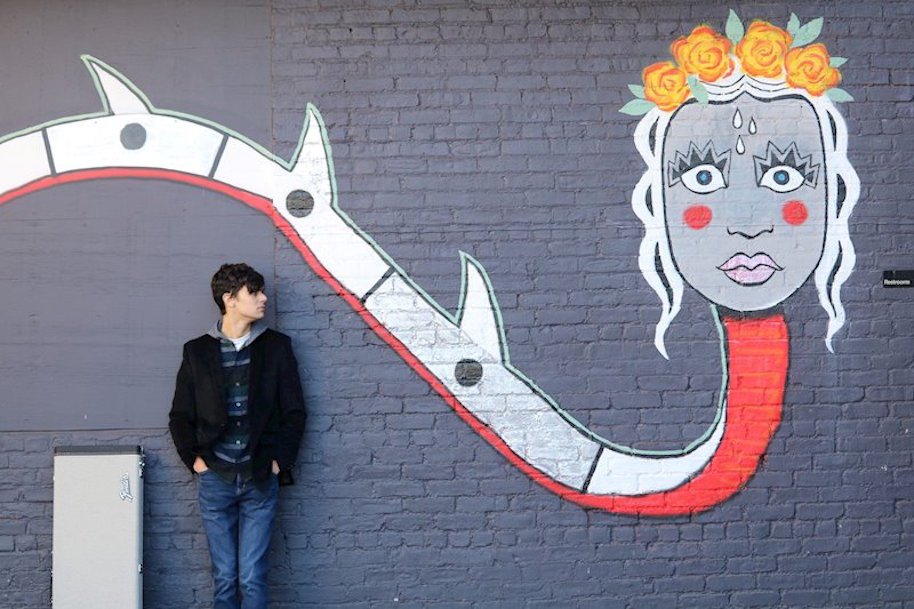 What else makes me believe in Levin is not only his honest song-writing, but his ambition.
"I'm also excited to grow as a writer, and to see how my music theory knowledge pushes me to create more and more interesting pieces of music," Levin said. "I love creating these songs for listeners, and I can't wait to keep doing it for the rest of my life."
So what's next for Sam Levin?
Well, getting school 'out of the way,' first, so that he can 100 percent focus on his music.
"I see myself writing and creating music on a daily basis," said Levin.
"It's so rewarding and relaxing, and right now there are a lot of things like school that get in the way of creating, because of the time commitment, so hopefully in the future I will have more time to work on the things I'm most passionate about!"
I mean, John Mayer dropped out of Boston's famous Berklee College of Music before going mainstream. Not implying Levin shouldn't go to music school, but if you got 'it' you got it.
As for advice for other young aspiring musicians? Levin says to finish what you start, always.
"If you're working on something and you're getting less and less enthusiastic about it, push through," he said. "Even if you don't feel too great about the finished product, if you don't finish, it's hard to forget about the fragments of something you only poured half of your heart into. So finish the song! If you don't like it, put it aside, but every song deserves to be finished."
Check out Sam's newest album I Am on Spotify.
---
Josh Helmuth is a sports reporter/music junkie who lives in St. Louis.