On a cold night in Atlanta, fans eagerly walk inside the College Football Hall of Fame and make their way down the red carpet, looking up at the wall that displays 768 college football helmets and a collage of past greats. They're here to enjoy the party, drink Dos Equis and find out who is "The Most Interesting Fan."
Upstairs, overlooking the party through the glass, you can see fans decked out in a mixture of business casual attire and a wardrobe you'd see at a tailgate party (mostly Georgia Bulldogs shirts). They're standing near a covered statue, conversing with each other and drinking Dos Equis beers. The bartender can't hand them out fast enough.
Standing in the next room with a Dos Equis Lager in his hand, is comedic actor Rob Riggle. He has been a part of this campaign and search for "The Most Interesting Fan" where they get a statue made in their imagery and inducted into the College Football Hall of Fame.
"I've always loved the Dos Equis campaign," Riggle said. "The Most Interesting Man" is one of the best campaigns in the last 20 years and when they asked if I would be part of this, I said 'Count me in."
Riggle, a Marine and an actor most known for The Daily Show, 21 Jump Street, Let's Be Cops, Lorax, and Step Brothers, is also an avid Kansas Jayhawks fan and graduated from the university in 1992.
Looking dashing in a black suit, Riggle recalled how fun the journey has been with looking at all of the submissions that have come in and seeing how passionate fans are about their teams. When asked what solidifies a good fan, Riggle didn't hesitate.
"A good fan is someone who's there in good times and bad," Riggle said. "It's easy to be a fair-weather fan. When the team is hot, sure, you put on your jersey and walk around. Try when your team is 1-11. Try walking around in that [Kansas] Jayhawks jersey and telling people to pound sand. That's not easy to do."
Riggle threw his hat in the ring in hopes of being selected as "The Most Interesting Fan." While stating his case, Riggle mentioned that every year at the beginning of the year, he always predicts the Jayhawks to win the national championship in basketball and football. He predicts the Chiefs to win the Super Bowl and predicts the Royals to win the World Series.
"If you're a fan, the team's fate is your fate. That's just the way it is," Riggle said.
It's sentiment that every college football fan can relate to and was quite evident in Atlanta where die hard Georgia and Alabama fans took over the city. College football and college athletics in general, are a different beast. It's a bonding experience, a personal identity and what Dos Equis has perfectly captured in this campaign, it's a culture of fun that connects all walks of life with their shared love of the game and their team. It creates lasting memories. Win or lose, you're still grabbing a beer with friends after the game.
"I remember going and sitting in the student section, way up high and it was hot. You'd be hot and miserable but the games were so good and so much fun and the energy and the atmosphere and the bonding," Riggle said. "You go to the games together. We went to all of the football games too. We didn't win a lot of them but we went to all of the games and then before the game you go tailgate or you go to a bar afterward and all hang out with each other. That social time is when you really bond as friends. When people work together, you're not bonding. It's when you socialize."
It's a sense of camaraderie, which Riggle still shares with the veterans community. He hosts a golf tournament for veterans, supports a lot of veteran organizations. He and his buddies get together frequently and have a Marine Corps Scholarship Foundation and with their love of college football, they go to the Army-Navy games. According to Riggle, going through a shared hardship like war or boot camp is a bonding moment and creates trust on another level.
Although known for his comedic side, Riggle channels his military background in his latest film 12 Strong where he plays his old boss Lt. Col. Max Bowers. Riggle was a captain at the time and worked for him in Afghanistan when he got there in November of 2001 and the movie takes place in October of 2001. Riggle actually served with the unit that the film covers. Talk about a small world.
After mingling for a bit, Riggle was led away and was not seen again until later that night when he came up on stage before the announcement for the winning fan that night, making a last ditch effort to campaign and getting tons of laughs in the process.
Matt Leinart
 In front of a wall that has a display showcasing his old No. 11 jersey and pictures from his prestigious college career, stands former USC quarterback and Heisman Trophy winner Matt Leinart.
At 6-foot-5, with perfectly groomed black hair, rocking what seems like a permanent five o'clock shadow, Leinart looks straight out of central casting for a Hollywood star to play a quarterback.
No other former player personifies the Dos Equis brand more perfectly than this guy. He holds a Dos Equis in his left hand and jokes about not being able to get away with that in college.
"I've been drinking Dos Equis for a long time, one of my favorite beers," Leinart said. "They approached me with this campaign, which I thought was cool, it was in my wheelhouse because I cover college football, I played college football and I'm still very close to the game. That part was easy and the campaign of finding "The Most Interesting Fan" and getting a statue in the Hall of Fame is a really cool deal. All season long, I've been helping Dos Equis find this fan."
Not many people are more qualified to identify what makes a good fan than Leinart. During his days of leading the USC dynasty, he encountered the best fans L.A. had to offer and endured the most jealous of critics as well. But more than anything, the Fox Sports college football analyst found the passion and atmosphere of college football intoxicating
"The great thing about college football, there's some NFL fans for sure but college is different with the tradition and the history of college football, the rivalries, the band and the cheerleaders, all of the things you don't really get in the NFL," Leinart said. "I just always loved the passionate fans. At USC, we had great fans that were ride or die, not like the SEC because that's all they have is football but I just appreciate the die-hard fans, win or lose, yelling and screaming with you. It's really what feeds the players and coaches."
Leinart's love of the game cannot be questioned considering he opted to return for his senior year at USC instead of entering the 2005 NFL Draft despite being projected as the top pick. After winning a second national championship and a Heisman, everyone expected Leinart to bounce.
He met with all of the right people who told him he should leave but he never really felt like he was going to leave. His gut told him to stay. He wanted to stay and graduate and be a leader for the Trojans. An argument can be made that it's a more attractive option to be in L.A. and the quarterback at USC on the No. 1 ranked team than it would be to play on a struggling NFL team.
"I wanted to be there again, I thought physically I could get a lot better and stronger and honestly, I thought I could get better as a player and I think I did," Leinart said. "I think I was better my senior year so it was one of those things that I still don't regret. People ask me all the time if I regret that decision and I don't. There's nothing better than college, being there especially during that time we were there so I was trying to soak it up as long as possible."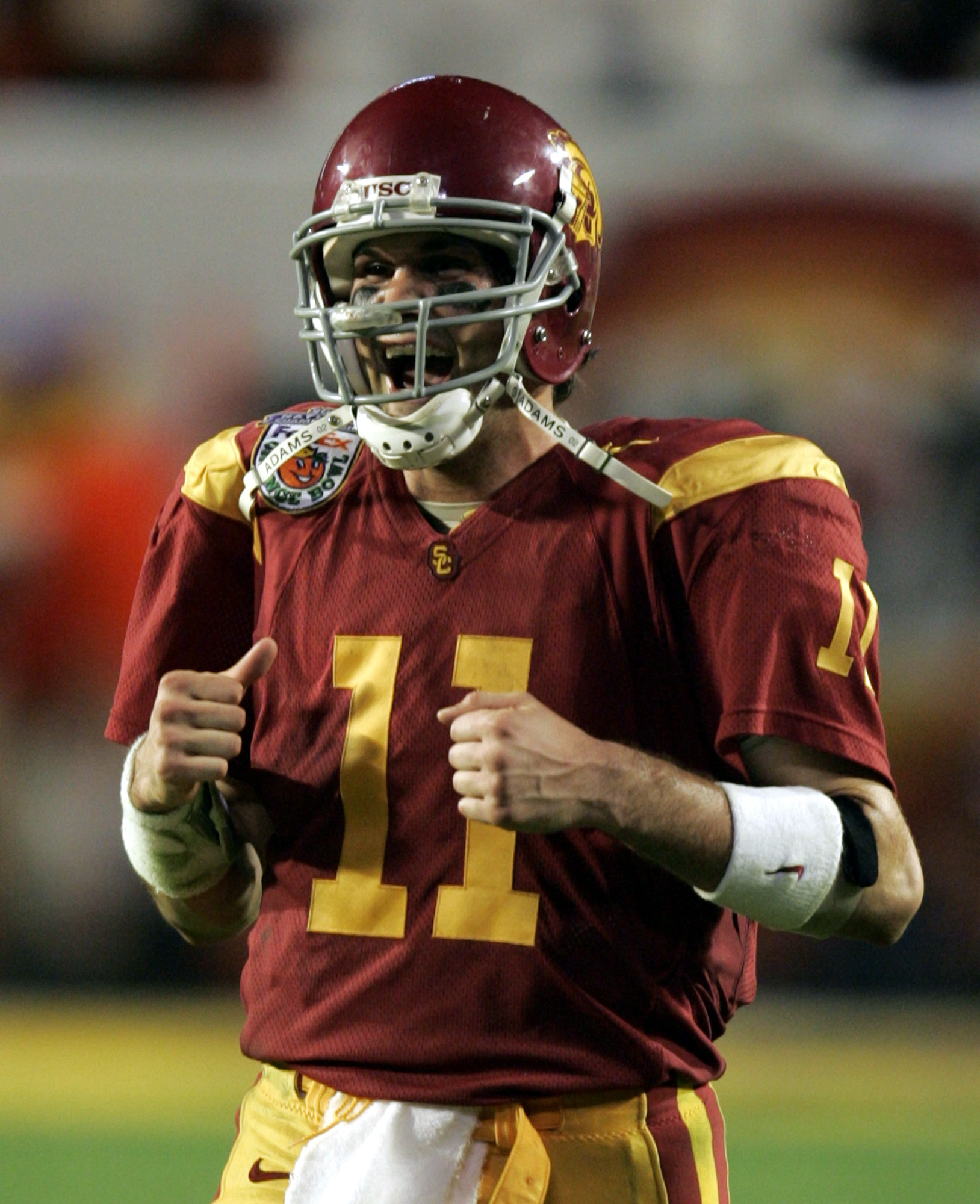 Now as he covers the game from a media standpoint, Leinart sees a different perspective of the game. He really appreciates what they were able to accomplish at USC, essentially playing in three national championship games and doing things that every college football fan base desires to witness for their own program.
"Alabama is a dynasty and they've done it year in and year out but very few teams can do that and sustain success like that," Leinart said. "For me, to be a part of a really special time at USC, winning two championships, played with a Heisman Trophy winner in Carson Palmer, I was able to win one, which is crazy and Reggie Bush as well, that's what always stands out, like, wow, the guys I played with and the teams I was a part of, especially now as I reflect on it as I'm older."
The biggest challenge for Leinart's transitioning to the sports analyst world was being a harsh and opinionated critic. According to Leinart, that's not in his nature and never has been.
It was always hard for him to talk bad about a player who played poorly in a game that he's covering but he realizes it's his job and has since embraced that side of the game.
"I'm still learning. I've got better and it has become easier because you realize, hey, this is my job and you have to be critical at times. That was the hardest part and just being in front of the camera," Leinart said. "I have a lot of experience with interviews being in L.A. and all of that stuff. I was never afraid of that but it's a different animal when you're sitting at a desk and the red light comes on and you're on live TV. Fortunately, I love talking football."
One might wonder how you stay motivated after accomplishing the things Leinart has already achieved at 34 years old. The man won a Heisman, won multiple national championships, was a first round NFL Draft pick, got inducted into the Hall of Fame and gets paid to talk football for a living. It's hard to top that but true to an athlete's nature, Leinart doesn't lack motivation.
"I have a family, I have a son, I'm engaged so obviously my family keeps me motivated just to continue to support them and be a great example for my son and my future kids," Leinart said. "I love my job at Fox. I love the TV part, staying in the game and just talking and seeing these kids succeed and have fun. I think football was a small part of my life in the grand scheme of things. It gave me a great platform to do what I do and a great foundation to build on and I'm grateful for that but there's a lot of great things ahead of me."
"The Most Interesting Fan"
The party has been underway for nearly an hour and the line to get Dos Equis is stretching further and further closer to the statue. The bartenders are just operating like an assembly line at this point.
Everyone is having a good time and keeps glancing at the stage where they are going to announce the winner. The host addresses the crowd and brings out the finalists; Baton Rouge's Christian "Tiger Eye Guy" Christoffersen and Ann Arbor's Terrance Still.
Christoffersen, a 21-year old student, is wearing a tiger head for a hat and a purple and yellow flag as a cape around his suit. Georgia fans in attendance boo showing southern rivalries never stop. Still's face is painted blue and maize while he dons a wolverine headpiece to go with his suit, which is a look that startles Riggle when he makes he gets on stage.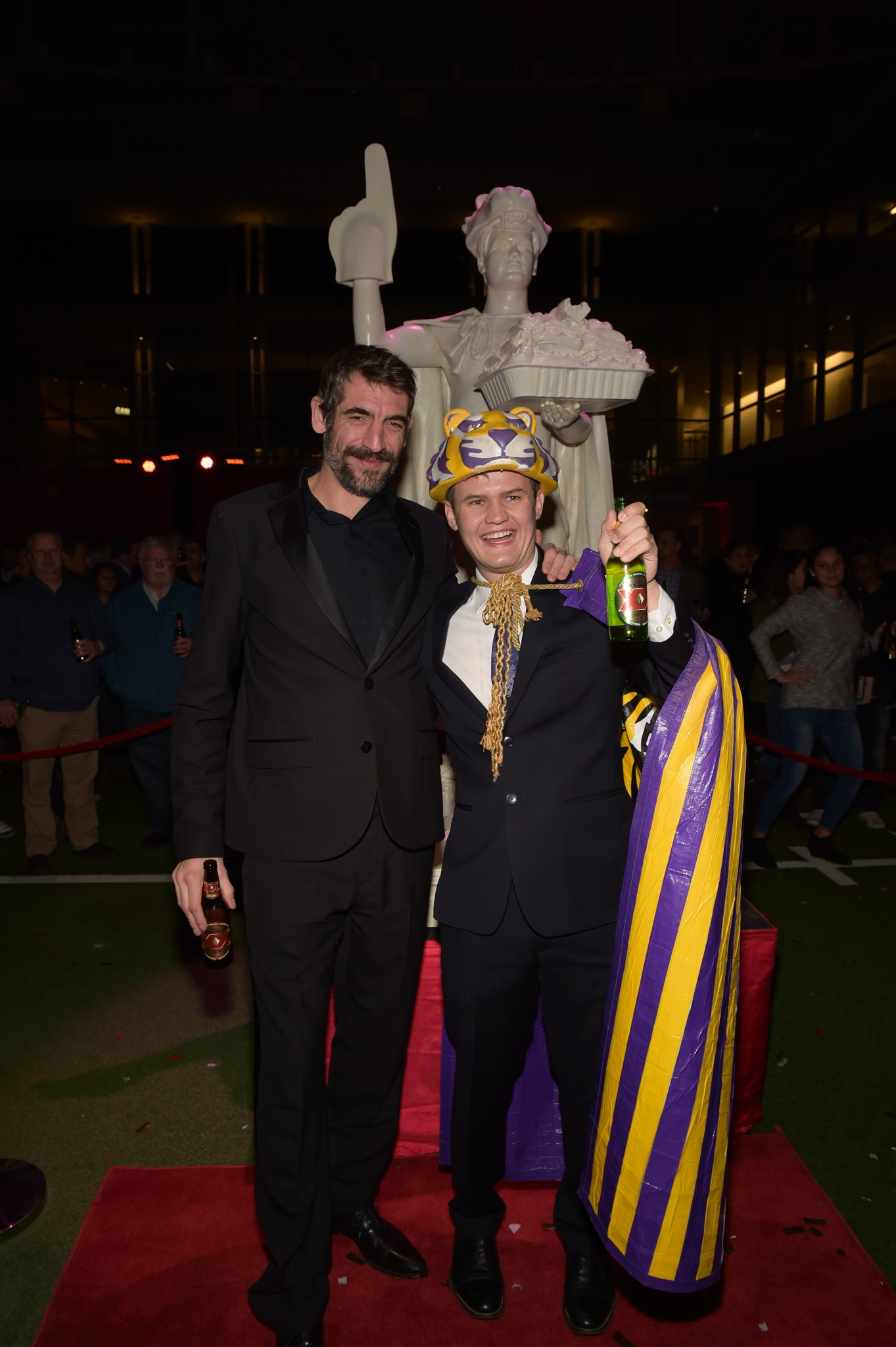 All of a sudden, a marching band comes into the room, drums are blasting and following behind is "The Most Interesting Man" Augustin Legrand, with two beautiful women in red gowns holding on to each arm. In his hand is a Dos Equis Amber and he cheers the bottles that fans reach out on his way to the stage.
Fans are in awe over the presence of "The Most Interesting Man." Moments later, confetti shoots out and "The Most Interesting Fan" statue is revealed. It's the image Christoffersen in his hat and cape with a No. 1 foam finger, holding a tray of sandwiches.
Flashes are going off like paparazzi while Christoffersen and Legrand hold their bottles up and pose with the statue, concluding a journey that started at the beginning of the 2017 college football season.
There's mascots dancing in the crowd and everyone is enjoying their beer. It's quite the celebratory sendoff before the following night's epic Alabama-Georgia overtime thriller. All of it feels like the ultimate tailgate party and captures the college football atmosphere perfectly.
After the glamorous weekend in Atlanta, one thing is certain; Dos Equis understands this sport's culture and continues to showcase why it's the beer of college football. Like Riggle said, win or lose, you're still having a good time.
Joshua Caudill is a writer for CraveOnline, the co-founder of Dirtfork, a hockey fanatic, a pro wrestling connoisseur and an expert on all things Patrick Swayze. You can follow him on Twitter @JoshuaCaudill85 or "like" CraveOnline on Facebook.