The Top 5 Computer Speakers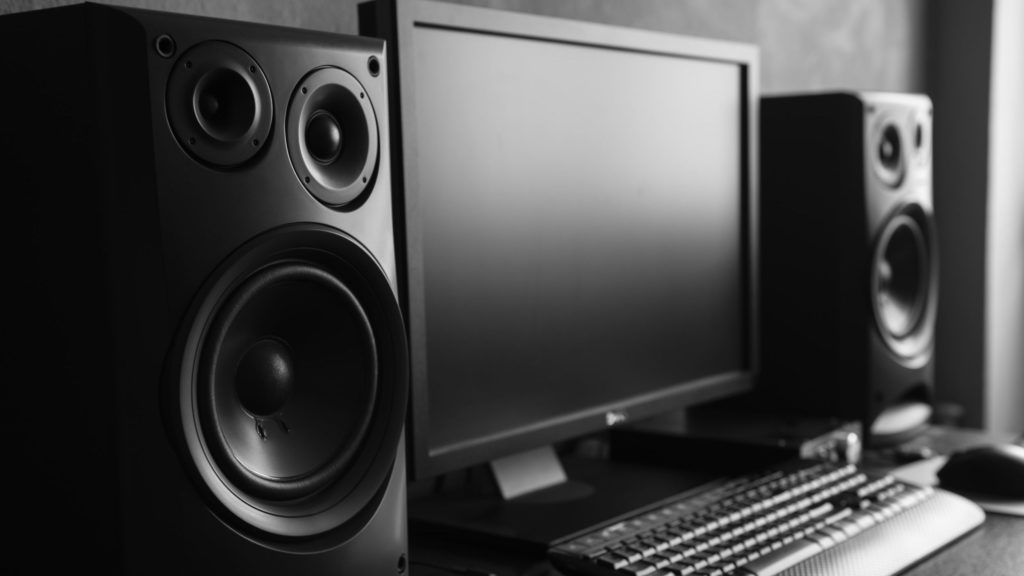 Computer speakers are super important for everyone, especially gamers, audiophiles, film fans, and professionals. They can easily be transported from home to work, and you can get a good deal without breaking the bank. But what should you look for and which brands deliver the best quality? We've put together a list of our top five picks along with a buying guide to help you pick the best computer speakers for the best possible sound experience.
Best Choice
Our pick for "Best Choice" is the Logitech Z130 Compact Laptop Speakers that you can take with you wherever you go.
Pros:
These Logitech speakers are compact and have an attractive design. They can easily be transported between work and home, where they won't take up much space on your desk. Despite their small size, they pack a decent punch in the sound department. They have a suitable mid and high range and produce enough sound to fill a small to medium room. The speakers come with a volume switch, which is rare for this price range. If you want to listen to music without being a nuisance to others, then there's also a headphone jack. You can plug and play these speakers regardless of whether you're a Windows or a macOS user. Finally, you can listen to music from your phone or tablet by plugging them into the 3.5mm jack input.
Cons:
Since these speakers are quite cheap, there are a few faults we should point out. They lack a decent low range, which means you won't get much bass. There aren't many ways to improve the sound, and using them with a mixer won't help much. The speakers are also firmly attached and have non-Modular aux cables, which means you can't separate them or unplug them. That can also make it challenging to manage the wires as they get tangled.
Best Space-Saving
If you have a small desk or there isn't much space left, then you should check out the AmazonBasics USB-Powered PC Computer Speakers with dynamic sound.
Pros:
These speakers from AmazonBasics are surprisingly good for the price. They have great high and mid-ranges, and an interesting low range. To compensate for the fact that cheap speakers never have a good low end, they've installed a bottom radiator that emulates the springiness of a subwoofer. The set is easy to set up because you have to plug and play regardless of which operating system you run. They have a neutral design that will suit most interiors, but they're also small enough to hide behind your computer monitor. There's soft padding under them, so they don't scratch any surfaces when you move them around.
Cons:
The speakers have a blue LED light that can't be turned off without unplugging them from the power socket. At two feet, the cord connecting the speakers is a bit too short. For some reason, the volume control is at the end of the c-087 ord connected to the back of your computer, so you can't access it from the front. That means you'll probably control the sound from your computer instead, which makes the volume control a bit redundant.
Best for Music
Pros:
These Bose speakers are worth the price. Cheaper speakers would begin to distort when you crank the volume up, but not these. They'll provide you with a clear sound no matter which genre you play at which volume. The internal equalizer also cuts out any sharp and unpleasant frequencies when you listen to music. There's an emphasis on the bass and low range, which is rare for such small speakers. You can safely leave them on when you don't use them without risking any feedback. The overall design of these Bose speakers is also pleasant and will blend into the background.
Cons:
Although the speakers are a good budget option, they don't measure up to other speakers in their league. They can sound muffled and flat at times, which doesn't work well for all genres. The Bose set will stack up well against most other computer speakers, but they won't blow any music producers or critics away. People won't think you have the worst speakers in the world, but they won't mistake you for a DJ or composer either.
Best Design
If you're looking for modern, high-quality sound computer speakers, then look no further. The TaoTronics Computer Speakers get you one step closer to the home cinema experience.
Pros:
These speakers are a soundbar, and are specifically designed for a desktop computer but can be used with any device that has a headphone jack. They're simple plug and play speakers, and will work on any operating system. The sound is quite good and will make watching movies at home more enjoyable. A USB cable powers the speakers and have a separate cable for the microphone and headset. That extra capability makes it an excellent choice for gamers who want to interact with others during late-night sessions. It's a beautiful set of speakers that look nice and have an excellent mid and high range for the price.
Cons:
For the super low price, there are bound to be some downsides to the TaoTronics soundbar. The lows aren't just bad, but it's almost like they have been filtered out entirely. You may also experience a dodgy cable connection, which can lead to a crackle coming from the speakers. It can usually be fixed by wiggling the cable around a bit, but it's still annoying. There is also no power switch, which means you have to unplug the set to turn it off.
Best Setup
With the Creative Pebble 2.0 USB-Powered Desktop Speakers with Far-Field Drivers and Passive Radiators, you can enjoy a hassle-free audio experience from your laptop or desktop.
Pros:
The Creative Pebble speakers come with just one USB cable, which makes them incredibly easy to set up. You can plug and play them into any operating system, and they work right away. They're also powered by the device you plug them into, which means they go on stand-by mode when the device does so you don't have to turn them off separately. The Creative Pebble speakers have built-in far-field drivers that enable custom tuning and passive radiators that reproduces the bass very well. It's an absolute steal for the price. On top of that, they also look quite stylish and don't take up much space.
Cons:
Since these speakers are quite cheap, you should expect some drawbacks if you purchase them. They have a small form factor, which means there is a limit to how loud they can get. Despite the passive radiators' bass reproduction, there isn't a real subwoofer. The range of sound is not very broad, and turning it up to the max will distort it. The cable connecting the speakers can't be detached, and the plastic casings feel cheap and a little flimsy.
What to Look for In Computer Speakers
Computer speakers tend to be less advanced than full-blown speaker systems for your home cinema, car stereo, or record player. That said, there are still a few things to be aware of, especially if you haven't shopped around for computer speakers before. Here below, we've listed the three most important factors you should take into consideration before buying.
Sound Quality
How good the speakers sound will be a top priority for most buyers. It's not always easy to know what to expect when you read the specifications advertised by the manufacturers. Many sellers exaggerate the sound quality simply because there isn't a standard method for measuring it. That's why it's always best to hear the speakers yourself before making your decision. It's not always an option for people who order speakers online, so look at the reviews instead. See if people think there's a balance between the upper, middle, and lower ranges and whether they believe the speakers produce a full-bodied sound.
Subwoofer
It's often difficult for most computer speakers to reproduce the bass frequencies accurately. That's because the majority of them are 2.0 systems, which means the speaker sets only have a left and a right channel. When you add a subwoofer in the mix, the speaker set becomes a 2.1 system. These systems usually have smaller speakers for the mid and high frequencies and a larger speaker (the subwoofer) for the low-mid and low frequencies. A 2.0 speaker system will take up less space but also produce less bass. But if you have the budget and space for a subwoofer, then a 2.1 system will be well worth the investment.
Controls
External controls for your computer speakers are a nice feature, but it usually means they are more expensive. Cheap speaker systems won't even have a volume control, which means you have to turn it up and down from your device. Mid-range speakers will often have a volume control, but not much more. When you get up into the expensive range, you can get computer speakers that feature not only a volume control but also dials or buttons that can change the mix. These will allow you to boost or cut the low, high, or mid frequencies to suit your preference. The most expensive models often come with remote control as well.
What Are the Latest Computer Speaker Trends?
There are quite a few market segments that drive the advancement of computer speaker technology. Gamers, audiophiles, and movie fans all want better sound, and so newer models constantly pop up on the market. Although 2.0 and 2.1 systems have been the industry standard for a long time, more consumers are investing in 5.1 systems to enjoy the full surround sound experience. Many new speakers also come with mood lighting and more complex controls over the sound frequencies.
FAQ
If you're still left with some questions that could influence your buying decision, then you're in the right place. We've answered some of the most common questions people ask right here below.
Q: Why are my computer speakers buzzing or crackling?
A: There can be many reasons why you hear unpleasant noises from your speakers. Buzzing is often caused by interference from another device, so try to isolate the speakers from other devices. Crackling could be due to a faulty or loosely connected cable, so be sure that everything is plugged in correctly and try to wiggle the cables a bit.
Q: Can computer speakers be used on a TV?
A: They can't be used on older TV models, but newer smart TVs will usually have a headphone jack where you can insert the mini jack cable from your computer speakers. However, many smart TVs have internal speakers that rival that of most computer speakers, so test the sound to see which one works best.
Q: How to make computer speakers louder?
A: You can either use a media player like VLC to boost the volume to 250% on your computer, or you can purchase a separate mixer and use that to boost certain frequencies. Bear in mind that these solutions will only work for more expensive speakers as they'll distort the sound from cheap models.