Days Missing Hardcover Review
Space-time is a hell of a thing. Not only is it hard to wrap your head around, it's an instant attention getter, at least for me. The idea of altering time fascinates me, and thus I'm always game for some antics in the time stream. And that interest, along with the creators involved, is essentially what led me to Archaia's Days Missing. 
Originally released in a five issue series, Days Missing has been collected into a well put together hardcover collection that includes an above average amount of extra materials, particularly for its decidedly low retail price of $20. Days Missing is the story of a rather Doctor-like character named The Steward (complete with a blatant Doctor Who reference), who observes human existence from his lonely Library, intervening only to avert apocalypses. The Steward can "fold" time in 24-hour doses, meaning he can essentially collapse an entire day of Earth time and restart it, leaving his impact but never a memory of his involvement.
Much like a typical episode of Doctor Who, each issue of Days Missing takes place in a different historical context, with drastic situations calling for the assistance of The Steward. In the first issue, it's a viral outbreak in 2004, where issue #2 it's a mad scientist succeeding in reanimating the dead in 1816. Each issue gets a different backdrop, which works out nicely for the different artists that tackle each chapter. Only issue #1 and #5 have the same artist – Frazer Irving – the rest feature the talents of Chris Burnham, Lee Moder and Hugo Petrus, each of whom bring their own flair to the series.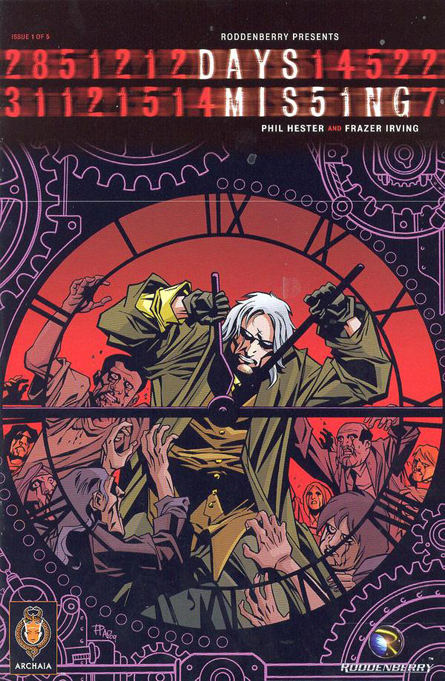 Irving seems to draw the short end of the stick, as even though he gets an additional issue, writer Phil Hester (who also handles #1 and #5) bogs him down in endless exposition and talking heads, never giving him a chance to show off his talents. The issues in between, however, are pure gold. Writers David Hine, Ian Edginton and Matz all shine here, perfecting done-in-one stories that both weigh heavily on the reader in terms of emotional content and also build up The Steward as a central character. Edginton's issue #3 specifically succeeds in giving a dramatic core to the newly introduced characters (a strained marriage, a father's dying child) while tying into the overarching story of The Steward and the bigger picture. It's a feat that no other chapter is able to do, despite their other strong points. 
Remarkably, though Days Missing is the product of four different writers, the series is able to keep a very consistent voice to The Steward. There was never a time when I thought a writer was taking his own liberties with the lead character. Instead, the editorial team on this series was clearly tightly knit and ensured that all involved stuck to their notes and had open lines of communication, resulting in a collaborative effort with a focused vision.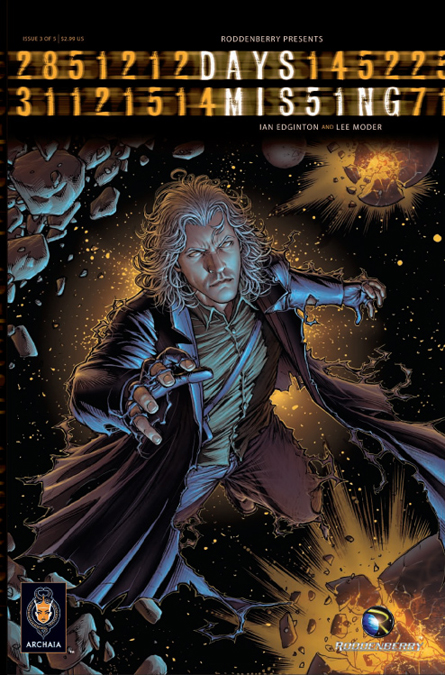 I mentioned earlier the value of Archaia's Days Missing hardcover; it includes not only a foreword by Warren Ellis, but interviews with the creative parties involved, a cheat sheet to decoding the hidden message of the issue's covers, an in depth look at the creation and characteristics of The Steward, a cover gallery and sketchbook, and more. I can guarantee you won't find extras like that in either of DC or Marvel's hardcovers, most of which are priced above Days Missing. 
Archaia has a reputation for delivering a certain type of book, and Days Missing fits firmly as the new potential centerpiece to their catalog.