Devo: Something For Everybody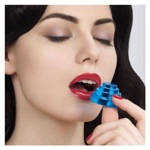 Want to know how satisfied I am with Something For Everybody, the first new Devo album in twenty years? For my money it's the best Devo record since Oh No It's Devo, perhaps since New Traditionalists. Devo hasn't just recorded some new songs in hopes of cashing in on a nostalgic trip, they've picked up the banner they put down two decades ago and are marching on to new horizons. Everything that made Devo who they are from the electronic sounds to the robotic grooves to Mark Mothersbaugh's voice and the random instruments and samples is back and firing on all cylinders. To try and give a general review of the album is to do it a disservice so I've decided to do a very rare track-by-track breakdown.
Something For Everybody kicks of with "Fresh" which brings to mind the forward motion of a song like Doctor Detroit. It sounds like what you'd think a robot would listen to while jogging to stay in shape. Fresh takes it's points from the Oh No It's Devo era with a nice New Traditionalists guitar line laid in. I thought it cool for Devo to open their new album with a track that features the guitar this prominently while still giving in a heavy dose of synthesizers. Probably more so than any song on the album Fresh is combination of all things Devo, which is a great way to open a new record.
"What We Do" is one of the strongest tracks on the album largely due to the syncopated rhythms between the drums and the keyboard line. This is definitely coming from the Freedom Of Choice era but with a lot more aggression. Though insanely danceable What We Do is a darker song than Devo usually whips out. With lines like "the lucky ones are gonna be the first to go" What We Do is an attack on modern life but a subversive one.  When Mark Mothersbaugh sings "Eat and then breed and pumpin gas. Cheeseburger cheeseburger do it again" you know exactly what he means. 
"Please Baby Please" could've been a forgotten track from the New Traditionalists sessions. Combining an almost robotic swing beat (think Going Under) with a fifties do wop song gives Please Baby Please the feel of a retro vibe becoming huge amongst robots in the distant future. It's one of the few songs that features strong backing vocals and it keeps the music very basic, just the beat and some random samples. 
Taking the energy up two notches is "Don't Shoot (I'm a Man)". Here Devo juxtaposes a multi-layered synth-pop explosion with Mark Mothersbaugh singing almost against the song entirely. I loved the ascending then descending keyboard line that lies underneath the song and then leaps out to take charge during the chorus. This is the most frenetic Devo get on the entire album with electronic aspects coming in all directions 
Another powerful track is "Mind Games" a guitar-meet-synth driven example of Devo's feelings on love. I imagine Mind Games as the sequel to Love Without Anger carrying that same type of song structure with a modern feel. I also really dug how the guitar riff played against the synth and the constant addition of little keyboard parts that didn't overload the song as much as push it forward. At only two thirty Mind Games kicks much ass.
I think I loved "Human Rocket" so much because it reminds me of the Duty Now For The Future era Devo, one of my personal favorites. Human Rocket has a serious punk vibe to if filtered through the brain of Isaac Asimov. This is a drum heavy song with a straight driving beat that harkens back to the sound Devo has just before they "discovered" what their sound really was. Think yellow jumpsuits not energy domes.
"Sumthin'" is a great departure from the rest of the album because it's so guitar heavy. There are two separate guitar sections both weaving around the simple keyboards and drum lines. This I also the most straight out political song Devo has ever written. It sounds as if Devo felt the way things are now being coy wouldn't work so it was time for a full frontal attack. It may also be why the song itself is a bit heavier than the other work.
"Step Up" strips everything down by focusing more on the drums and adding brief waves of guitar here and there. The real power on the track is the vocals as two separate vocal lines duel for supremacy. I kind of wish the band had stayed just with the robotic funk of drums and guitars, adding the keyboard stuff for spice instead of throwing it into the chorus. It's not bad it just weighs the song down.
At this point in the album Devo decide to kick us in the nuts by side stepping anything they've done before with the song "Cameo" a robotic funk song that sounds like it was written by Stevie Wonder after being re-built with a bionic brain and spliced with Herbie Hancock during his eighties "Rock It" era. The vocal effects, the sheer funkiness of the song, the entire package is so un-Devo that it becomes completely Devo. Such a good song.
Devo ease back into a Freedom Of Choice vibe with "Later Is Now" a good song if not necessarily the best song one the record. It's not that this is a throwaway track but more that it's something Devo could do in their sleep. A disco/electronica tune with some space age sounding keyboard effects but nothing incredibly original. 
"No Place Like Home" is another tune like Cameo in that it's very different from the rest of Something For Everybody. Here the focus is on the vocals, which seem to fly against what the music is doing. The music also moves between straight Devo electronic good times and a more melancholy sound. When the band sings, "There's no place like home to return to" it has real weight to it even though it's wrapped in a lighter packaging.
Devo ends their triumphant return with the most triumphant song on the album "March On". Everything here is huge, the keyboard parts, the drums and the vocals. This is the tune the band ends with that will get the lighters up and the kids singing along. When the main keyboard part erupts after Devo announce us to "march on" it's like every great movie ending from the eighties ever wrapped into one thing. March On leaves you hungry for more Devo and sad there's nothing left to give.
CRAVEONLINE  RATING: 9 1/2 Out Of 10